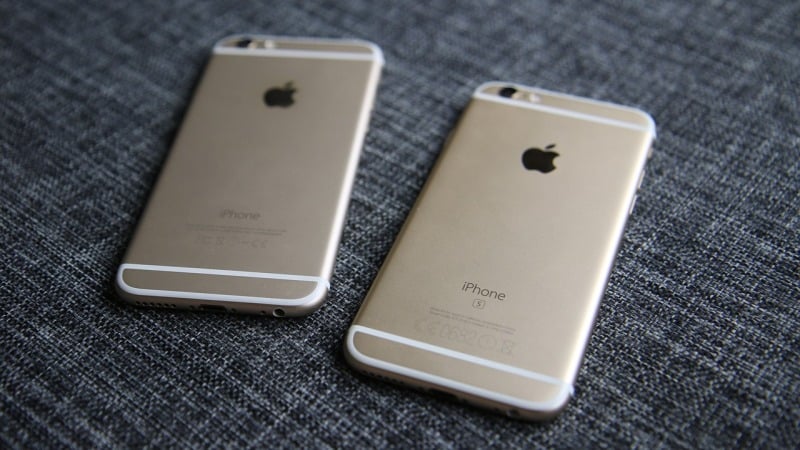 The Best Selling Cell Phones of All Time
Each year we eagerly wait for the announcements of the next flagship cell phone; Samsung announced theirs in March, Apple tend to share their new phones in September. What are the best selling cell phones of all time? They might just surprise you…
---
10: Nokia 6010
Units sold: 75 million
Nokia's 6010 model was designed for people who wanted a "balance between technology and ease of use". Nokia's attempts to keep up with the shift in cell phone buying and differing markets seems to pay off time and time again. The 6010 allowed for MMS messaging alongside SMS, a 500-name phone book and a standby time of an incredible 10 days. 75 million phones were sold, having first been released in 2004.
Did you know we're one of the best sites to sell your cell phone? Sell cell phones with Decluttr!
---
9: Samsung Galaxy S4
Units sold: 80 million
The successor to the Samsung Galaxy S III was the Galaxy S4 which became Samsung's fastest selling smartphone. When it comes to a Samsung trade in, you'll be pleased to know the Samsung Galaxy S4 is their best-selling smartphone with 20 million sold in the first two months, 40 million in the first six months. It was considered to be a defining phone for Samsung, with a big screen and having straightened out some of the issues found with the S III. It came with a 13MP rear camera, 2MP front facing camera, 16 GB internal storage and the option for microSD.
---
8: Nokia 1208
Units sold: 100 million
Nokia introduced the 1208 in 2008 to appeal to emerging markets, where a phone would be shared within households or even villages. It allowed for multi-phonebooks – with five available – to make sharing easier. The phone had a one touch flashlight, localized languages and the 1208 came complete with a color screen. Appealing to emerging markets certainly worked as 100 million units were sold!
---
7: Nokia 3310
Units sold: 126 million
Nokia's 3310 is one of the most durable cell phones you'll have ever seen or used in your life. A far cry from the panic you feel if you drop your iPhone, the 3310 could withstand real threats due to its casing and construction. The iconic device came with built-in calculator, stop watch and reminder function. It changed the face of texting as it allowed for long messages three times the standard size. The cell phone was revamped in 2017, costing $65.
---
6: Motorola RAZR V3
Units sold: 130 million
The revolutionary Motorola RAZR V3 is the best-selling clamshell phone in the world to date – a title you would expect it to hold for a long time! The cell phone was made available in 2004 and was the thinnest phone on the market at the time. It became a status symbol for the rich and famous before the price dropped and it became more accessible to the masses. The phone came equipped with a camera, Bluetooth and email accessibility.
---
5: Nokia 2600
Units sold: 135 million
Nokia's basic 2600 was released in 2004 in order to appeal to consumers in new growth markets. It would allow for those in developing countries to have access to a cell phone that would have plenty of great features at an affordable price. The cell phone had color display, a Spreadsheet feature and polyphonic built ringtones. It was available in a range of colors including Tin Gray, Pearl White and Iron Blue.
Did you know you can buy cheap cell phones with the Decluttr Store? Make HUGE savings, get a 12 month limited warranty and FREE delivery too!
---
4: Nokia 1200
Units sold: 150 million
An old school Nokia by today's standards that served the purpose of calling and texting. The 1200 has a basic design without the function to play music or browsing the web but that made for an incredible battery life! You could hold 60 text messages on the cell phone, which could fit snuggly in your pocket at 102mm tall and 44mm thin. Nokia sold more than 150 million units of their 1200 model.
Other phones that sold 150 million units included Nokia 6600 (the U.S variant was the Nokia 6620), Nokia 5230 and Samsung E1100.
---
3: Nokia 3210
Units sold: 160 million
Released almost 20 years ago, the Nokia 3210 may look like a relic now but it was truly innovative upon its release. It was one of the first cell phones to utilize an internal antenna and it used T9 text entry (predictive messaging). Three games were available including the revolutionary Snake, you could change the cover of the phone and customize your ringtones. It was aimed at the youth market and it paid off! Nokia's 3210 sold over 160 million units.
---
2: iPhone 6 and 6 Plus
Units sold: 220 million
One of the best selling cell phone brands out there…we aren't surprised to find this in the top two! Apple's 2014 flagship devices have become the second best-selling cell phones in just four years. The iPhone 6 and 6 Plus were record breakers as pre-orders for the devices exceeded four million within the first 24 hours of availability and more than 10 million devices were sold within the first three days. The phone was hailed as the best smartphone you could buy upon release due to its brilliant design and improved battery life. The 128GB model was discontinued in September 2015 with the 16 and 64GB models being discontinued a year later. View our iPhone 6 trade in prices or if you have another iPhone to sell, sell iPhones of other generations with us too!
---
1: Nokia 1100
Units sold: 250 million
The best selling phone of all time isn't brimming with flashy features. It's the Nokia 1100, designed towards developing countries as a reliable yet basic phone. The phone launched in 2003, enjoying a six year life span before it was discontinued in 2009. The biggest selling phone had the most basic of functions; you couldn't do much beyond making calls or sending texts but it did have a flashlight, Snake and you could compose your own ringtones. The keypad and front face were specifically designed to be as dust proof as possible along with non-slip sides for humid weather.
---
Here are the best-selling cell phones of all time:
Nokia 1100 – 250 million sold
iPhone 6 and 6 Plus – 220 million sold
Nokia 3210 – 160 million sold
Nokia 1200 – 150 million
Nokia 2600 – 135 million
Motorola RAZR V3 – 130 million sold
Nokia 3310 – 126 million
Nokia 1208 – 100 million
Samsung Galaxy S4 – 80 million sold
Nokia 6010 – 75 million sold
Do you have old cell phones to sell? Don't let them sit around gathering dust! Trade in your Phone with Decluttr for quick cash! Remember, if you have an iPhone to sell, you can visit our trade in iPhone page to get a free valuation today.
Comments
comments