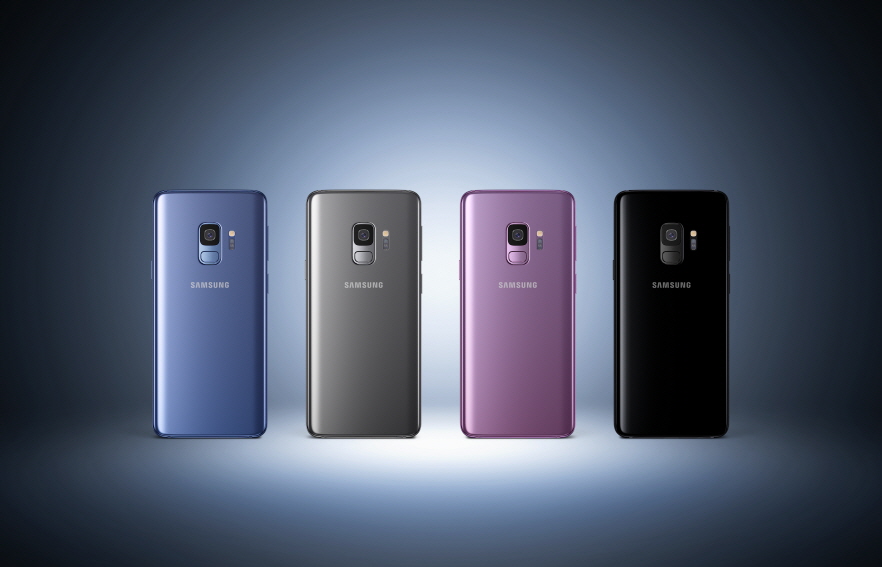 The best cell phones of 2018
We're about half way through the year so it's time to look at the amazing cell phones that are on the market! Phones are becoming sleeker and shinier but not necessarily taking huge leaps in terms of software. There are still plenty of great phones to come too!
We're breaking down some of the best cell phones released within the last six months and what will drop before the year's end.
---
Samsung Galaxy S9 Plus
Samsung tend to announce their flagship devices much earlier in the year than direct rival Apple. Their latest models, the Galaxy S9 and S9 Plus have taken the best parts of the S8 and S8 Plus to make a much better cell phone! Whilst other companies are opting for a notch on their screens, Samsung are staying true to themselves with minimal bezels, allowing for a larger screen.
The screen of the device is 6.2 inches; if you'd rather something smaller, the S9's screen is 5.8 inches. The Gorilla Glass 5 screen is a little thicker than the S8's screen which is great news if you're a little clumsy! It's got a dual 12MP rear camera and an 8MP camera in the front. It uses Snapdragon 845 chipset so it'll be as quick as can be!
All of these amazing features do come at a pretty high cost. The prices of each device has gone up compared so the S8, so the S9 Plus will set you back an incredible $839.99 if you buy it outright.
---
LG G7 ThinQ
Cell phones may be becoming slimmer and shinier but not every type of phone is following suit. Step forward LG's flagship the G7 ThinQ which is keeping in with the idea of a smartphone rather than a flashy one.
Where practicality is concerned, G7 ThinQ has some major wins. The 6.1inch screen utilizes a Super Bright LCD display so it'll be even easier to use your screen outdoors and it uses an all-screen display as is becoming the norm. It's got a fingerprint sensor on the back, underneath the camera and there's an all new AI button that brings up Google Assistant.
How much are you parting with for the device? It's not the most expensive, but it isn't exactly cheap either – the retail price of the G7 ThinQ is around $750. You may spend less depending on the carrier you use.
---
OnePlus 6
The OnePlus 6 has only been out for a month but it's got plenty to shout about. This cell phone has the biggest-ever display of a OnePlus device at 6.28 inches, keeping up with the biggest players in the market. It's got a glass front and back too – the OnePlus 6 is also using the Gorilla Glass 5 screen.
Those all-important cameras have been boosted. There's a 16MP and 20MP dual rear camera – the main sensor is now 19% larger so there's much better performance in low light. The front facing camera is 16MP. Inside the device is a Snapdragon 845 processor and the battery hasn't gotten a facelift but Dash Charge is available meaning you can go from 0% charge to 60% in just 30 minutes.
The OnePlus 6 may not be able to keep up with the huge names in the phone industry on every aspect but you'll pay a significantly lower amount for this phone. It retails at $529, more than $300 less than the Galaxy S9 Plus.
---
What cell phones can we expect in the second half of the year? Well, Apple's latest devices are to be announced for starters.
iPhone XI and iPhone SE 2
At the moment, all we can really go on is speculation but we should expect three new devices in September like we've seen before. There's a lot of eyes on the iPhone SE getting a much-needed update, potentially named the iPhone SE 2. It'll keep fans of smaller devices happy in a world where screens are getting bigger and bigger! It'll keep a similar shape – so we believe – but with updated processors.
Alongside the new iPhone SE may be the iPhone XI, but the name may be something completely different or just 'iPhone'. It's believed the design will be close to that of the iPhone X, using a 5.8 inch OLED screen and a 6.5 inch screen for a Plus version. Will it keep a notch or turn away from this now ageing feature? It should still be there in order to use facial recognition but a bezel-free design and the Home button long gone.
The iPhone X retailed at $999 so will the next options exceed $1,000? It's not impossible. The SE 2 (should it happen) is likely to be a cheaper option, but we would imagine it's still between $600 and $700.
---
Google Pixel 3
The Google Pixel 2 was unveiled and released in October 2017 so we're expecting an October announcement for its successor. We're in the rumor mill for this one too, but we hope it's all true!
As Google establish themselves in the cell phone market, they won't want to fall behind so it's thought the Pixel 3 and Pixel 3 XL will follow suit with an all-screen design and minimal bezels. It was a hit with the Pixel 2 and 2 XL so Active Edge will be kept this year. The Active Edge feature activates Google Assistant with just a squeeze of the phone.
For the selfie fans, there's a dual front-facing camera and a single rear camera. It should hopefully utilize the Snapdragon 845 processor – it seems to be the market norm now – as well as the next version of Google's Android OS, Android P. Could this device use wireless charging? Industry experts seem to think so.
We cannot be certain of the phone's price but the Pixel 2 cost $649.99 for 64GB model and $749.99 for 128GB. The XL was even more expensive still at $849.99 (64GB) or $949.99 (128GB). Prices have increased across the board for the latest phones so the XL could push $1,000.
---
BlackBerry KEY2
It's been a while since BlackBerry had a real stake in the cell phone game but that could change with the introduction of KEY2. The physical keyboard that made the brand famous is still intact but BlackBerry have reverted back to the classic BlackBerry Bold 9900 for a quitter and sleeker experience.
The KEY2 is the first BlackBerry to use dual cameras with two 12MP sensors. It'll use a Snapdragon 660 processor and the display is 4.5 inch. Google Assistant will be available on the device using Android Oreo 8.1 and 3500mAh battery that BlackBerry believes will make it into a second day of use.
As the KEY2 was announced earlier this month in New York, we've got the price! It'll cost $649, on par with 2017's Google Pixel 2.
---
There is plenty to choose from in this year's pool of smartphones! If you're upgrading, why not sell your cell phone or trade in iPhone devices with Decluttr? We pay the most for cell phones, insured shipping is FREE and we'll pay the day after we receive your device!
Comments
comments