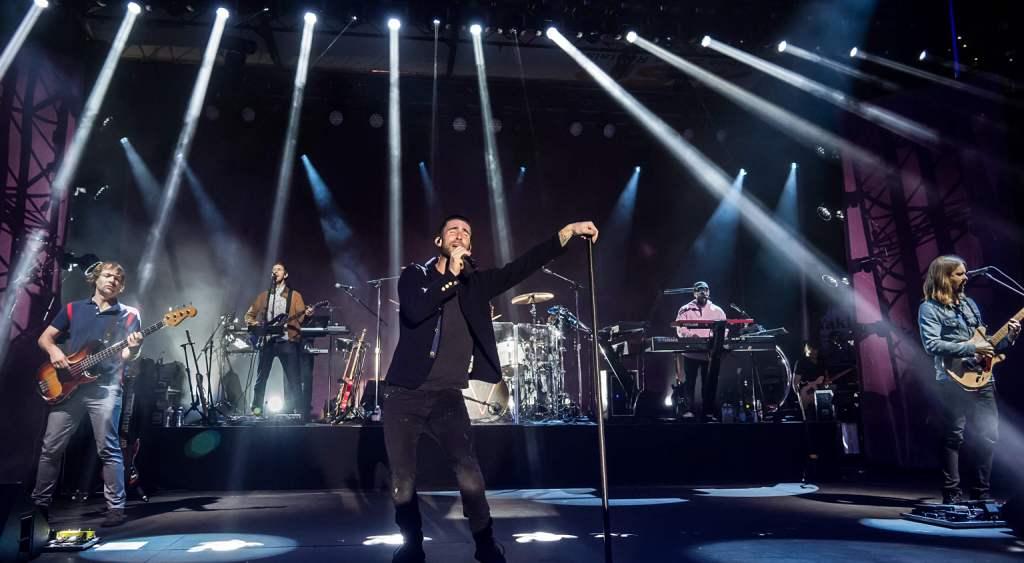 10 Maroon 5 songs you need to hear right now
Maroon 5, fronted by Adam Levine, have become a national treasure over the last 16 years. Their debut album, Songs About Jane, dropped back in 2002, going platinum just three years later. They took home the Grammy Award for Best New Artist in 2005 and tonight, their Red Pill Blues tour kicks off in Tacoma, WA! To celebrate, we pulled together the essential tracks by Maroon 5 for you to enjoy!
---
She Will Be Loved
The third single to be taken from the band's debut effort, Songs About Jane peaked at No. 5 in the States, solidifying their status as one of the most exciting new bands around. Over in Australia, Maroon 5 enjoyed more success as they hit the No.1 spot for five non-consecutive weeks. The memorable video was shot in Sepia, featuring actress Kelly Preston in a love-triangle scenario alongside her daughter with Adam Levine – lucky guy!
---
Moves like Jagger
They say you should save the best 'til last, and they did – the final single from third album Hands All Over would go on to become one of the band's best received singles ever. Featuring Christina Aguilera, the synth-y track was super catchy; it was released just in time for the summer months and we couldn't get enough of it. So much so that it's gone on to become one of the eight best-selling digital singles of all time. It topped the charts across the world including Austria, Israel and South Korea.
---
Sugar
Sugar was originally written by Mike Posner, for his second album Pages but when it transpired that his album wouldn't be put out, he gave it to Maroon 5. Adam Levine contributed with some lyrics and melodies and from there, the track we know and love was born. Posner provided additional vocals to Sugar too. The concept of the video was inspired by the 2005 film Wedding Crashers, starring Owen Wilson and Vince Vaughn. The song took the top spot in the charts in Lebanon, Slovakia and US Mainstream Top 40.
---
Payphone
Another sure-fire hit, 2012's Payphone featured one of the hottest rappers at the time, Wiz Khalifa. The track describes a love that ends abruptly, but Khalifa decides to go down his own route and call it out to the people who doubt him. It peaked at number two in the US but gave the band their first UK number one, going on to be the fifth best-selling single of 2012, selling over 9 million copies.
---
Misery
Released in 2010, Misery was the first single taken from album Hands All Over. The song is about a difficult situation when a relationship starts to fade which is not new territory for the band at all. You have to write about what you know! Whilst the song wasn't as big a chart success, it did earn the band a nomination for Best Pop Performance by a Duo or Group with Vocal at the Grammys, but lost out to Train's Hey, Soul Sister.
---
Harder to Breathe
Taken from debut, Songs About Jane, the track was inspired by their record label putting more and more pressure on them to write more songs. Maroon 5 felt they had enough material for their album but the label did not – this track was seen as the 'last crack' by Levine. It would end up being the album's lead single, which would feature on TV shows One Tree Hill, Laguna Beach: The Real Orange County and Birds of Prey.
---
Makes Me Wonder
Following from Songs About Jane, it would be five years before the band's next album. It Won't Be Soon Before Long was released in 2007, using track Makes Me Wonder as the lead single. It became the band's first number one on the Billboard Hot 100, breaking a record at the time for biggest jump to number one in history – rising to the top from number 64. Makes Me Wonder won the Grammy for Best Pop Performance by a Duo or Group with Vocals, beating out the likes of Bon Jovi, U2 and Daughtry.
---
Maps
Maroon 5 released their fifth studio album, V, in August 2014 but dropped single Maps two months prior. The song is classic pop rock, having used a similar team to write and produce the track as they did on Moves Like Jagger and Payphone. The song hit the top of the charts on the Canadian Hot 100, South Korea International Chart and Billboard US Adult Contemporary charts.
---
If I Never See Your Face Again
If I Never See Your Face Again could have ended up being a very different track! The duet was originally intended to be sung with Janet Jackson for her Discipline album, but due to issues with the label, this didn't work out. Adam Levine approached Rihanna to add her vocal to the remix and the rest is history. The track featured on It Won't Be Soon Before Long as well as the re-release of Rihanna's huge album Good Girl Gone Bad. It was nominated at the Grammys for Best Pop Collaboration with Vocals but the accolade went to Robert Plant and Alison Krauss for Rich Woman.
---
This Love
Songs About Jane's This Love has had a hand in helping the band to become as successful as they are today. It was written the day Levine's ex-girlfriend moved away following their break-up. The front man called it an emotionally trying time in his life – sad about the break-up, but excited about the direction in which his band were going. This Love was the third most played song of 2004, helping Maroon 5 to win the MTV Video Music Award for Best New Artist. The live version won Best Pop Performance by A Duo or Group with Vocals at the 2006 Grammy Awards too.
---
Is it time to add Maroon 5 to your album collection? Get your hands on these classics at the Decluttr Store with FREE delivery. You can also make extra cash with Decluttr! Sell CDs online, sell books online, trade in games or sell Tech, including trade in iPad, trade in iPhone or check out our sell my phone page. 
Comments
comments