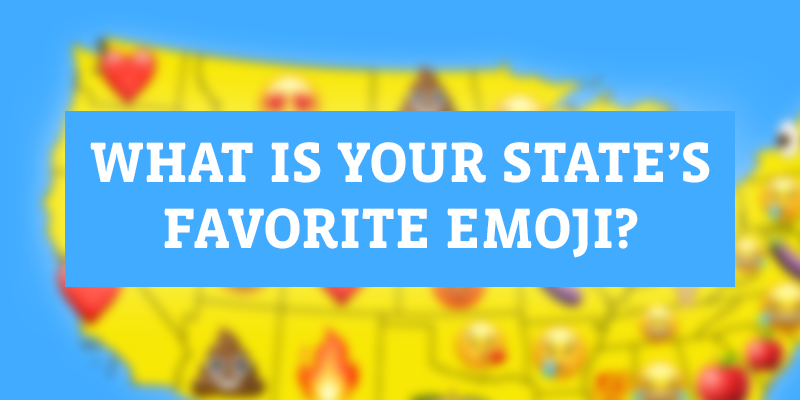 What is your state's favorite emoji?
Emojis are more popular than ever. From humble beginnings as a ploy to boost pager sales in Japan in the late 90s, emoji (which roughly translates as 'picture writing character') has become the world's first truly global language with over 5 billion emojis sent every day. They even have their own movie, the ultimate sign of popularity.
There are now over 800 emojis to choose from, ranging from the classic smiley face to flamenco dancers, spaceships and entire buffet of food… but which is the most popular?
To find out, we studied Google search data by state across every single emoji. Here's what we found…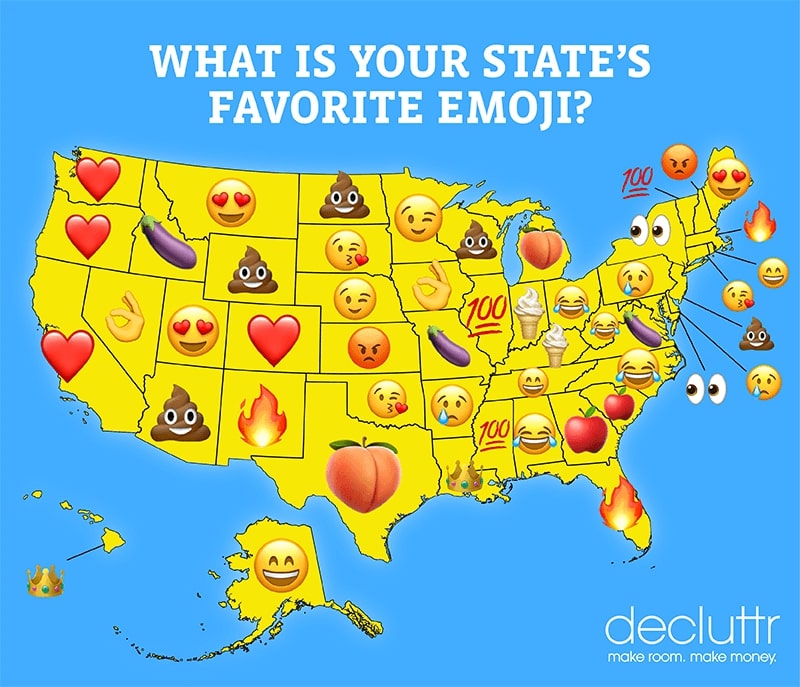 It's official: America loves poop. Everyone's favorite smiling doody tops searches in Arizona, New Jersey, North Dakota, Wisconsin and Wyoming.
Something funny is going down in Alabama, North Carolina, Ohio and West Virginia, with all four states searching for the laughing emoji most. Meanwhile, the hopeless romantics of California, Colorado, Oregon and Washington are searching for the heart emoji.
The rest of the country is divided. Residents of Idaho, Missouri and Virginia have an unusual fixation on the eggplant emoji (we can't imagine why), while the happy folks of Rhode Island, Tennessee and Alaska prefer the classic smiley face.
People in Illinois, Mississippi and Vermont are feeling equally good, opting for the 100 emoji. Things aren't so rosy in Arkansas, Delaware and Pennsylvania though, with residents searching for the crying emoji most.
See which emoji your state loves most in the table below and let us know your personal favorite in the comments!
| Alabama | Laughing |
| --- | --- |
| Alaska  | Smile |
| Arizona | Poop |
| Arkansas | Crying |
| California | Heart |
| Colorado | Heart |
| Connecticut | Kiss |
| Delaware | Crying |
| Florida | Fire |
| Georgia | Apple |
| Hawaii | Crown |
| Idaho | Eggplant |
| Illinois | 100 |
| Indiana | Ice cream |
| Iowa | OK |
| Kansas | Angry |
| Kentucky | Ice cream |
| Louisiana | Crown |
| Maine | Heart eyes |
| Maryland | Eyes |
| Massachusetts | Fire |
| Michigan | Peach |
| Minnesota | Wink |
| Mississippi | 100 |
| Missouri | Eggplant |
| Montana | Heart eyes |
| Nebraska | Wink |
| Nevada | OK |
| New Hampshire | Angry |
| New Jersey | Poop |
| New Mexico | Fire |
| New York | Eyes |
| North Carolina | Laughing |
| North Dakota | Poop |
| Ohio | Laughing |
| OKlahoma | Kiss |
| Oregon | Heart |
| Pennsylvania | Crying |
| Rhode Island | Smile |
| South Carolina | Apple |
| South Dakota | Kiss |
| Tennessee | Smile |
| Texas | Peach |
| Utah | Heart eyes |
| Vermont  | 100 |
| Virginia | Eggplant |
| Washington | Heart |
| West Virginia | Laughing |
| Wisconsin | Poop |
| Wyoming | Poop |