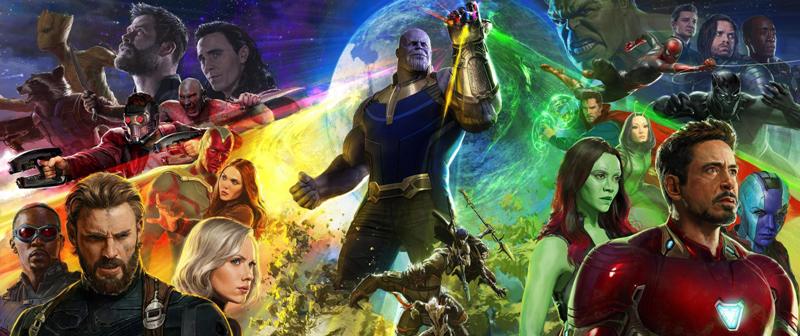 The 10 movies you need to see in 2018
2018 is shaping up to be a bumper year at the box office, with a ton of potentially great movies hitting the big screen.
Not everyone will have the time – or the cash – to see everything though. If you're one of those people, here's our definitive guide to the 10 movies you need to see this year.
---
Black Panther
Release date: February 16
Set shortly after Captain America: Civil War, Black Panther sees T'Challa (Chadwick Boseman) return to Wakanda to assume power from his deceased father. However, two rivals (played by Michael B. Jordan and Winston Due) conspire to stop him, leading to a plot that threatens the entire world.
Black Panther looks like a breath of fresh air in a genre that was getting (whisper it) a tiny bit stale, and it could be Marvel's biggest hit of the year; it's already broken presale records for a Marvel movie.
---
A Wrinkle in Time
Release date: March 9
Disney has been on a real hot streak over the past few years and A Wrinkle in Time will undoubtedly continue that success.
Future president Oprah, Mindy Kaling and Reese Witherspoon play three magical women who help a young girl find her father, who disappeared on the other side of the universe after trying a new form of space travel. Imagine an intergalactic version of Mary Poppins and you're pretty much there.
---
Pacific Rim Uprising
Release date: March 23
If you love watching big stuff beat the living heck out of each other, this is the movie for you.
The follow-up to Guillermo del Toro's original smash-em-up has been in the works for a while but it looks like the wait will be worth it, with Star Wars' John Boyega leading a crew of Jaeger pilots on a mission against the resurrected Kaiju.
Even without del Toro at the helm, this is going to be a riot.
---
Ready Player One
Release date: March 30
Spielberg's long-awaited sci-fi fantasy follows a gamer named Wade Watts who is given the chance to make some serious dolla dolla when the founder of a virtual reality game dies and leaves clues to the location of his billions in the game.
Unfortunately, Wade isn't the only one who wants to get his hands on the cash and he soon finds himself up against some powerful corporate interests who'll do anything to get that paper.
Spielberg is the master of the blockbuster so we're expecting this to be pretty special.
---
Avengers: Infinity War
Release date: May 4
Oh yeah, it's the big one: after ten years and 18 films, Marvel's biggest and best heroes will finally team up to take on Thanos, the mysterious intergalactic baddie on a mission to collect the Infinity Stones.
The first trailer suggests Infinity War will be every bit as epic as the premise suggests, and it's pretty much guaranteed to be the biggest movie of the year.
---
Solo: A Star Wars Story
Release date: May 25
We'll be honest: we're a little worried about Solo: A Star Wars Story. The usual hype that surrounds a Star Wars movie is pretty much non-existent, probably due to the fact that there hasn't even been a trailer yet – despite the movie coming out in a few months.
Factor in well-reported behind the scenes issues and the silence surrounding Solo is worrying. But then again, it has an awesome cast and, well… it's a film about Han Solo, one of the coolest characters in cinematic history. Surely it'll be awesome… right?
---
Deadpool 2
Release date: May 18
Ryan Reynolds is back as everyone's favorite foul-mouthed hero and we're in for a treat if the movie is anywhere near as good as the promotional campaign. So far, Reynolds (as Deadpool) has hosted his own Bob Ross-style painting show and guest-edited an issue of Good Housekeeping (yes, really).
The movie itself will see Deadpool team up with Negasonic Teenage Warhead to take on a new villain called Cable (played by Josh Brolin, who also plays Thanos in Infinity War), but to be honest, we'd happily just watch two hours of Deadpool being vulgar and weird.
---
Jurassic World: Fallen Kingdom
Release date: June 22
Set four years after the original, Fallen Kingdom sees Owen Grady and Claire Dearing (Chris Pratt and Bryce Dallas-Howard) return to the doomed Jurassic World resort to save the remaining island from a huge volcano while foiling a global conspiracy to use the dinosaurs for nefarious means.
But forget about that; the real headline is that Jeff Goldblum is back as Dr. Ian Malcolm.
---
Ocean's 8
Release date: June 8
The Ocean's series is back but George Clooney is nowhere to be seen.
Instead, Ocean's 8 follows Danny Ocean's sister (played by Sandra Bullock) as she joins the family biz and assembles an all-female squad (including Rihanna, Anne Hathaway, Cate Blanchett, Mindy Kaling and Helena Bonham-Carter) to pull off a heist at the Met Gala.
---
Incredibles 2
Release date: June 15
After 14 years, we're finally getting a sequel to The Incredibles!
Picking up straight after the original, Incredibles 2 follows the Parr family as Helen AKA Elastigirl fights crime while Bob AKA Mr. Incredible stays at home with the kids.
However, the threat posed by a new villain means the whole family – including baby Jack-Jack – have to don their suits once again…
---
Need something new to watch? Check out the huge range of movies on the Decluttr Store and we'll give you FREE shipping too! Plus make extra cash by selling your unwanted stuff with us, including sell textbooks, trade in games or sell CDs online. You can also sell iPhone, make an Apple Watch trade in, head over to our sell my phone page and more. 

Comments
comments