Everything you need to know about the iPhone X, iPhone 8 and Apple Watch 3!
Apple has unveiled three new smartphones: the iPhone X, iPhone 8 and iPhone 8 Plus.
The devices were launched at a special event held at the Steve Jobs Theater, located on Apple's brand new Cupertino campus. Tim Cook and co. also unveiled a new version of the Apple Watch.
Here's everything you need to know about Apple's exciting new products!
---
iPhone X
When someone at Apple utters "one more thing", you know something special is about to happen.
This year, Apple's "one more thing" was the iPhone X (pronounced 'ten', not 'ex'), a special edition device to celebrate the iPhone's 10th birthday.
The design
The iPhone X's main feature is a 5.8 inch Super Retina display stretching across the phone's entire front panel. There are no bezels apart from a tiny notch for the camera and speaker at the top.
It's also the first OLED screen on an iPhone, providing a vivid display with rich colors, true blacks and sharp brightness.
The expansive new screen means we have to bid farewell to an old favorite: the Home button. It's gone entirely, replaced by a swipe gesture that takes you back to the home screen no matter where you are.
TouchID has also been replaced by FaceID, which unlocks your phone through facial recognition. FaceID will apparently be able to adapt to changes in your physical appearance, so you should still be able to access your phone after a haircut.
Apple has also swapped the aluminum build of the past few iPhone models for a sleek glass design. The company claims this is the most durable glass ever included on a smartphone, so you won't need to worry too much about dropping it. The glass back also allows for wireless charging (more on that later).
The cameras
The front-facing camera, traditionally known as the FaceTime camera, is now called 'TrueDepth' to reflect its new depth-perceiving capabilities. These capabilities are important for facial recognition and augmented reality, two key iPhone X features.
The 12MP rear dual camera has been upgraded too. Optical image stabilization is now included on both lens, with optical zoom and depth perception thrown in for good measure.
Performance
The iPhone X runs on the A11 Bionic chip, which Apple say is the most powerful chip ever used in a smartphone. It certainly sounds impressive, with the ability to process up to 600 billion operations per second.
Apple are also advertising a battery life two hours longer than the iPhone 7.
Wireless charging
Finally. After years of fans begging for it, Apple have finally added wireless charging to the iPhone.
You'll be able to charge the device using a standard wireless charger as long as it matches Apple's wireless charging standard, although Apple will sell their own AirPower mat which allows you to charge your AirPods and Apple Watch at the same time. The mat will be available from early 2018.
Animojis
Without a shadow of a doubt the weirdest thing Apple has ever unveiled, Animojis are animated emojis that change expression based on your facial movements (thanks to the TrueDepth camera). We still can't decide if they're cute, hilarious or horrifying. There will be 12 Animojis available at launch, including a pig and a robot.
Price and release date
It seems those rumors about a delayed launch were true, as the iPhone X won't be available to pre-order until 27 October. It'll hit shelves on 3 November. Supply is expected to be short, so you might wanna plan a camping trip outside your local Apple Store…
Now for the important thing: the cost. The iPhone X will be the most expensive iPhone to date, with the 64GB model costing a jaw-dropping $999. If you want to upgrade, it'd be a pretty good idea to sell your iPhone first…
---
iPhone 8 & iPhone 8 Plus
The iPhone 8 has been overshadowed somewhat by the iPhone X, which is a shame because it looks pretty awesome.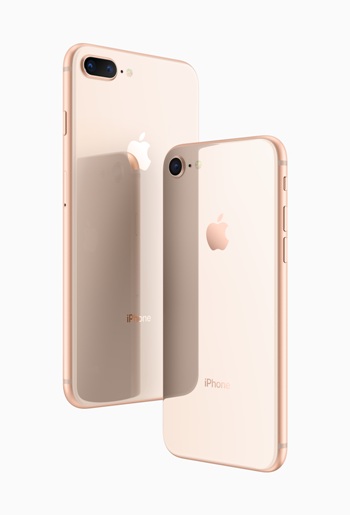 Based on Apple's previous behavior, this year's model should technically have been an 's' model. However, the 8 more than justifies the new number even if it does make Apple's numbering system slightly confusing (will next year's model be the iPhone 9 or the iPhone 11? Or will Apple drop numbers entirely?).
The design
The iPhone 8 is an evolution of the iPhone 7's design, with the older device's aluminum design replaced by a glass build. It will be available in three colors: space gray, silver and gold.
The screen, while not OLED, has been boosted with True Tone technology that adjusts your display based on ambient light.
Performance and cameras
Interestingly, the iPhone 8 and 8 Plus have the same A11 Bionic chip as the iPhone X. If you can't afford this year's flagship, you certainly won't be compromising on power by buying the iPhone 8 instead.
The 12MP rear camera has been improved with the addition of depth perception and enhancements to Portrait Mode.
Price and release date
In any other year, the iPhone 8 and 8 Plus would be Apple's flagship devices. However, this year they're almost the mid tier options. Prices start from $699 for the iPhone 8, which isn't cheap but is significantly less than the iPhone X. The iPhone 8 Plus will retail from $799.
Pre-orders begin on 15 September, with both models hitting shelves on 22 September.
---
Apple Watch Series 3
The Apple Watch has always seemed like a device for Apple purists only. Although it's undoubtedly cool, the fact you have to carry your phone around at the same time makes it seem… well, a bit pointless.
No more. Apple have finally added cellular technology to the Watch, which means you can make calls, send messages and stream music even if you leave your phone at home.
Improvements to the Watch's tracking capabilities and health apps mean this could be the first essential Apple Watch.
---
Thinking of upgrading to the iPhone X or iPhone 8? Trade in iPhone or check out sell my phone page to lock in the best price for 28 days today! We pay 31% more than Gazelle and 33% more than carrier buyback schemes.
Then, when you're ready to upgrade, ship your device to us for FREE and we'll pay you the day after it arrives. Why wouldn't you?

Comments
comments