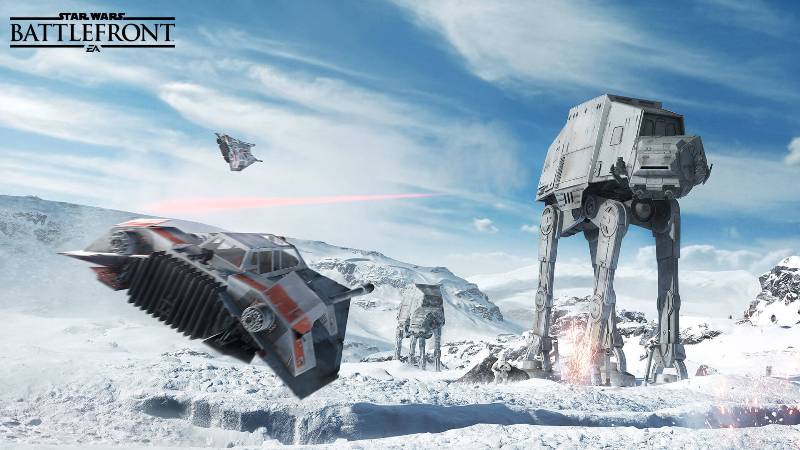 E3 in Review
Gamers from the furthest reaches of the galaxy united in Los Angeles last week, as the Electronic Entertainment Expo (E3) celebrated its 20th anniversary.
Did Nintendo live up to its hype? Was 2015 the year for Sony to finally claim its console dominance over living rooms around the world? Or did Microsoft's now-venerable Halo series steal the show?
Here's a look at some of our favorite announcements, as well as a few unexpected surprises.
Our Top Picks
Star Wars Battlefront
Some truly forceful elements looked like they were coming together for the release of Star Wars Battlefront. The previous versions were well loved and heavily reminiscent of the open world, team shooter Battlefield series. A new generation of consoles and a new Star Wars era to play in should guarantee Force-guided entertainment for casual and diehard fans alike. If nothing else, it will be worth it to hear 60+ players shrieking their Wookiee war cry at once.
---
Deus Ex: Mankind Divided
Deus Ex: Mankind Divided was the biggest game to win our hearts (and inevitably our wallets) this year. The last iteration was not without its flaws, but this long-running, much-beloved cyberpunk series looks like it's ready to fill the niche between the first-person action of the Call of Duty series and the sci-fi gold and character customization of Mass Effect.
---
Fallout 4
Fallout 4 is the hotly anticipated sequel to the post-apocalyptic, open world, running, gunning and questing gems Fallout 3 and New Vegas. Our secret desire is that the dialogue returns to the irradiated humor of the early series, but the game would have to grow an extra head to be unattractive to fans.
---
Mad Max
In a grittier version of the post-apocalyptic landscape, an open-world game for Xbox, PlayStation, and PC set in the Mad Max universe has us on the edge of our spiky, gasoline-fueled driver's seat. Expect as many car chases, explosions, and leather outfits as Mad Max: Fury Road. Whether the game captures the nuance and intensity of the film remains to be seen.
Biggest Surprises
Shenmue 3
Arguably the single biggest surprise this year was when Sony announced its Shenmue 3 release. The original action/adventure game Shenmue was released on the criminally overlooked Sega Dreamcast back in '99 and has since reached cult status. Originally a Kickstarter campaign, within hours the initiative raised over $1 million—breaking the Guinness World Record for hitting the $1 million mark faster than any other game.
---
Final Fantasy VII Remake
Among die-hard fans, Final Fantasy VII is the greatest RPG ever made (aside from Chrono Trigger, of course.) It's been almost 20 years ago since VII was released and single-handedly defined the RPG genre. This remake has been on the minds of fans the world over ever since and it looks like Sony is finally giving the people what they want.
---
The Last Guardian
This long-awaited game — it's actually been in development since 2007 — is a follow-up to Sony's amazing Shadow of Colossus, released on the now prehistoric PS2. Word's not out yet whether The Last Guardian will be a sequel or a stand-alone game, but if nothing else, the amazing graphics and gameplay make us think it'll be well worth the wait.
---
South Park: The Fractured But Whole
Usually, video games based off TV shows or movies tend to suck (check out WatchMojo's 10 Worst Video Games Based on TV Shows clip for proof), but not South Park's Stick of Truth. The 2014 RPG mimicked the show's aesthetic perfectly, and it looks like The Fractured But Whole will be much the same.
What were your favorite picks? Are you anticipating the chance to do battle on Hoth, or are you more excited about goin' down to South Park? Leave a comment with your top picks, biggest flops or your favorite ice cream flavor below.
---
It's never been easier to trade in games, sell books online or sell CDs online with Decluttr! Plus, you can also sell your tech, including trade in iPhone , make a MacBook trade in and more.
Comments
comments