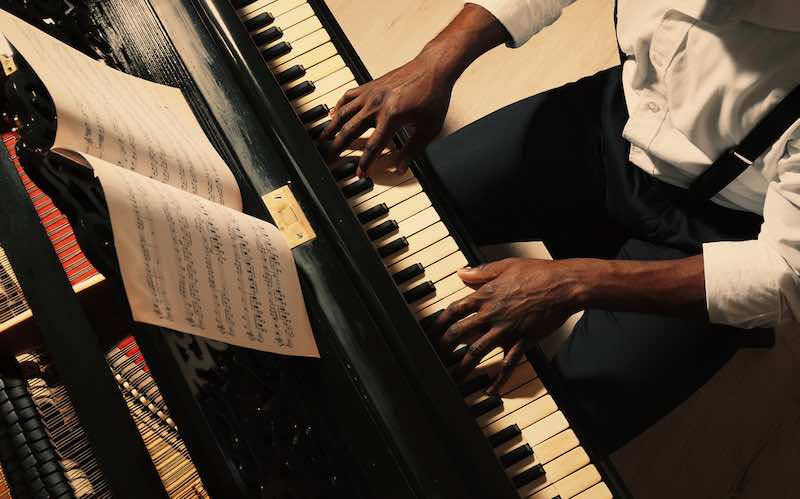 10 incredible black musicians you should check out
From pop and hip-hop to soul and reggae, black musicians have been changing the music scene for years, and what better time to celebrate these artists than Black History Month?
Here are some of the best black singers and black musicians of all time and the genres they influenced!
---
In this blog:
---
R&B/Soul
Stevie Wonder (1950-present)
Despite losing his eyesight as a child, Stevie Wonder became a musical prodigy by age 10, mastering the harmonica, piano and drums all by himself.
Wonder grew up to be one of the most legendary black musicians of all time, winning an astounding 25 Grammy awards and selling over 100 million records.
Known for pushing musical boundaries, Wonder became one of the first musicians to experiment with sampling, synthesizers and vocoders, as well as using his talent for blending R&B, electronica, pop, soul, funk and jazz to create beautiful tracks.
Often labeled as a musical genius, Wonder's music even went on to shape the sound of R&B music in the late 20th century and he's now been inducted into the R&B, songwriters and Rock and Roll Halls of Fame.
Must hear: Stevie Wonder – Number 1s
Aretha Franklin (1942-2018)
Although no longer with us, Aretha Franklin is a true female soul music legend and one of the world's most influential black musicians.
Franklin had a strong connection to gospel music, having begun her musical journey singing at her father's church and touring as part of his 'gospel caravan.'
She became the first woman to be inducted into the Rock and Roll Hall of Fame and received a total of 18 Grammys during her time as a performer.
Franklin wasn't just a singer but also a keen pianist and songwriter with several classic hits including Respect, I Say a Little Prayer and (You Make Me Feel Like) A Natural Woman.
Must hear: Aretha Franklin – Best of Aretha Franklin
Ray Charles (1930-2004)
Known as 'The Father of Soul,' Ray Charles was a singer, songwriter and skilled pianist who greatly impacted the R&B and soul genres.
Blinded in childhood due to glaucoma, Charles learned to read and write music in braille and mastered the clarinet, trumpet, saxophone, organ and piano.
Charles created the group known as The Raelettes to perform backing vocals in his songs such as Hit The Road Jack. Some of his best-known songs include What'd I Say, I Got a Woman and Georgia on my Mind.
At the time, Charles was one of few black artists who owned a record label and had artistic control over his work. Although being born poor and blind, nothing held him back from being the musical icon he became.
Must hear: Ray Charles – Very Best of Ray Charles
Rock
Jimi Hendrix (1942-1970)
Initially starting as a session musician playing backup guitar for the likes of Little Richard, B.B. King and Sam Cooke, Jimi Hendrix went on to become a successful solo artist and pioneer of the electric guitar in both the rock and R&B scenes.
Although his career lasted just four years due to his premature death at the age of 27, Hendrix helped define psychedelic rock and influenced the future of blues music.
Hendrix's improvisational ability was second to none, as shown throughout his many performances, including his sensational Woodstock performance in 1969.
He is remembered for his hits Purple Haze and Hey Joe, which will forever remain some of the best classic rock songs of all time.
Must hear: Jimi Hendrix Experience – Smash Hits
Tina Turner (1939-present)
Originally rising to fame performing with her then-husband, Ike Turner, Tina Turner escaped her abusive relationship and launched a solo career as the iconic singer-songwriter we know and love today.
Turner gave us groundbreaking hits such as Proud Mary and What's Love Got to do With it, earning the nickname The Queen of Rock 'n' Roll in the process.
Fittingly enough, Turner was later inducted into the Rock and Roll Hall of Fame and became the first female and the first black artist featured on the cover of Rolling Stone magazine.
Must hear: Tina Turner – Simply the Best
Pop
Whitney Houston (1963-2012)
Both a singer and actress, Whitney was known for her powerhouse vocals and unique style. Nicknamed The Voice, Houston will always be one of the greatest female black singers of all time.
Like the fellow legend Aretha Franklin, Houston sang in her local church and was inspired by gospel music.
Houston became a musical sensation with top hits I Wanna Dance With Somebody and I Will Always Love You, while her albums Whitney Houston and Whitney both topped the Billboard 200 charts.
She currently holds the Guinness World Record as the most-awarded female artist of all time, with more than 400 career awards. Although she's no longer with us, we expect she'll still be getting nominations and awards for her dedication and efforts toward music.
Must hear: Whitney Houston – Whitney Houston
Beyoncé (1981-present)
Starting her singing career in the all-female pop group Destiny's Child, Beyoncé was and is a dominant female force within the pop music industry.
Through the 90s, Destiny's Child released hit singles like Survivor and Say My Name, which catapulted them into the new role of best-selling all-female group of all time.
When the group finally parted ways, Beyoncé embarked on a successful solo career producing record-breaking albums and chart-toppers such as Crazy in Love, Single Ladies and Halo.
So far, she has a total of 32 Grammy awards and 79 Grammy nominations for her solo and group music, making her the most-awarded and most-nominated artist in Grammy history alongside her husband, Jay-Z.
Must hear: Beyoncé – 4
Reggae
Bob Marley (1945-1981)
If you're a lover of reggae, then you'll more than likely be familiar with Bob Marley's contribution to the genre.
Arguably the most famous reggae singer ever, Bob Marley rose to fame in the 60s and 70s as part of the band The Wailers and touched the hearts of millions. When the group disbanded, Marley continued on his own.
As a member of the Rastafarian movement, his music combined the spiritual essence of his religion with powerful real-world messaging. Marley's groove-filled music went on to inspire generations and spread messages of unity and peace.
After surviving an assassination attempt in his home country of Jamaica, Marley died in 1981 from cancer, leaving his reggae legacy behind him.
Must hear: Bob Marley & the Wailers – Legend: Best of Bob Marley & the Wailers
Hip-Hop/Rap
Jay-Z (1969-present)
Jay-Z is one of the most influential hip-hop artists in the world and one of the best black rappers of today.
Married to fellow musical icon Beyoncé, Jay-Z found success both as CEO of a recording label and as a musician. Jay-Z has helped to find and mentor successful artists such as Rihanna and Kanye West.
His musical career has given us 13 studio albums with hits including 99 Problems, Empire State of Mind and Run This Town. He even worked on a collaborative album with his wife called Everything is Love.
Jay-Z is among the most influential and important black musicians to date for his amazing musical skills and talent-finding abilities.
Must hear: Jay-Z – Black Album
Nicki Minaj (1982-present)
Few female rappers have made it in the music industry, but Nicki Minaj had no problems breaking through into the limelight.
Known for her sharp lyrics and questionable fashion styles, Minaj is an extremely versatile rapstress who uses alter egos and different accents within her rapping style.
Her debut album, Pink Friday, smashed through the US Billboard200 chart and is now diamond certified by the Recording Industry Association of America – which is extremely rare for a debut album in general, let alone the debut album of a female rapper.
Must hear: Nicki Minaj – Pink Friday-Roman Reloaded
---
Found a new favorite artist within our list? Treat yourself to a new album for less when you buy second-hand CDs on the Decluttr Store!
Make extra cash when you sell CDs! You can also sell more with Decluttr, including sell DVDs, sell books and if you're wondering where can I sell my mobile or how to sell my iPhone, you can trade in your old devices too.
Comments
comments