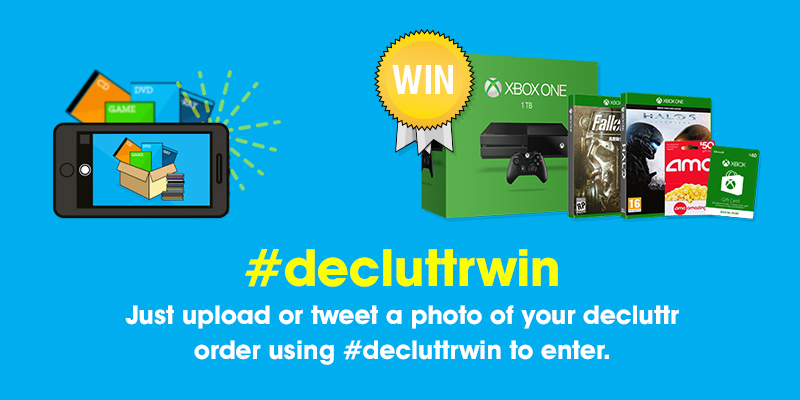 Win an Xbox One and more in our #decluttrwin competition
If the Holiday Season has left your wallet a little lighter and your pants a little tighter, our new competition will definitely help put a smile back on your face. We're giving you the chance to win an Xbox One with 1TB storage, plus Fallout 4 and Halo 5 to go with it. Not only that, we're also giving away $50 Xbox Live Credit and a $50 AMC gift card – if you ever manage to pull yourself away from your new console that is.
It's really simple to enter – either tweet a photo of the items you're trading in with us using #decluttrwin, or directly upload it into our gallery here. So you're not only getting cash for your clutter, but the chance to win an amazing prize too. Who said January sucks?!
---
How to Enter
1. Snap a photo of your Decluttr order before you send it off to us. Be as creative as you like – let's be honest, a sealed box looks pretty boring.
2. Either tweet your photo using #decluttrwin, or directly upload it into our gallery here.
3. Get cash for your unwanted stuff and potentially win an awesome prize.
---
The competition will run until midnight EST 7th February 2016, and then we'll pick one lucky winner at random. We'll be sharing some of our favourite entries along the way too, so get snapping!
For the full Terms and Conditions for the competition click here.
Comments
comments