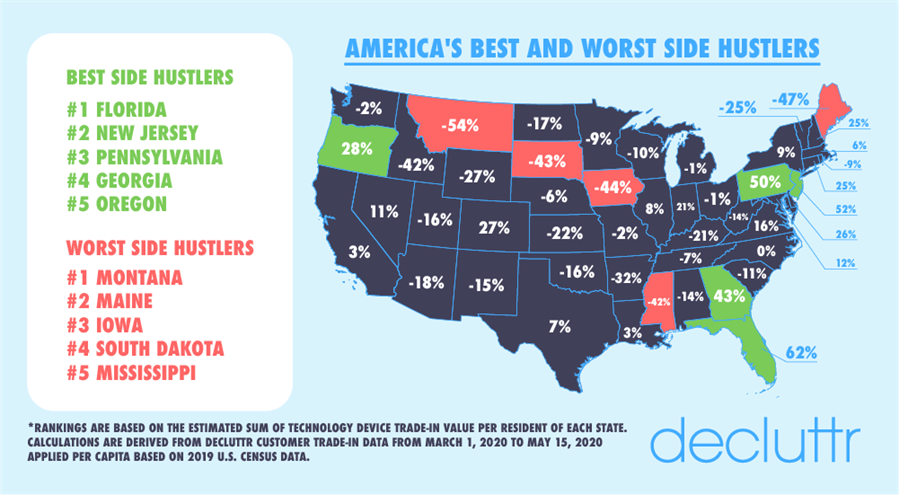 Calculations are based on Decluttr's internal trade-in data applied per capita using U.S. census population data per state.
Which states are making the most cash on old cell phones?
When it comes to mobile phones, North Dakotans and Georgians are earning the highest return across all other states:
They earn $40-$50 more per cell phone trade in compared to the average state resident.
They also earn $90-$100 more than the residents in the states with the lowest average trade-in values for mobile phones, Maine and Idaho.
Which state trades in the most iPhones?
Interestingly, Texas has knocked California off the top spot for iPhone recycling. Here are the top five states making the most iPhone trade-ins:
Texas
California
Florida
New York
Georgia
How much are Americans making by selling books?
The following states have residents turning over 2-3 times more books per head than residents of other states. The bookworms of the U.S. are located in:
Pennsylvania
Arkansas
Rhode Island
North Jersey
South Dakota
How much are Americans making by selling CDs, DVDs and Blu-rays?
It's a common belief that old DVDs, Blu-rays and CDs are of little value, but Decluttr data proves otherwise.
Some people have traded in their old DVD and Blu-ray collections for more than $500 in trade-in value.
Residents in Arkansas, Maine and Rhode Island in particular appear to have the most "valuable" taste in movies and music, earning the most for their old DVDs, Blu-rays and/or CDs.
Do Americans keep the most unwanted items and tech?
Despite the many who are reselling or donating their unused items:
35% of Americans typically keep unused tech in their homes.
12% throw items away, indicating a huge financial opportunity lost for Americans who aren't capitalizing on the resale value of their old technology items.
Gen-Xers and Boomers admit to creating more waste in recent months as a result of re-organizing and/or cleaning out their homes.
Yet interestingly, older Americans admit to holding onto unused technology items nearly twice as long as their younger counterparts, which has historically led these items to depreciate in value by 26% over the course of a year.
For those looking to clean out their old tech items throughout their homes, the following chart shows how much others have received for their old tech items: