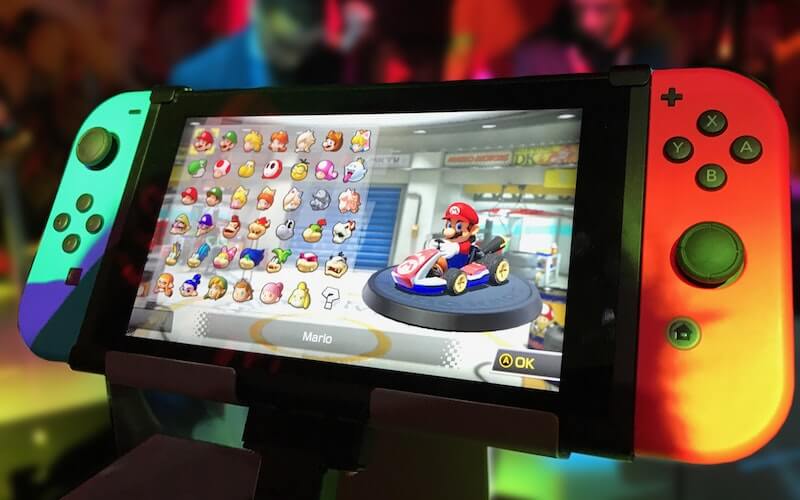 Top 10 Nintendo Switch Games
Are you looking for a Nintendo Switch game to really get stuck into? Whether you're new to Switch gaming or you've had your Switch for years, here are 10 Nintendo Switch games you need to be playing right now. From cozy gaming to hack-and-slash games, we've got game recommendations for everyone! Keep reading to find out which Switch games you should be playing.
---
In this blog:
---
Mario Kart 8 Deluxe
If you're looking for a good multiplayer game to play with friends and family, Mario Kart 8 Deluxe should be your go-to game. It's almost identical to Mario Kart 8 on the Wii U, just with some handy new additions. 
You can race around tracks in different Mario universes playing as some of your favourite Mario characters or you can race as a custom character. Plus, you even get to pick your ride and customize it to your liking.
This arcade racing game offers new characters, the return of battle mode, all previous DLC tracks and the ability to now hold two special items simultaneously. You can play in split-screen with up to four players or play online – however, you'll need Nintendo Switch Online to play online.
If you'd prefer to play alone, you can play in single-player mode on a handheld or connect it up to your TV for some big-screen enjoyment.
Bayonetta 3
Play as the super-powered witch and gunslinger Bayonetta to fight enemies in this action hack-and-slash game.
Bayonetta 3 follows Bayonetta's fight against Singularity and offers gamers new ways of fighting other than the familiar punches, kicks and guns. In Bayonetta 3, you can summon giant demons, perform mell attacks and of course use your guns to fight off enemies.
While it's probably best to play the first two games of the franchise first, you can definitely jump straight into Bayonetta 3 without feeling confused.
If you're looking for a hack-and-slash game with fighting similar to that of Final Fantasy, Bayonetta 3 (and the first and second installments) is the way to go!
Animal Crossing: New Horizons
A cozy gamer favorite is the Animal Crossing franchise, so it's no surprise that the latest game in the series, Animal Crossing: New Horizons is a must-play for Switch users.
In this game, you get your very own island to fill with villagers and to change and build whatever you like. On your island, you can fish, collect fruit, befriend fellow villagers and decorate your island to make it your own.
Plus, thanks to new online features, you can now visit friends' islands, swap items and design and sell custom clothing. If you're looking for a handheld Switch game to sit down and relax with, this is the one for you!
Pokémon Legends: Arceus 
If you've been playing Nintendo consoles for a while, then you've more than likely played a Pokémon game or two in your lifetime. You'll be surprised though, as Pokémon Legends: Arceus is like no other Pokémon game we've seen.
Pokémon Legends: Arceus is a prequel to the main series set in the Sinnoh region, where Pokémon roam freely. You're tasked to explore the wilderness, surveying, catching and researching wild Pokémon to create one of the region's first Pokédexes.
This Pokémon game has no badges or gym leaders and shifts the focus from battling Pokémon to catching them.
If you're a newbie looking to get into the Pokémon series, this is a great starting point. For those who are getting tired of the same battle-orientated Pokémon games, Pokémon Legends: Arceus will feel like a breath of fresh air!
Metroid Dread
Metroid Dread is an action-adventure Metroidvania game that revolves around bounty hunter Samus and her attempt to escape from an unfamiliar planet.
Play as Samus as she finds new tools and power-ups while fighting indestructible enemies that require a stealthier approach than Metroid gamers might be used to. Try playing on handheld mode or hook your Switch up to the big screen for the full 2D-style Metroid experience.
This side-scrolling game is one of the hardest of the series (and there are quite a few Metroid games out there), so be warned!
The Legend of Zelda: Breath of the Wild
Another must-play Switch game is The Legend of Zelda: Breath of the Wild. This Action RPG is a Nintendo exclusive, like all other Zelda games, taking ideas originally introduced in the first Legend of Zelda and expanding them.
Set at the end of the Zelda timeline, you'll play as an amnesiac Link to complete various quests, gather powerful weapons and abilities to defeat Ganon and save Hyrule and Princess Zelda.
Again, this is another series game that you can jump right into, so you don't need to worry about playing the previous Zelda releases.
Super Smash Bros. Ultimate
Want to play a family-friendly fighter game? Super Smash Bros. Ultimate is, as the title suggests, the ultimate Super Smash Bros game from the entire series, letting gamers play as their favorite characters to try and knock their opponents out of the arena.
This Switch game features a variety of game modes and is packed with even more characters than before. You can play in multiplayer versus modes with characters from franchises such as Mario, Pokémon, Zelda, Donkey Kong, Final Fantasy and more.
And for those that would rather play in single-player mode, you'll find 20+ hours worth of play featuring full-on boss fights and huge world maps.
Splatoon 3
Splatoon isn't your regular shooting game – it's much more. Instead of bullets, you shoot ink, and instead of shooting to kill, you shoot to cover as much of the stadium in ink as possible!
What makes Splatoon 3 better than the rest is its new story mode, Salmon Run challenge, Tableturf Battle, customization options and rewards.
Plus, Splatoon 3 has a hub world for players to interact with each other, along with better connectivity and an overall battery campaign experience.
If you enjoy shooter games but are looking for something less violent and more family-friendly, Splatoon 3 and the Splatoon franchise are great options!
Stardew Valley
Stardew Valley is a simple farming simulator game, perfect for cozy gamers looking for a relaxed evening in. In this open-ended country-life RPG, you've inherited your grandfather's old farm plot and are tasked with growing crops and raising livestock.
You'll start with a few coins and some hand-me-down tools to begin your new farming life. Some of the things you can do on Stardew Valley include mining, fishing, cooking, foraging and socializing with townspeople – you can even marry and have children.
You can play on your own for some relaxing you-time or play with up to four other players online.
Kirby and the Forgotten Land
Kirby and the Forgotten Land is a fun-filled family platformer and one of the top Nintendo Switch games. Part of the Kirby series, Kirby and the Forgotten Land is suitable for first-time Kirby players or Kirby experts.
You play as Kirby, a pink puffball, with the mission of rescuing the Waddle Dees that have been captured by an evil gang known as Beast Pack. You can inhale enemies to absorb their abilities, glide through tight platforming segments, and tackle big bosses.
While you won't see any drastic changes when it comes to gameplay when compared to previous Kirby games, Forgotten Land offers a few new Kirby abilities and amazing 3D levels that blow the 3DS graphics out of the water.
---
Decided on which Switch game to master next? You can buy and sell Nintendo Switch Games on the Decluttr Store to get your Switch games for even less! Sell your unwanted Switch games with us to get some extra cash and buy second hand Switch games from us to make your money go further.
Comments
comments