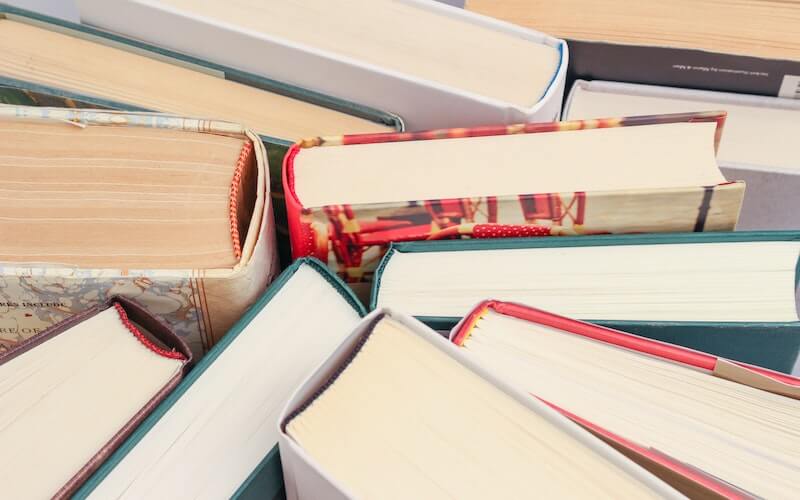 The best books of the year (so far!)
Looking for a new novel to read this year? Whether you're after a cozy romance or a whirlwind thriller, there are plenty of fiction books fresh off the press that are worthy of a read this year! Here are the best books of 2023 to add to your TBR list.
---
In this blog:
---
Age of Vice by Deepti Kapoor
Release date: Jan 3, 2023
Age of Vice by Deepti Kapoor is an ideal read if you're on the lookout for something to keep you interested and engaged as it's a combination of crime, romance, and action.
Set in India, a rich Indian man veers off the road in New Delhi, killing five bystanders in the process. The driver leaves his poor servant at the scene rather than staying to face the consequences.
Age of Vice offers everything you could ever desire in a book, following the tales of the hard-partying heir, the heir's servant, and an earnest journalist in a dangerous relationship.
Maame by Jessica George
Release date: Jan 31, 2023
Funny, poignant, and relatable, this refreshing tale follows main character Maddie, a 20-something Londoner trying to navigate through adulthood and all its challenges.
Maddie feels trapped in a life that is unfulfilling, as she is caring for her ailing father, leaving her no room for a social or romantic life. Maddie seizes the opportunity to run away and live life to the fullest when her pretentious mother leaves Ghana to spend a year back in London.
Maame is among the best books of 2023 since it explores issues of gender, family, race, and discrimination. Try Maame if you want a story about personal growth and discovery.
Homecoming by Kate Morton
Release date: April 4, 2023
Homecoming is a crime novel by bestselling author Kate Morton that you ought to check out. The focus of Homecoming is struggling journalist Jess, who comes back to Sydney from London to take care of her elderly grandmother.
After discovering an old book detailing the police investigation into a brutal murder back in 1959, Jess uncovers an unsettling connection between the horrifying slaying and her family. Could Jess's family be behind the killing? You'll have to read the book to find out!
Everyone Here Is Lying by Shari Lapena
Release date: July 25, 2023
Did someone ask for a suspenseful domestic thriller? You're in luck, then! Everyone Here Is Lying by Shari Lapena is the ideal novel for readers who enjoy a surprising turn of events.
The book focuses on the tight-knit Stanhope neighborhood where locals gush about their lovely town. But all is not as it seems in this place, as, well… everyone here is lying.
Following the disappearance of a 9-year-old girl, neighbors come forward one by one to reveal what they know, including their own dark secrets.
The Three of Us by Ore Agbaje-Williams
Release date: May 11, 2023
The Three of US by Agbaje-Williams is a three-sided story about the long-standing tension between a husband, his wife and her best friend. When the wife invites her best friend over for a relaxing girls' day in, all hell breaks loose as soon as the husband comes home from work.
The story is cleverly told in three parts from the perspectives of each character, highlighting cultural truths, compromise and betrayal. You'll witness the way each character sees themselves and watch as they slowly start to fall apart, calling into question everyone's morality. Each part is as riveting as the one before it.
Camp Zero by Michelle Min Sterling
Release date: March 30, 2023
Camp Zero is a dystopian survival story that explores issues of gender inequality, environmental degradation, and self-indulgence, set in a future in which a climate crisis has wreaked havoc on the planet.
While citizens on the mainland fight to survive, the wealthy have moved to floating cities off the coast where they live in colonies. In exchange for safe housing for her mother, Rose, a sex worker, is paid to spy on Camp Zero, a secret new community in the far north of Canada.
When Rose infiltrates the camp and wins the target's trust, she learns that there are other people with hidden agendas and that nothing is as it seems.
Camp Zero is one of the best books of 2023 for those looking for a tense, mysterious science fiction!
River Sing Me Home by Eleanor Shearer
Release date: January 19, 2023
A historical novel called River Sing Me Home demonstrates the lengths to which a mother would go to protect her children.
This heartbreaking story takes place in Barbados in 1834, just before the Emancipation Act of 1834 takes effect. A plantation owner declares his slaves to be "free," but they must now serve him for another six years as unpaid apprentices, rendering their apparent freedom meaningless.
In light of the new situation, Rachel decides to run. She has had five of her children taken from her and sold, and she won't stop until she learns what happened to her children. This is the tale of the extreme measures a woman will take to liberate herself and find her children.
A Death at the Party by Amy Stuart
Release date: March 7, 2023
Fellow wannabe detectives, unite! A Death at the Party by Amy Stuart is one of the best books of 2023 for mystery lovers. Likened to an Agatha Christie novel mixed with a sprinkling of White Lotus, this fast-paced whodunit will have you spiraling down a rabbit hole as the plot unfolds.
The story centers around Nadine, who during her neighborhood garden party, finds a body in her basement. The story then abruptly jumps back in time to just before the murder, leaving you to determine who both the murderer and the victim are.
What Happened to Ruthy Ramirez by Claire Jimenez
Release date: March 7, 2023
What Happened to Ruthy Ramirez by Claire Jimenez is the book for you if you want a fun mystery with some family drama.
Ruthy Ramirez, a 13-year-old Puerto Rican girl with red hair, vanished after leaving for track practice and hasn't been seen since, leaving her family in wreckage.
Fast forward 12 years later, the two surviving Ramirez sisters sit down for a night of binge-watching reality tv when they notice one of the participants looks very familiar. Is it long-lost Ruthy? Read the book to find out!
Now You See Us by Balli Kaur Jaswal
Release date: March 7, 2023
Now You See Us is the story of three very different Filipina domestic workers in Singapore who are shocked into action when they hear news of another domestic worker's charge of murdering her employer.
Corazon, Donita and Angel are housekeepers and caregivers working in the homes of Singapore's elite, silently watching the comings and goings of the filthy rich. When they see that a fellow immigrant maid has been accused and charged with murdering her employer, the three team up to solve the mystery.
Every worker knows stories of women who were scapegoated for crimes they didn't commit, with some even being executed for their accused crimes, so it's up to the three hard-working women to solve the crime and unmask the real perpetrator before it's too late.
---
Stock up on all the latest and greatest books with musicMagpie, to get your next reads for less! We sell Is it time to update your library? Sell your books with Decluttr for quick cash so you can stock up on some of these classics! Make more cash by selling your Tech, including trade in iPhone or a MacBook trade in. You can also trade in games , sell books online and sell CDs online too.
Comments
comments