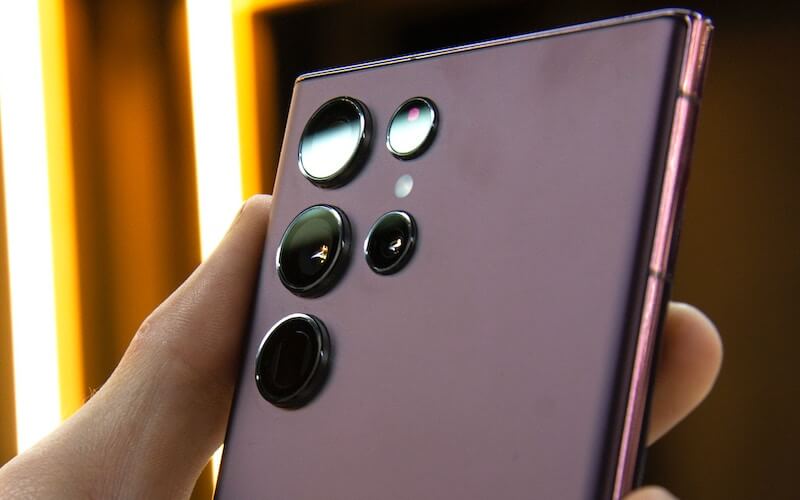 The Samsung Galaxy S22 Ultra
If you're searching for a Samsung phone with a whole load of advanced features to delve into, look no further than the Galaxy S22 Ultra!
This Samsung phone has it all and if you aren't interested in the Galaxy S23 and want to save a little cash, then keep reading to find out everything you need to know about the Galaxy S22 Ultra.
---
In this blog:
---
Price
The Galaxy S22 Ultra is still a luxury device, so it's not surprising that the price for a new model starts at a whopping $1199.99 and that's just for 128GB of storage. 
However, we've got just the way to reduce the cost! By shopping for a refurbished Galaxy S22 Ultra at the Decluttr Store, you'll cut the cost of your mobile phone upgrade and get the same features for a much lower price than new – how does that sound?
---
Design & display
Let's face it, the Samsung Galaxy S22 Ultra stands out, and for good reason! It's sleek, has sharp edges and it's durable, with Gorilla Glass Victus+ on the front and back of the device.
Samsung has truly thrown everything at the display and it's paid off! The Galaxy S22 Ultra sports a stunning 6.8-inch Quad HD+ Dynamic AMOLED 2x display, with a 1440×3088 resolution and 120Hz refresh rate. So if you're expecting a high-quality display and stunning design from your next phone, then this model is perfect.
---
Camera
The Samsung Galaxy S22 camera is truly impressive! It has 3x and 10x optical zoom and a brand new 30x and 100x Space Zoom, which captures photos in greater detail than ever before.
You'll have access to a huge range of cameras, including a 40MP front-facing camera, 108MP main camera, 12MP Ultra-Wide, and 10MP telephoto camera.
So if you think of yourself as quite the photographer or want a high-quality camera for holidays and capturing memories day to day, then buy the Galaxy S22 Ultra.
---
Performance & battery
The Galaxy S22 Ultra is a powerful device and is one of the best Android phones you can get. In terms of processors, it runs on the 4nm process Qualcomm Snapdragon 8 Gen 1 chipset or if you're in the UK or Australia, it runs on the Samsung Exynos 2200 chip.
This model has a big 5,000 mAh battery, which makes sense as it needs to power a pretty large phone. Plus, if you want to charge your phone on the go without worrying about wires, it has wireless charging and supports fast charging speeds.
However, take note that the Galaxy S22 Ultra doesn't have a headphone jack, which is becoming the norm with newer models.
---
The S Pen
Another great addition to the S22 Ultra has got to be the S Pen. It's light, thin, and compact so you won't even notice it is there until you need it.
It's great for commuting and working or for just having fun! You can even take notes on your lock screen if you're in a rush and need to jot something down. There's also a great range of customized options to enjoy, including translations, PenUp, and many more.
---
The Galaxy S22 is an all-round great device to upgrade to! Save more when you shop refurbished Samsung phones and buy refurbished tech at the Decluttr Store. What are you waiting for? Buy and sell Samsung phones today! 
Comments
comments