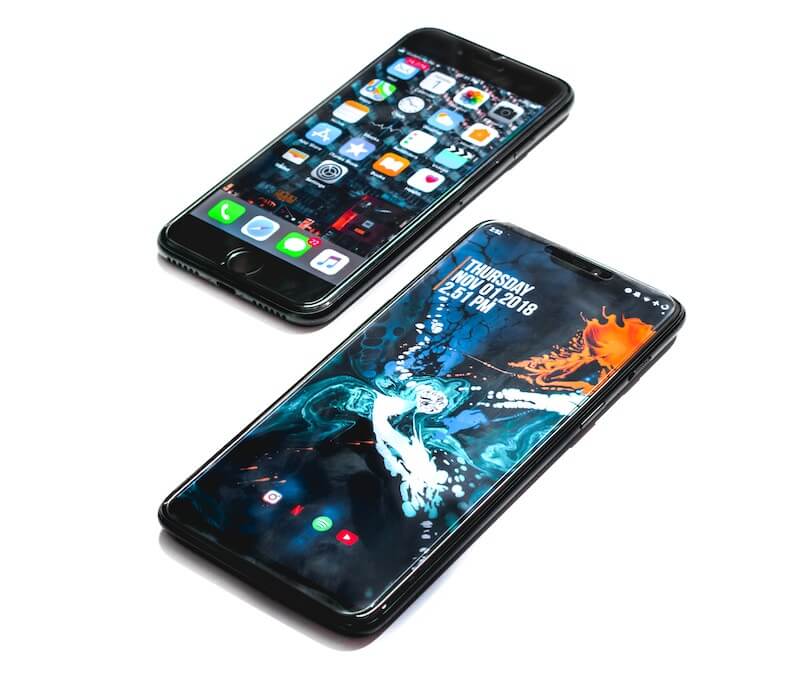 How To Transfer Data From Android To iPhone
Switching from Android to iPhone can be a tough adjustment, to say the least. To help make the switch as smoothly as possible, here's some handy advice on transferring your data from your old Android phone to your new iPhone device. Let's get started!
---
In this blog:
---
Before you start
Before you start the transfer, there are a few things you need to do first:
Check that your iPhone has enough space to fit the data you want to transfer.
Plug in both devices and make sure you connect them both to your Wi-Fi network.
Use Google Drive to back up your old Android phone.
Sign out of RCS on Google Messages.
To transfer your Chrome bookmarks, update to the latest version of Chrome on your Android device.
How to back up your data using Google Drive
It's important to back up your device before you begin the transfer, just in case anything were to go awry. Luckily, Google Drive works on Android and iOS devices, making it perfect for backing up your Android in preparation for switching to iPhone!
You can use Google Drive to back up your call and SMS history, photos and videos, documents, settings, and app data.
To back up data to Google Drive from your Android phone, go to Settings > Google > Backup and select Back up now.
How to sign out of RCS
To avoid missing messages when you transfer your data, you'll need to disable Rich Communication Services (RCS) if your Android phone uses Google Messages.
On your Android device, open the Google Messages app and follow these steps:
Go to More Options> Settings > Chat features.
Toggle off Enable chat features.
Transferring data using the Move to iOS app
Using the Move to iOS app is by far the easiest way to transfer your data. Here's how to do it:
Turn on your iPhone and place it near your Android device. 
Follow the on-screen setup instructions on your iPhone. 
On the Quick Start screen, tap Set Up Manually, then continue to follow the on-screen instructions.
Look for the Apps & Data screen and tap Move Data from Android. 
On your Android phone, open the Move to iOS app (if you don't have it downloaded, tap the QR code button on your iPhone and scan the QR code using the camera on your Android).
On your iPhone, tap continue when you see the Move from Android screen.
A 10 or 6-digit code will then appear for you to use on your Android device.
Enter the code into your Android phone.
Your iPhone will then create a temporary Wi-Fi network – when prompted, tap Connect to join that network on your Android phone.
Once the Transfer Data screen appears, using your Android device, select the content you want to transfer and tap Continue.
Keep your devices near each other and plugged into a power source while the transfer occurs.
Once the loading bar has finished on your iPhone, tap Done on your Android device.
Tap Continue on your iPhone and follow the on-screen steps to finish the setup.
Transferring data with your Google account
If you can't use the Move to iOS app or if there are any extra files you forgot to move over after following the first method, you can use your Google account instead. Here's how to do it:
On your Android phone, go to the Settings app.
On the Google tab, tap Backup.
Toggle on the categories you'd like to transfer. 
Wait until the backup sync is completed.
Switch over to your iPhone, go to settings > Mail > Accounts > Add Account, and enter your Gmail credentials. 
The data from your Google account should sync with the iPhone and automatically begin importing.
Transferring data manually
If you want to transfer your data the old-fashioned way, you can do so manually using a PC or a Mac.
Manual Transfer on a PC
Plug your Android phone into your PC.
Import your photos and videos into a new folder on your PC.
Unplug your Android phone and plug your iPhone into your PC.
Open iTunes on your PC.
Select the device button for your iPhone.
Select the content from the folder on your PC that you want to sync in the settings menu.
Click the checkbox for each category you'd like to sync.
Click Apply and Sync after you've chosen everything you want to transfer.
Manual Transfer on a Mac
Plug your Android phone into your Mac.
Import your files to a new folder using the Android file transfer app. 
Remove your Android phone and plug your iPhone into your Mac.
Go into Finder on your Mac (or iTunes for older Mac OS versions) and select your iPhone.
Configure the settings in the finder for each file type you want to sync (music, books, photos, files, etc.) 
Click the checkbox and select Apply for each category you want to sync. 
What will you lose in the transfer?
While you can transfer most of your data over, there will be a few things that are impossible to transfer when switching to a new operating system, including:
Purchased apps
Free apps that aren't available on the iOS App Store
In-app purchases
Accessibility and display settings
Messages on certain messaging apps
---
Now that you've successfully transferred your data, it's time to make some cash! With Decluttr, you can buy and sell mobile phones for cash with ease – including your old Android phone. So what are you waiting for? Trade in your Android phone today!
Comments
comments