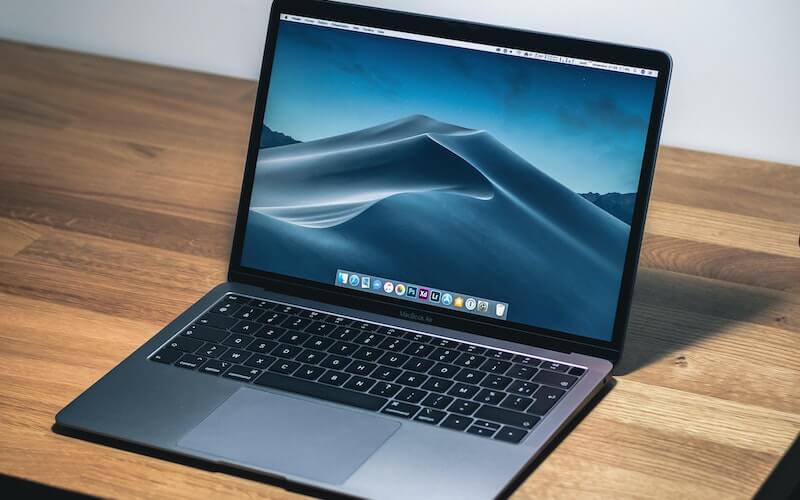 7 MacBook hacks you can't live without
Own a MacBook but not sure if you're using it correctly? Maybe you just switched from Windows to a Mac and are struggling with the differences? Whether you're a loyal Mac user or you've picked up your first MacBook recently, we bet there are a few hidden MacBook features you're yet to discover!
From keyboard shortcuts to extra desktops, here are some handy MacBook hacks you should definitely be using:
---
In this blog:
---
Turn your desktop folders into emojis
Personalizing your desktop has never been easier thanks to this MacBook hack! You can turn any or all of your desktop folders into emojis to brighten up even the dullest of desktops.
Here's how to do it:
Create a folder on your desktop by clicking File > New folder
Do a Google Image search for the emoji you want (e.g. "heart emoji" or "star emoji")
Drag the image you want to your desktop and double-click the image to open it in Preview
To make the image transparent, press the markup icon (it looks like a magic wand), click the background of the image so that a moving outline appears around it and click Edit > Cut
Click the markup icon again, and click and drag a box around the emoji
Click edit, select all and then press Command + C
Go back to the original folder you created on your desktop, right-click on it and select Get Info
In the screen that pops up, click the blue folder icon and press Command + V. You should then see your emoji appear
Let dictation do your typing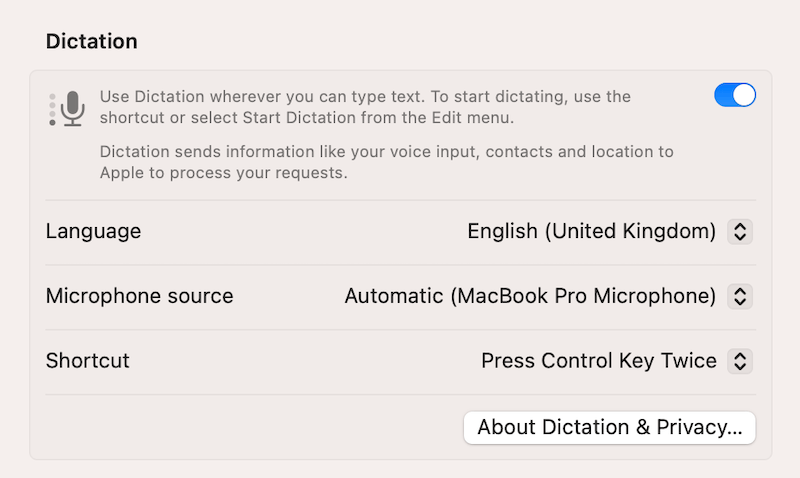 If you're a fan of dictation typing on your iPhone, you'll be excited to hear that the dictation feature is also available on Macs too! For those looking for some hidden MacBook features to help with writing and typing, this one's for you.
Open up your keyboard settings and turn on keyboard dictation by opening your system settings < keyboard settings and clicking the dictation toggle.
From then on, you'll be able to use a simple shortcut to begin dictation. You'll be able to see which shortcut your Mac is currently using for education on the keyboard settings page and you can also change it to a different shortcut if you like.
Usually, there are five shortcut options you can choose to turn on dictation:
Press the control key twice
Press the Fn key twice
Press the right command key twice
Press the left command key twice
Press either command key twice
The dictation feature will turn your speech into text without you lifting a finger or pressing a key, so it's definitely one to use if you want to give typing a break!
Sign documents with your real signature
In recent years, physical documents such as contracts and waivers have been modified so that they can be electronically sent and signed for. But did you know that you don't need to print out, sign and then scan the document back onto your computer to send it? Luckily, one of the hidden MacBook features on this list will solve all your virtual signature problems!
You can easily sign documents electronically when using a MacBook, and by signing electronically we don't mean typing your name using a cursive font. Open your document with Preview or Mail and choose from the following options:
With your camera – click Camera and hold your signature (on white paper) facing the camera so that your signature is level with the blue line in the window. When your signature appears in the window, click Done.
Using your trackpad – click Trackpad, click the text as prompted, sign your name on the trackpad using your finger, press any key, then click Done. If you want to try again, just click Clear, then do it again.
Using your iPhone or iPad – click Select Device to choose which iOS or iPadOS device you want to use. On your device, use your finger or an Apple Pencil (on iPad only) to sign your name, then click Done.
Look up dictionary definitions in seconds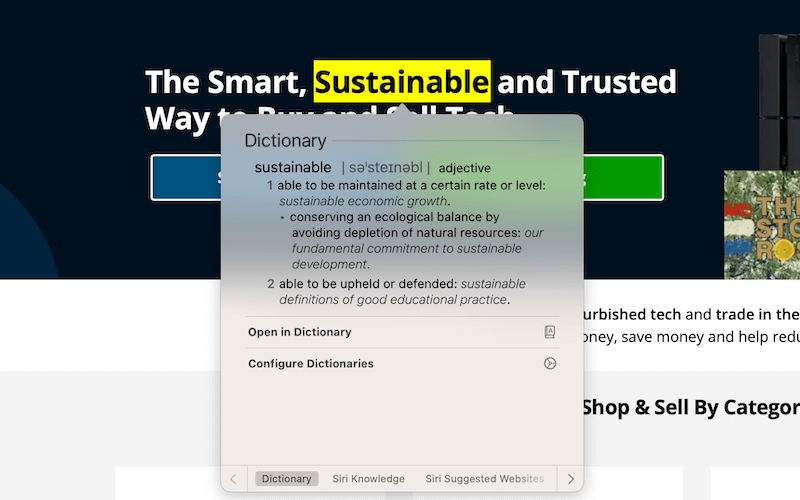 Have you ever stumbled across an unknown word while browsing the internet? Well, instead of opening up a new tab and googling the word, your MacBook can quickly look up the definition for you all in a matter of seconds!
The way to do this hack will depend on how old your Mac is and what shortcut is set on your device. You'll be able to highlight a word to see its dictionary definition:
In older versions of Mac OS – you'll use ⌘⌃D to bring up the definition of the word while hovering over the word.
On newer Macs – highlight the word, left click and select 'look up'. Depending on your left-click shortcut, you may be able to simply highlight the word and long tap with two fingers or double tap with three fingers.
Use multiple desktops without using extra displays
Multiple desktops are great, but they tend to take up a lot of space on your work desk. Fortunately, with an Apple MacBook, you don't need extra screens to have multiple desktops – you can use virtual ones instead!
If you're often fighting through multiple tabs and windows, creating a few virtual desktops could help you organise your work without making you close anything important.
To create a new virtual desktop, simply drag any open tab up to the top of your screen and hold it there for a few seconds. The virtual desktop menu should appear. You can then drop your selected window onto a new desktop and create even more desktops by clicking the + button to the right.
Accessing your new virtual desktops is super easy too! Just open mission control and click the desktop you want to change to. Depending on the shortcut set up on your Mac, you can open Mission Control by swiping up on your trackpad with three fingers or pressing the Control and Up Arrow buttons.
Make use of the emoji keyboard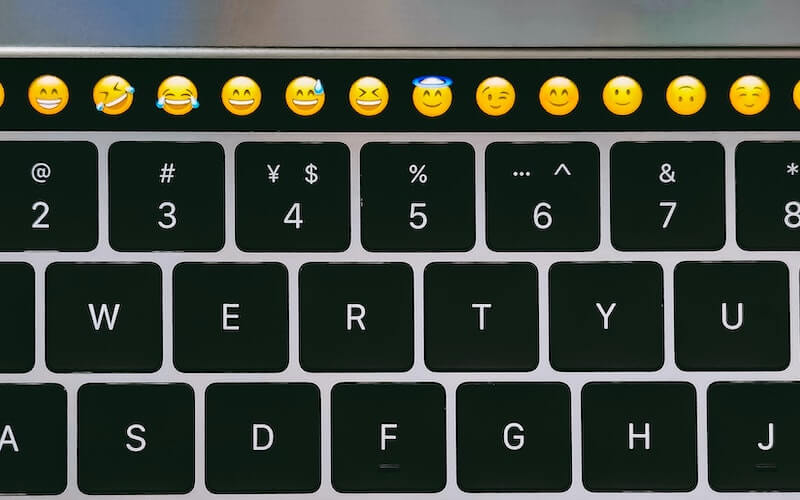 Use a lot of emojis when you message people? Then out of all our MacBook hacks, you're likely to use this one every day!
Your Mac has an emoji keyboard that's practically identical to the one on your iPhone, and you can use it on social media, the internet and even when replying to messages and emails on your MacBook.
With Mac OS X, you can insert emoticons by using pressing ctrl +⌘ + space. This will open a small pop-up window where you will see all the available emojis!
Take screenshots and snippets easily
While this isn't the most secretive of MacBook hacks out there, it's one to remember if you don't know it already! Like Windows laptops, MacBook laptops have the option to take screenshots and snippets.
Here are the three ways you can take a screenshot on a Mac:
Command + Shift + 4 and you'll get a crosshair that you can drag with your mouse to capture exactly what you want
Command + Shift + 4 at the same time and then let them go, then hit the Spacebar. Now you can click on any window you want and take a shot of that entire window, shadow included
Command + Shift + 3 to take a shot of your entire desktop. You'll get a file for each display connected
---
Continue to make the most out of your MacBook and check out our range of Apple accessories on the Decluttr Store!
Wondering 'where's the best place to sell my phone'? Trade in your unwanted tech with Decluttr! You can sell iPad devices, sell MacBook models, sell iPhone handsets and sell Apple Watch models for cash!
Comments
comments