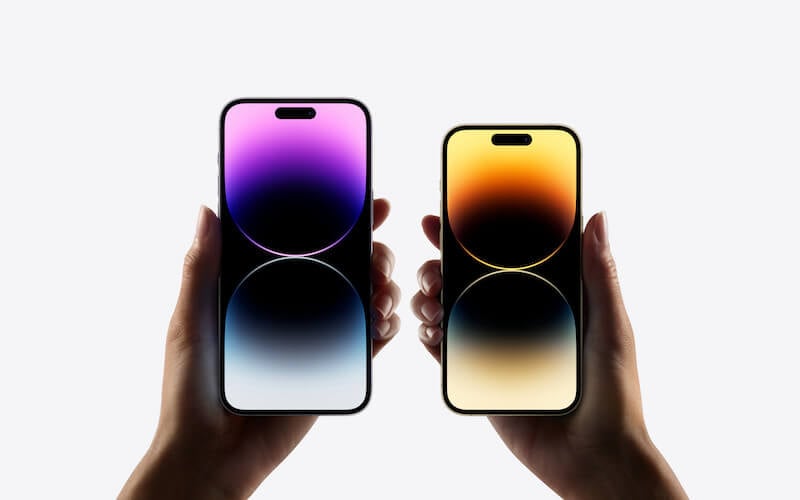 iPhone 14: Display and size 
Whether you prefer a phone with a larger screen to watch videos and text or a smaller handset to fit perfectly in your pocket, this year's iPhone 14 series has a great range of screen sizes and displays to choose from!
Keep reading to find out the iPhone 14 size comparison and more details about the display of both standard and Pro models:
---
In this blog:
---
iPhone 14 screen size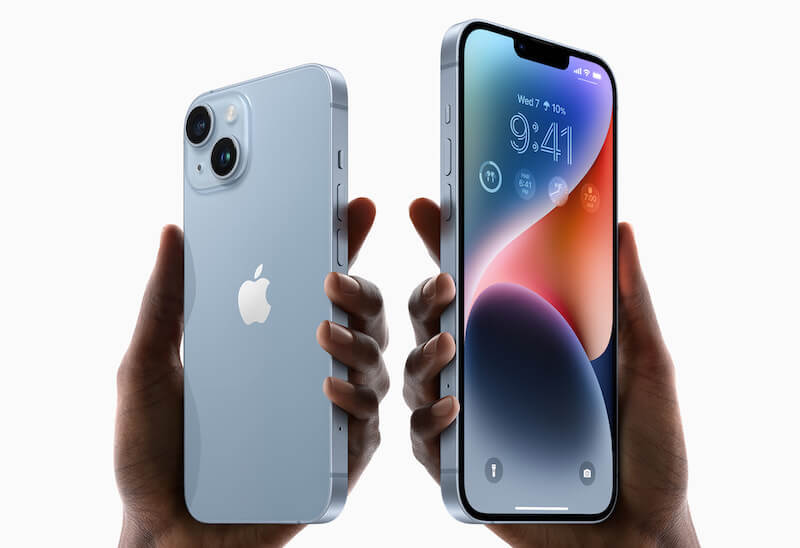 This is the first year a standard iPhone model and a Pro model have had the exact same screen size. Normally, bigger screen sizes are reserved for the Pro Max, but not this year! The iPhone 14 Plus, which has taken the place of the Mini version, has a 6.7-inch all-screen OLED display and Super Retina XDR display.
The iPhone 14 screen size and iPhone 14 Pro screen size are also the exact same, both sharing a 6.1-inch OLED display and Super Retina XDR display.
If you're wondering what the iPhone 14 dimensions are, this model weighs 6.07 ounces, is 5.78-inches tall, and is 2.82-inches wide. The iPhone 14 Plus dimensions are bigger, weighing 7.16 ounces, it is 6.33-inches tall, and 3.07-inches wide.
In terms of the Pro models, the iPhone 14 Pro dimensions are similar to the iPhone 14. This model is 5.81-inches tall, 2.81-inches wide, and weighs 7.27 ounces.
It's not surprising the iPhone 14 Pro Max weighs the most in the series at 8.47 ounces, it is also 6.33-inches in height and 3.05-inches wide.
The reason the iPhone 14 Pro and iPhone 14 Pro Max weigh more than the standard models is due to heavier stainless steel edges, larger batteries, and cameras.
---
iPhone 14 display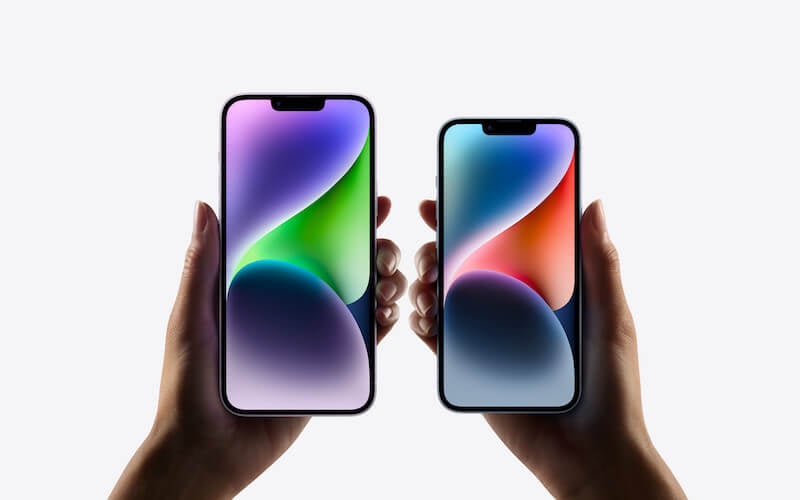 The iPhone 14 models may share similar screen sizes but the actual technology available on the standard and Pro models have some big differences.
Both Pro models include ProMotion display technology, which results in smoother animations.
The iPhone 14 Pro and iPhone 14 Pro Max are the first to use an Always-On display, allowing the screen to show your lock screen widgets at all times, including your wallpaper and the time.
The notch has also been replaced by a new Digital Island, which means you can tap and hold to find more options or controls. It can display album art, controls for FaceTime, and much more.
---
For more details about the iPhone 14 series, check out the following posts:
---
Make extra cash towards your upgrade when you sell iPhone or sell your phone with Decluttr. You can sell iPhone 11, sell iPhone 12, trade in iPhone 13 and even trade in iPhone 14.
Comments
comments