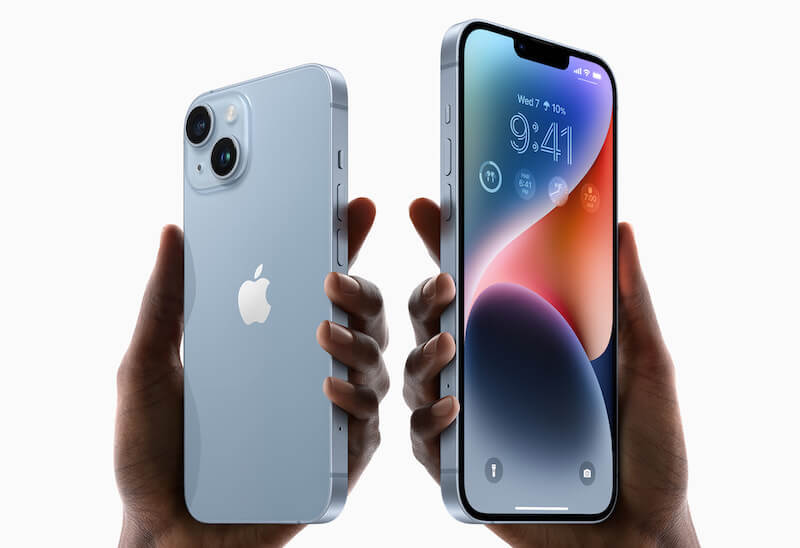 Which color iPhone 14 should you buy?
The models in the iPhone 14 series are available in several different colors, including some entirely new colors and some of the classics. As for the iPhone 14 Pro models, they have a completely different color scheme than the iPhone 14 and iPhone 14 Plus.
Keep reading to find out the available iPhone 14 colors for each model!
---
In this blog
iPhone 14 colors
The iPhone 14 and iPhone 14 Plus are available in the following five colors; Midnight, Purple, Blue, Starlight, and PRODUCT RED.
Previous iPhone models have included brighter and bolder color options. However, this year Apple has introduced three new shades to the iPhone 14 and iPhone 14 Plus, including Purple, Blue and PRODCUT RED, the latter of which has been tweaked so it's slightly brighter.
Midnight and Starlight have been carried over from the iPhone 13 and iPhone 13 Mini. Last year's Pink and Blue have also been upgraded to a lighter blue and purple for this year's series.
Apple chose not to use Green this year and there are no black or white options either.
---
iPhone 14 Pro colors
The iPhone 14 Pro and iPhone 14 Pro Max are available in the following four colors; Silver, Gold, Space Black and Deep Purple.
You'll notice that Silver and Gold have been used from last year's iPhone 13 Pro color palette. However, the iPhone 14 Pro's Gold has been tweaked slightly to feature a beige glass back.
Take into consideration, if you choose Silver, it only refers to the edges, and the back is actually white instead.
Apple introduced two new colors this year, including Space Black which appears to replace last year's Graphite option, and Deep Purple, which replaces Sierra Blue.
---
How to choose a color
If you are planning on using a phone case to protect your new iPhone 14, you're best choosing an iPhone color that compliments the case.
Choosing a neutral color means you can have a more colorful case without them clashing. So colors such as Starlight for the iPhone 14 or iPhone 14 Plus and Space Black or Silver for the iPhone 14 Pro models would be your best options.
However, if you want an eye-catching color regardless of the case, choose from Deep Purple for the iPhone 14 Pro's or Purple, Blue, or PRODUCT RED for the standard models.
If you're upgrading from any of the iPhone 13 models and want a completely different color than what the series offers, the brand-new shades you'll be looking at for the iPhone 14 series are Purple, Blue, Deep Purple, and Space Black.
For even more details about the new iPhone 14 series, head over to our post, iPhone 14 model comparison: all the differences.
---
Want to upgrade for less? Shop our huge range of refurbished iPhone models at the Decluttr Store.
Upgrading to the iPhone 14? Make it cheaper by trading in your phone. Head over to our sell my phone and sell iPhone pages to see the full range of phones you can trade in with us – you can sell iPhone 13, trade in iPhone 11 and much, much more. 
If you're already thinking about the next upgrade, you can trade in iPhone 14 and trade in iPhone 14 Plus models with us too!
Comments
comments