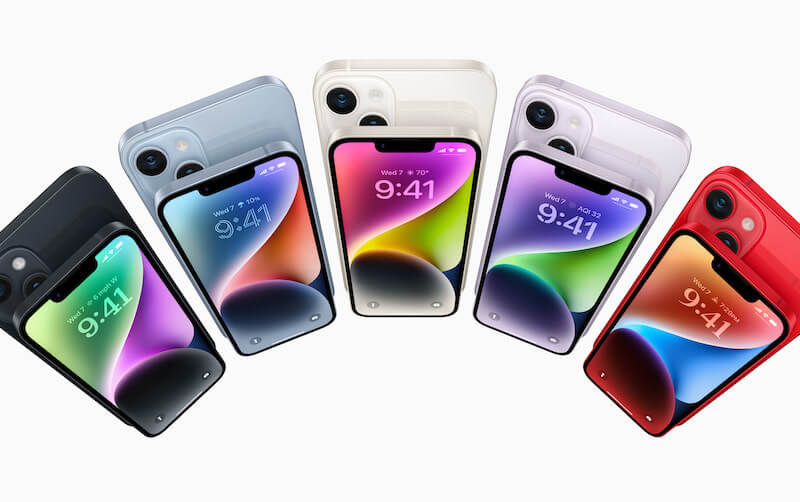 iPhone 14 vs iPhone 13: The Biggest Differences
Looking to upgrade your iPhone 13 but unsure if the iPhone 14 is worth the hassle?
Since Apple's announcement of the iPhone 14, it's become a bit confusing to figure out what exactly has been improved and upgraded in this year's iPhone model.
We're comparing the main difference between the two iPhone models, so you can decide if that upgrade to the iPhone 14 is worth it!
---
In this blog:
---
Differences in a nutshell
Slightly thicker design
Slightly thicker design
New features: SOS via Satellite, Crash detection, Dynamic Island (on Pro models)
Photonic Engine software for better image quality in low light
Slightly larger main camera sensor with AF on the front camera
Action Mode video stabilization
Upgraded A15 Bionic chip (14 and 14 Plus) and A16 Bionic chip (Pro and Pro Max models)
Slightly longer battery life, same 20W charging
---
Price
The price of the iPhone 14 range in the US matches that of the iPhone 13 release price – so you're not any worse off.
The iPhone 14 series consists of the iPhone 14, 14 Plus, 14 Pro and 14 Pro Max. If you're wondering where the iPhone 14 Mini is, we're sad to say Apple has decided to skip the model this year.
As the Plus model is new, we can't compare its price to any previous iPhone 13 model, but it seems to fall in line with the general prices of other devices.
The iPhone 14 costs $799 (£849), while the iPhone 14 Plus currently costs $899 (£949) $100 more than the 14, which is about right for a Plus model.
Coming in at $999 (£1099) and $1099 (£1199), the 14 Pro and 14 Pro Max are slightly more expensive than the standard 14 device.
---
Design and display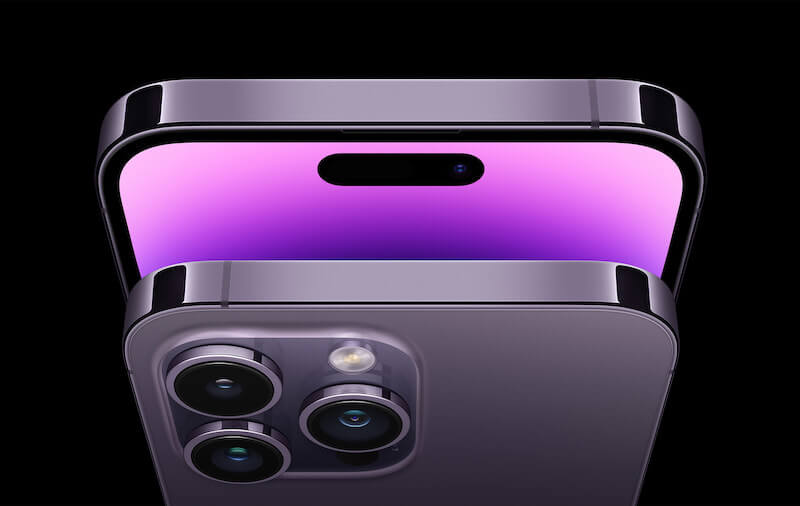 Design-wise, the iPhone 14 is almost identical to the iPhone 13. The display sizes have remained the same; the 14 and 14 Pro have a 6.1″ display, while the 14 Plus and 14 Pro Max have a 6.7″ display.
Apple has also decided to stick with the diagonal dual camera system layout along with the glass-backed flat aluminium side frame.
Although the display size remains the same, Apple has made the iPhone 14 slightly thicker than the previous 13 models. This means that anyone looking to upgrade will have to spend extra cash on a new iPhone case too.
Apple has made some changes to the iPhone 14 Pro models, one of which is the addition of the Dynamic Island. This change was to tackle the notorious notch at the top of the iPhone display. While the notch is still very much there, it's now a smaller pill-shaped notch that works with your display in widget style.
The iPhone 14 also comes in a new range of colors! You'll be able to buy the iPhone 14 and iPhone 14 Plus in five colors: Midnight, Starlight, Blue, Purple, and (Product) Red. The iPhone 14 Pro and iPhone 14 Pro Max colors include Deep Purple, Space Black, Silver and Gold.
---
Battery
If you're hoping for some battery improvements since last year's iPhone 13, you may be disappointed. The iPhone 14 has only managed to increase its video playback by one hour. While one hour isn't a great deal more, it's an extra hour nonetheless!
The iPhone 14 offers 20 hours of video playback, the lowest battery life of the entire iPhone 14 series. Coming in second place, the iPhone 14 Pro offers 23 hours of video playback compared to the 22 hours of video playback on the iPhone 13 Pro.
The iPhone 14 Plus offers 26 hours of video playback, while the iPhone 14 Pro Max has a huge 29 hours of video playback. Even though there doesn't seem to be massive battery improvements, 29 hours of video playback is the best battery life we've seen from an iPhone so far!
---
Camera
Much like the iPhone 13 and iPhone 13 Mini, the iPhone 14 and iPhone 14 Plus both have a dual camera system consisting of one main wide and one ultra-wide lens.
While the cameras might look the same, there are a few differences. The iPhone 14 has a larger sensor size and a faster f/1.5 aperture. All of the cameras also benefit from a new processing model called the Photonic Engine, makeing low-light images even better.
The front-facing camera now has a TrueDepth camera with an F/1.9 aperture and auto focus – something that was previously only available on the Pro models.
One of the three back cameras on the iPhone 14 Pro models has been upgraded too. The old 12MP main wide camera is now 48MP, so you'll get much better photos.
If you're looking for some video improvements, you'll be happy to note Apple has introduced Action Mode and 4K video on all the iPhone 14 range!
---
Performance
For the first time in iPhone history, not all of the new iPhone models feature a new chipset.
Apple have stuck with last year's A15 Bionic chipset for the iPhone 14 and iPhone 14 Plus devices, although it has been upgraded slightly. The upgraded A15 Bionic chipset within the iPhone 14 modelcome with an 18% improvement from the iPhone 13. This chipset has the same 6-core CPU and 16-core Neural Engine and boasts a new Photonic Engine feature and 5-core GPU for better gaming and low-light performance.
For those that prefer the Pro and Pro Max iPhone models, you'll be happy to know that the iPhone 14 Pro and iPhone 14 Pro Max come with the new A16 Bionic chipset! This chipset makes the iPhone 14 Pro and Pro Max models faster and more efficient than those with the A15 Bionic chipset – including the iPhone 14 and iPhone 14 Plus.
---
Features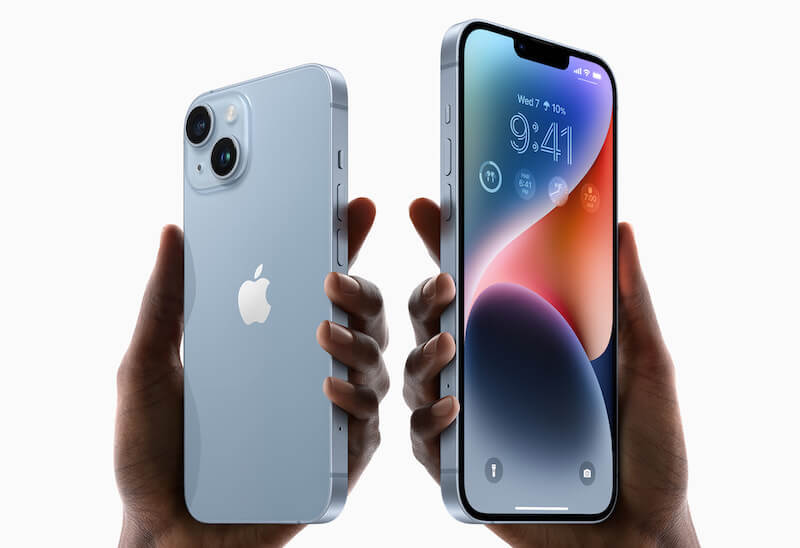 All of the iPhone 14 models come equipped with Crash Detection, a feature that Apple Watch users will be familiar with. This makes it possible for your iPhone to detect if you have been in a severe crash and will automatically call the emergency services for you.
The new iPhone has Emergency SOS via Satellite for all US and Canada, a new feature that will let you connect to a satellite to contact emergency services if you don't have WiFi or a cellular signal. While this is a pretty groundbreaking feature to add, users will eventually have to pay for the feature after two years.
Now available on iPhone 14 Pro and iPhone 14 Pro Max devices only is the new (for Apple, anyway) Always On display! This feature enables your display to stay on at all times, making it possible to see notifications, the time, and other features on your display without waking your phone up. Even when your device is locked, your screen will still be visible!
Apple have chosen to remove the Nano SIM tray, in turn removing all physical SIM cards from their iPhone 14 range. Those wanting to purchase any of the iPhone 14 models will have to use e-SIM technology, meaning you won't be able to insert your physical SIM.
---
Want to upgrade to the new iPhone 14 series? Trade in your old iPhone and get instant cash to put towards your upgrade – you can even sell iPhone 13 and trade in iPhone 13 Pro. If you've already upgraded but regret it, you can sell iPhone 14 and trade in iPhone 14 Pro Max too. Don't forget, we buy a huge range of phones from other manufacturers too. Take a look at our sell my phone page for more info! 
Comments
comments