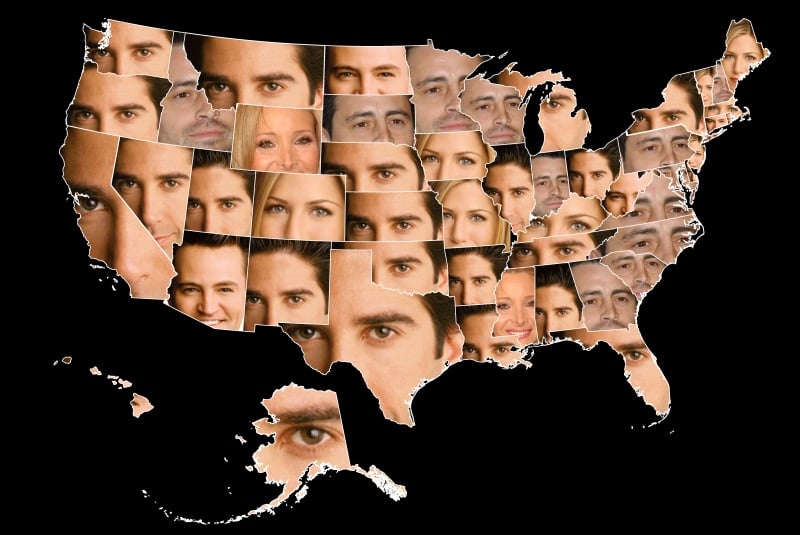 Which Friends character does your state love the most?
Friends is arguably the best TV show ever. While it lacks the prestige of Mad Men or the high stakes of Breaking Bad, it's loved by everyone from 40-somethings who watched the show's initial run to teenagers who weren't even born when the show ended in 2004.
Part of this appeal comes from the fact it's so easy to watch. Had a few too many drinks last night? Lay on the couch and watch Friends. Need some background noise while you tidy up? Here's Ross, Rachel, Chandler, Monica, Joey and Phoebe!
Another reason is that it was easily available on Netflix… until now. Friends and Netflix are officially on a break, with the show moving to HBO Max in May.
That's right. May. We have no way to watch Friends for five whole months (apart from re-runs on TV, of course). What are we supposed to do now?!
Well, we decided to fill the Friends-shaped hole in our lives by finding out a) which Friends character each state loves the most and b) the most popular character overall. To do this, we took Google Trends data for each character from the three months leading up to the show leaving Netflix. Here's what we found…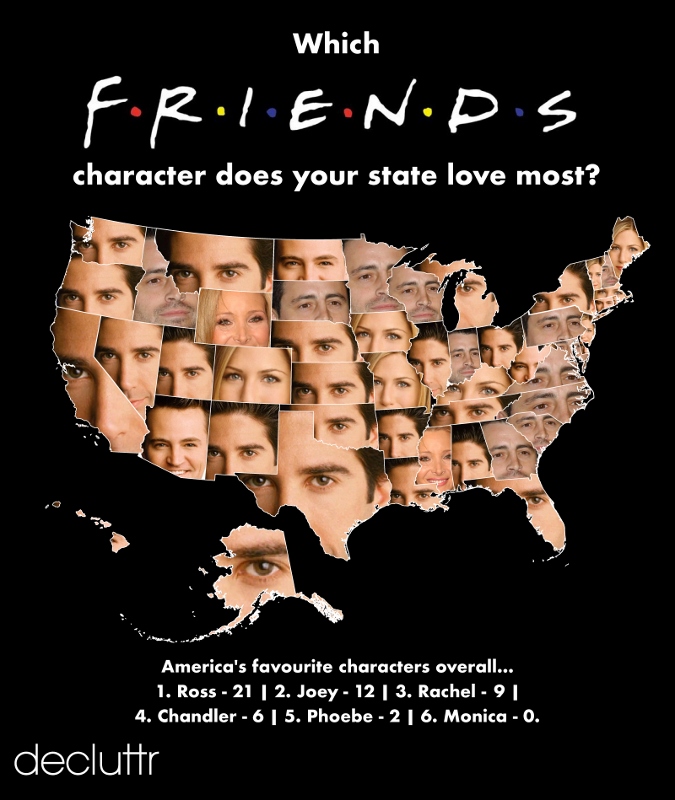 Thanks to his goofy charm and endless array of hilarious lines, Ross Geller is America's favorite Friends character! Everyone's favorite paleontologist took 21 states overall, including the show's home state of New York.
In a not-really-that-close 2nd is Joey Tribbiani. The Days of Our Lives star and sandwich enthusiast is the most popular character in 12 states, including Idaho, Indiana and Minnesota.
Rachel Green's transformation from spoilt daddy's girl to high-powered fashion exec and mother won the hearts of 9 states, making her the 3rd most popular character, while Chandler and Phoebe came 4th and 5th respectively. Poor Monica came dead last with 0 states choosing her as their favourite. Don't worry Mon, the competition was tough!
If you can't face 5 months without Friends, check out our range of great value TV boxsets on the Decluttr Store. And if you need some extra cash to hang out at the coffee house, sell your cell phone, sell iPhone and tech with us too! You can also carry out an Apple Watch trade in, sell textbooks, trade in games and sell CDs online.
Check out the full list of states and their favourite Friends characters below:
Comments
comments