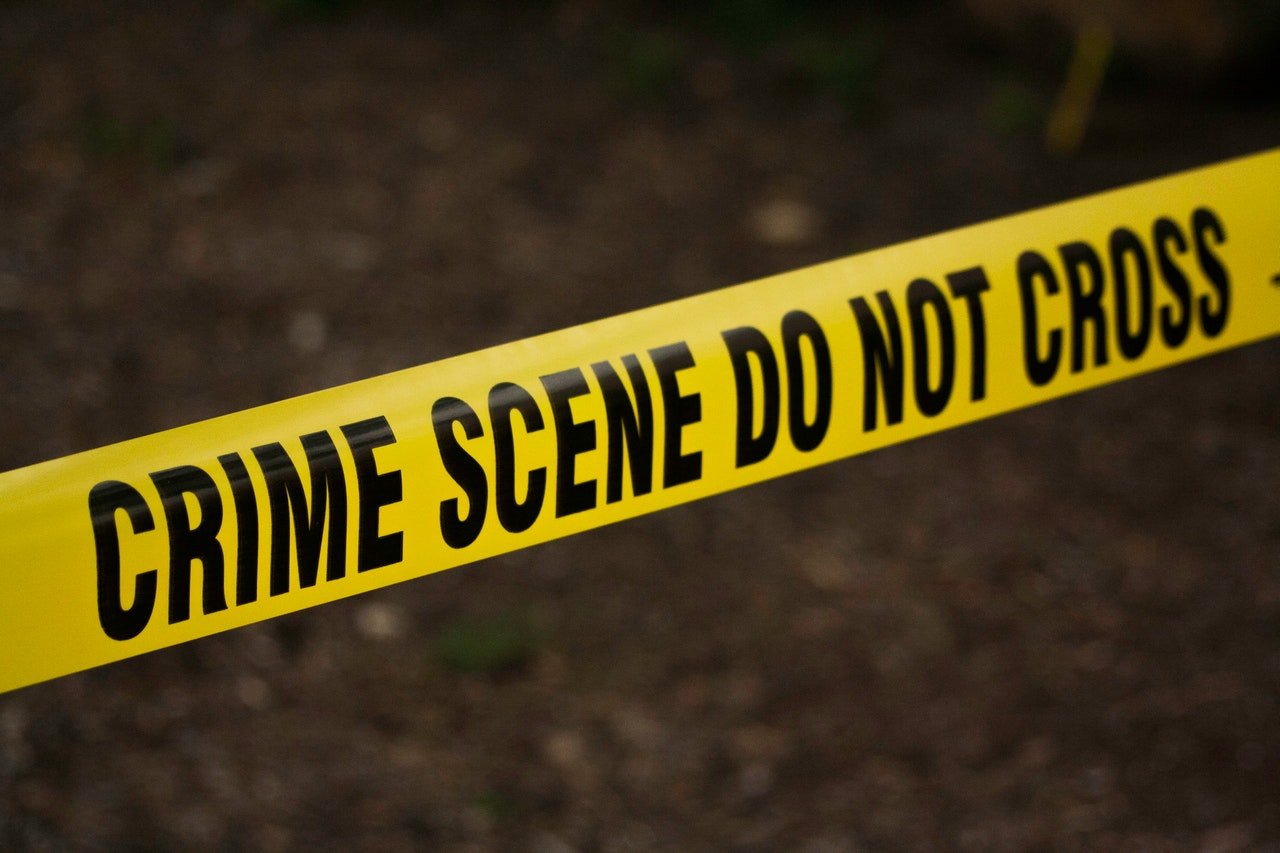 An essential guide to true crime
An interest in true crime stories was once considered a morbid fascination but is now a booming media industry. Digging into centuries old attacks or reviewing new information in a case that hasn't yet been solved keeps us on edge on podcasts, in movies and in books.
Does crime make you tick? If you need to delve a little deeper into this seedy underworld, we've got a whistle-stop tour of the best true crime outlets around.
Podcasts
My Favorite Murder
Meeting in the spookiest possible setting, a Halloween party, was the beginnings of this ever-popular podcast. My Favorite Murder began in January 2016 with Georgia Hardstark and Karen Kilgariff digging into some of the crimes they have found most interesting.
To date, Hardstark and Kilgariff have created more than 150 episodes and more than 100 minisodes (which originally covered hometown murders). They've discussed high profile murders like JonBenet Ramsey, The Black Dahlia case and Caroline Wasilewski. The pair have even recorded their podcast in front of live audiences in shows in Dublin, Hawaii and Stockholm.
---
Up and Vanished
Director and filmmaker Payne Lindsey investigated the case of Tara Grinstead, a high school teacher who disappeared within the small town of Ocilla, Georgia. The case is the largest in Georgia's state history and Payne was originally going to turn his research into a film. He was inspired by the seminal Serial podcast that looked into the murder of Hae Min Lee and subsequent arrest of Adnan Syed.
The podcast gained notoriety within Ocilla and brought the case back to the forefront for the authorities. The extensive coverage will keep you hooked well into the second season, which digs into the disappearance of Kristal Reisinger in Colorado.
---
To Live and Die in LA
This podcast, hosted by Neil Strauss, is a relative newbie to the podcast scene, having only been released two months ago. Strauss looks into the disappearance of Adea Shabani, a 25 year old aspiring actress from Macedonia. Whilst some of the podcasts we enjoy the most look into age-old cases that may have been forgotten, the Shabani case had begun just a year before.
With the disappearance being so recent, the investigation has still been active as the podcast was produced. It was intended to be an article to bring more light to the investigation, but with so much to cover, a podcast made much more sense. Tenderfoot TV bring this podcast to us, who also launched Up and Vanished.
---
Crime Junkie
Like the title says, it's a podcast for people who love to indulge and binge on true crime stories. The show is hosted by Ashley Flowers and Brit Prawat, who are childhood friends who discovered their shared interest in the morbid. The first episode was released in December 2017 and to date there are 80 episodes to feed your crime addiction.
Crimes that have been discussed include April Tinsley's murder, the 1991 Austin yoghurt shop murders and The Golden State Killer.
---
Casefile
The Casefile True Crime Podcast first aired in Australia in 2016, but it has spread far and wide. Who the host is remains to be seen, as they prefer to remain anonymous. The crimes researched aren't exclusively Australian either – topics have included the Soham murders in the UK, the North Hollywood Shootout of 1997 and the disappearance of Jaycee Lee Dugard.
Some cases are split into parts to ensure they get enough scope for their stories. Jonestown was split into three parts whereas the East Area Rapist's casefile was split into five with bonus interviews and a later update on the story. No stone is left unturned with this podcast.
---
Series
Making a Murderer
The docuseries has become a global and cultural phenomenon since it aired little over three years ago. Making a Murderer looks into the prosecution of Steven Avery, who was wrongly convicted of sexually assaulting and attempting to murder Penny Bernsteen. For the attack on Bernsteen, Avery spent 18 years behind bars before his exoneration in 2003. Avery was arrested just two years later for the murder of Teresa Halbach, and the question marks surrounding the case are brought to light.
It's not just Steven who is arrested for Teresa's murder – his younger cousin Brendan Dassey is convicted as an accessory to the crime but this too has raised eyebrows. Footage obtained of Dassey's questioning shows what appears to be coercion and it's clear that he doesn't have a full grasp on the gravity of the situation.
The second season of the show sees Steven getting a new defense lawyer, Kathleen Zellner. Zellner has considerable experience with exonerations and has defended a number of men wrongfully convicted of crimes. She does her own research and re-enactments to dispel theories put forward in Steven's case.
---
Wild Wild Country
The Netflix six part documentary was so well received upon its release that a film covering the case is in the works, with Priyanka Chopra starring. Wild Wild Country looks into the Indian guru Bhagwan Shree Rajneesh and his free-love movement of the 1970s. He built a following in his native India before deciding to relocate. Rajneesh ended up on a ranch in a small town in Oregon where he planned on building a utopian society. The arrival of the cult creates serious tension within the small town and breaks out into a national scandal.
Aside from Rajneesh, known as Osho to his followers, the docuseries looks into his personal assistant Ma Anand Sheela who is now living in Switzerland. Former members of the movement share their experiences too in an encompassing story.
---
The Keepers
The unsolved murder of nun Sister Cathy Cesnik is the premise for this series which unearths a lot more than you bargain for. Whilst investigating Sister Cathy's disappearance and murder, director Ryan White learns of the allegations of abuse at Archbishop Keough High School in Baltimore, where Cesnik taught English and drama. Former students believe that Sister Cathy suspected a priest working at the same school, A. Joseph Maskell, was guilty of sexually abusing students.
In 1994, a lawsuit is filed against Maskell which the series documents. The lawsuit is also filed against the Archdiocese of Baltimore for their part in an alleged cover-up of the abuse.
---
The Jinx
The Jinx: The Life and Deaths of Robert Durst looks into three separate but seemingly linked crimes – the 1982 disappearance of Kathie Durst, Robert's first wife; the 2000 killing of writer Susan Berman and the dismemberment of Morris Black, Durst's neighbor in Texas. It was suspected that Durst was involved in the events of the first two cases and he confessed to the third, but was acquitted at trial.
By going through already existing media like police evidence and interviews, writers Andrew Jarecki, Marc Smerling and Zac Stuart-Pontier were able to delve a little deeper into this strange coincidence and even conduct interviews with Durst himself.
---
American Crime Story: The People vs O. J. Simpson
Rather than a documentary that looks into evidence and digs up an old story, American Crime Story is a dramatization of one of the biggest crimes in living memory. The series is based upon Jeffrey Toobin's book The Run of His Life: The People v. O. J. Simpson, detailing the murders of Nicole Brown Simpson and Ron Goldman. O. J. Simpson, best known as an NFL Player, becomes a person of interest in the crime.
The series looks into the damning evidence against O. J., the infamous high-speed chase with police and the team O. J. puts together for his defense – a team which included lawyer Robert Kardashian.
---
Documentaries
Abducted in Plain Sight
When this documentary was released on Netflix, it causes a lot of interest and raised plenty of question as to how parents can be so duped by one man. The story looks into the abductions of Jan Broberg by her neighbor and family friend, Robert Berchtold. Jan is first abducted by Berchtold at just 12 years old, and falls victim once again two years later.
Abducted in Plain Sight shows how Jan was in the grasp of a man much older than her, who had been convinced that she had a job to carry out after being abducted by aliens. In the cold light of day, speaking as an adult, it definitely sounds bizarre – but it's key to remember this took place in a small town in the 1970s and Jan was only a child.
---
Cropsey
The documentary Cropsey almost sounds like Boo Radley, the man who lived on the same street as Jem and Scout in To Kill a Mockingbird. The children believe he's violent and will attack them but ultimately, what they know about Boo is a myth. The urban legend Cropsey had a similar reputation – but eerily, the crimes the children in his neighborhood thought he was guilty of, were true.
Cropsey is believed to have a hook for a hand or even a bloody ax. The urban legend was believed to be kidnapping disabled children in Staten Island who were routinely disappearing. Only some bodies were recovered and this film looks into the allegations against the man Andre Rand, who is believed to be responsible for these children disappearing.
---
The Thin Blue Line
One of the original true crime documentaries, The Thin Blue Line was released in 1988, looking into the wrongful conviction of Randall Dale Adams. Adams was a drifter who was caught up in the murder of a police officer during a routine stop for a traffic violation in Dallas County. The driver of the car, David Ray Harris, had shot the officer but the crime was pinned on Adams, who was sentenced to death.
The film is credited for Adams' conviction being overturned and his release as a result of habeas corpus in 1989. It's implied that the desire to hand out the death penalty for the crime blurred the judge's vision and made Adams a scapegoat.
---
Mommy Dead and Dearest
The bizarre murder of Dee Dee Blanchard and the even more bizarre home life she had with her daughter has become the subject of many shows and series – including Mommy Dead and Dearest. Whilst this film looks at the murder itself, it also sets the scene with the context behind the motives. Dee Dee's daughter Gypsy Rose was believed to be suffering from a number of devastating illnesses, including muscular dystrophy but these illnesses were fabricated by her mother. Dee Dee Blanchard is thought to have had from Munchausen syndrome by proxy, meaning she acted as though her daughter was really sick when she wasn't.
Gypsy Rose Blanchard was charged with second degree murder for the death of her mother, and her boyfriend Nicholas Godejohn was charged with first degree murder for the death of Dee Dee. The film details the abuse Gypsy Rose was victim to at the hands of her mother in the build up to the murder.
---
Bowling for Columbine
Michael Moore's acclaimed documentary tries to determine what led to the events of the Columbine massacre in 1999. The famed school shooting saw 12 students and a teacher lose their life at the hands of Eric Harris and Dylan Klebold. Bowling for Columbine attempts to look further into the lives of these two boys, and the possible motives behind the attacks as well as how they could obtain firearms.
Moore conducts interviews with the then-President of the National Rifle Association (NRA) Charlton Heston and musician Marilyn Manson who had been blamed for the tragedy, due to the shooters' interest in him and his band.
---
Books
The Stranger Beside Me – Ann Rule
Ted Bundy is one of the best known serial killers of all time, famed for his charming way of luring in his victims and his good looks. Ann Rule knew Bundy personally, working with him in a crisis center when he was a student and gives her account of being in such close quarters with a murderer. It details how Rule struggled to believe that her friend whom she trusted could be behind such heinous crimes.
As Bundy's murderous trail continues and he is eventually captured, evidence mounts against him and Rule finally realizes that Bundy isn't who she thought he was. The book has been updated to include Bundy's execution in 1989 and most recently in 2008 to include an FAQ section.
---
Party Monster: A Fabulous But True Tale of Murder in Clubland – James St James
James St James's true crime novel, Party Monster: A Fabulous But True Tale of Murder in Clubland, originally printed as Disco Bloodbath, provides a snapshot of the club kids in New York. St James was a club kid in the late 1980s and early 1990s, as was his friend Michael Alig. In 1996, Alig, along with his roommate Robert D. Riggs brutally murdered Andre 'Angel' Melendez, a known drug dealer. Party Monster details St James's thoughts and feelings on the event – but he has a pretty low opinion of Melendez.
It provides further insight into the club kid scene, an era which has contributed to art and fashion in spite of the issues surrounding it.
---
In Cold Blood – Truman Capote
Truman Capote's novel has been applauded since its release more than 50 years ago, labelled as a pioneering work in the true crime genre. Capote delves into the 1959 murders of four members of the Clutter family in Holcomb, Kansas. The family was murdered by ex-convicts Perry Edward Smith and Richard Eugene Hickock who had been tipped that the father, Herb Clutter, had a safe full of money in the family home.
Capote conducted research for his book in Kansas, bringing his childhood friend Harper Lee, writing thousands of pages of notes. He conducted personal interviews with the killers after they were convicted of the crime. It's a must read for any true crime fan.
---
I'll Be Gone in the Dark: One Woman's Obsessive Search for the Golden State Killer – Michelle McNamara
The Golden State Killer was given his moniker by writer Michelle McNamara, who had written about the crimes for Los Angeles magazine before signing her book deal. The name refers to a prolific rapist and murderer who stalked California for at least a decade. The book serves almost as a memoir alongside the tragedies, as McNamara details her morbid fascination with true crime after a murder took place close to her childhood home.
McNamara sadly passed away before the book was completed. Her work was finished by crime writer Paul Haynes, investigative journalist Billy Jensen and her husband, actor Patton Oswalt. Two months after release, the Golden State Killer – Joseph James DeAngelo – was finally arrested and charged.
---
The Suspicions of Mr. Whicher: A Shocking Murder and Undoing of a Great – Kate Summerscale
Summerscale's novel takes us back to a time where the title of Detective was a relatively new phenomenon. In summer 1860, a three-year-old boy was found with his throat cut, sending shivers down the spines of Victorian England. Jonathan Whicher was sent to investigate the case – at the time, he was one of only eight officers in Scotland Yard's detective force.
Whicher had a hunch that the boy was murdered by someone in the family – but with detective work being so new, it was difficult to substantiate the claim with evidence. Not only does the story dig deeper into one of the most shocking crimes of the time, but the language takes you to Victorian England too.
---
Has this whetted your appetite? You'll need a good condition laptop to keep going! Buy refurbished MacBooks at DecluttrStore and get your new device shipped for FREE! Looking to make extra cash? You can sell books online, trade in games or sell CDs online with Decluttr! Plus, trade in iPhone, trade in iPad, or check out our sell my phone page.
Comments
comments