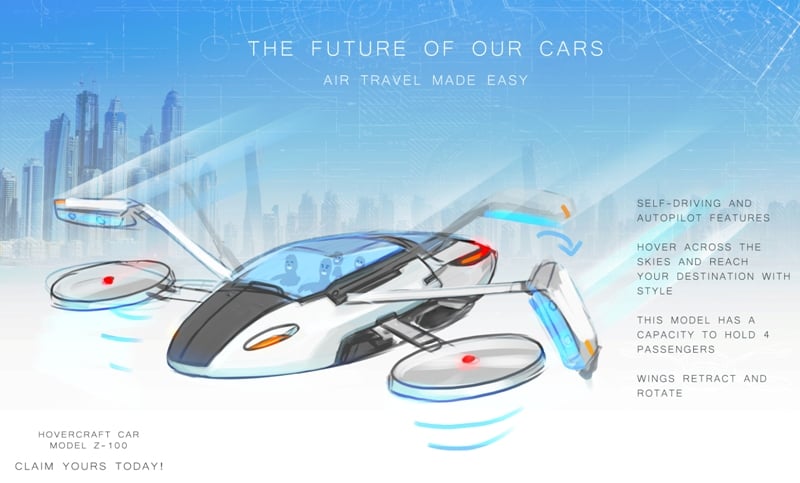 The future of tech…as predicted by kids!
What will the future look like? No-one truly knows, but we wanted to find out. But rather than asking philosophers and scientists, we decided to ask the generation that will actually live in the future: our kids.
We asked a group of children aged 4-11 to predict which tech products people will use in 2050 and draw it for us. We then asked concept artist and illustrator Rose Davies to bring their ideas to live and give us an exciting glimpse into the world of tomorrow.
So, here are the must-have gadgets of 2050… according to kids!
---
The Eat Watch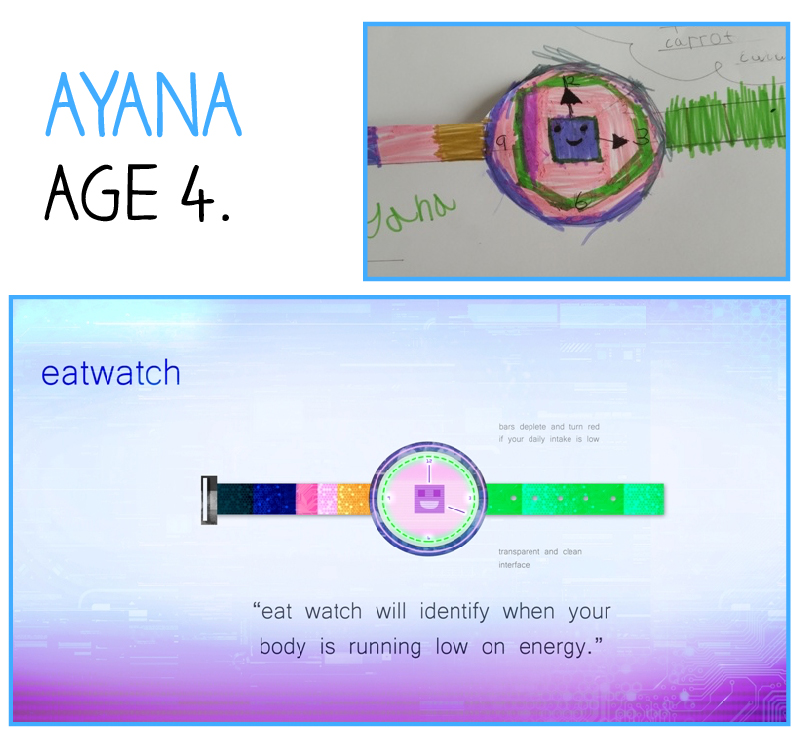 Anaya's futuristic take on the smartwatch identifies when your body is running low on energy and, more importantly, tells you exactly what you need to eat. The watch will adapt to each user's different dietary requirements, helping you get exactly what you need while improving your fitness and energy levels. It's a nutritional revolution!
---
The Hovercar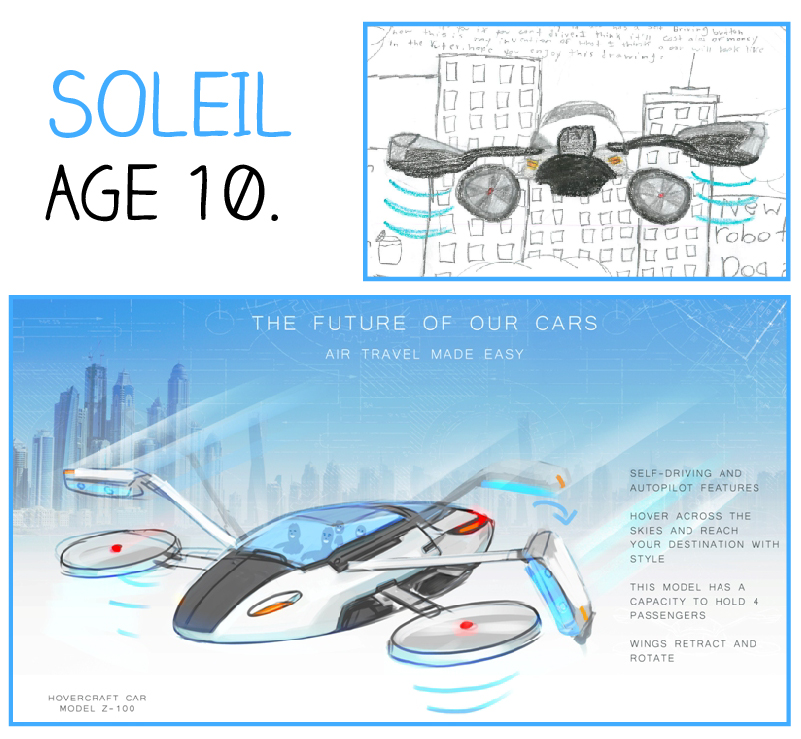 Flying cars have been a staple of sci-fi movies for decades but none are quite as cool as Soleil's, which is self-driving and has retractable wings (super helpful if you're in a small parking lot). We don't have any info on how much the Model Z-100 will cost yet but we're certain it'll be 2050's must-have vehicle!
---
Brick Sorter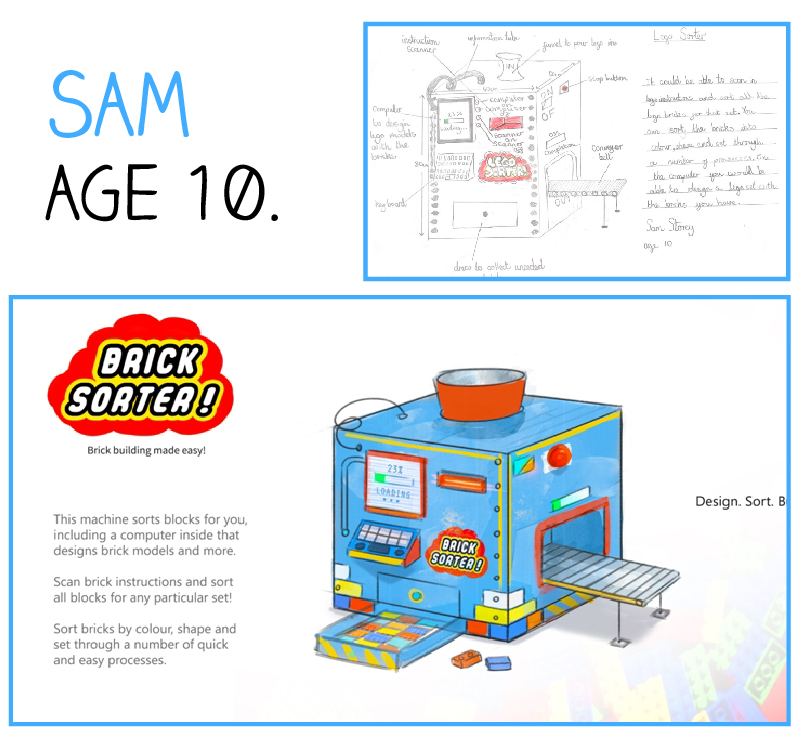 We've all been there; you've planned a LEGO masterpiece but you just can't find the right bricks in your big box o' Legos. Luckily, our kids/grandkids won't have to face the same problems as us thanks to Sam's awesome Brick Sorter. Just tell it what you want to make and the Brick Sorter will output all the bricks you need.
---
Print-a-Food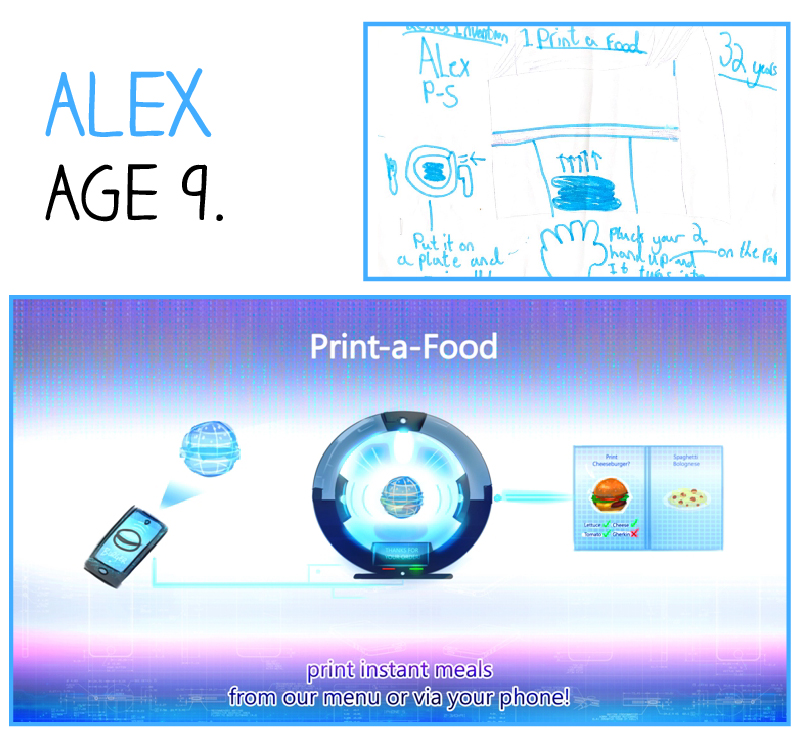 Time is precious so why waste it cooking? This convenient device, dreamt up by 9 year old Alex, lets you pick whatever you fancy and prints it out for you in minutes. Burgers, tacos, spaghetti? You got it!
---
Recycle Bot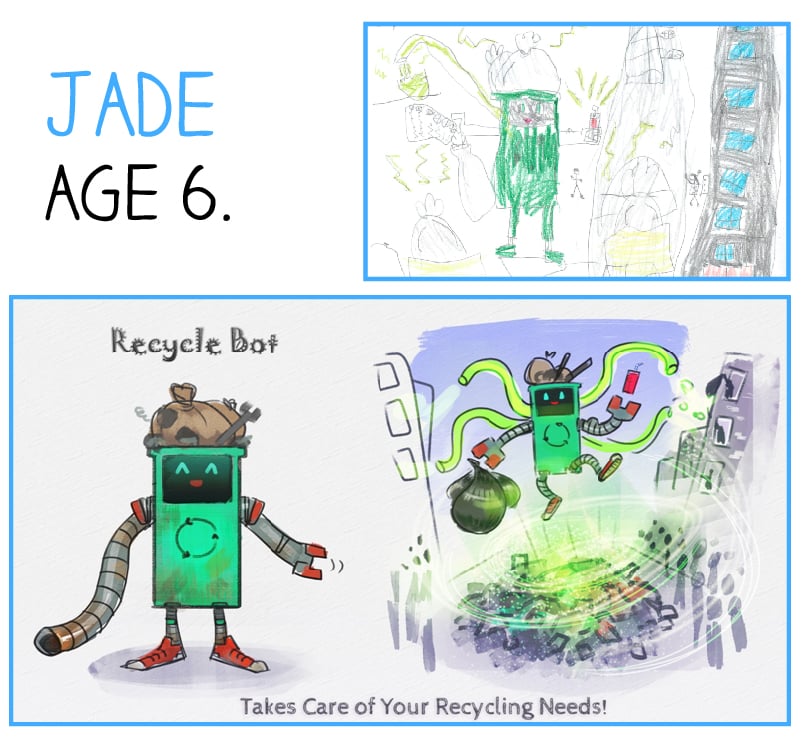 Jade's Recycle Bot is like a real-life WALL-E, roaming the streets picking up trash with his magnet hands and turning into all kinds of awesome stuff. Plus, he has a super cute little smile.
---
Smart Trolley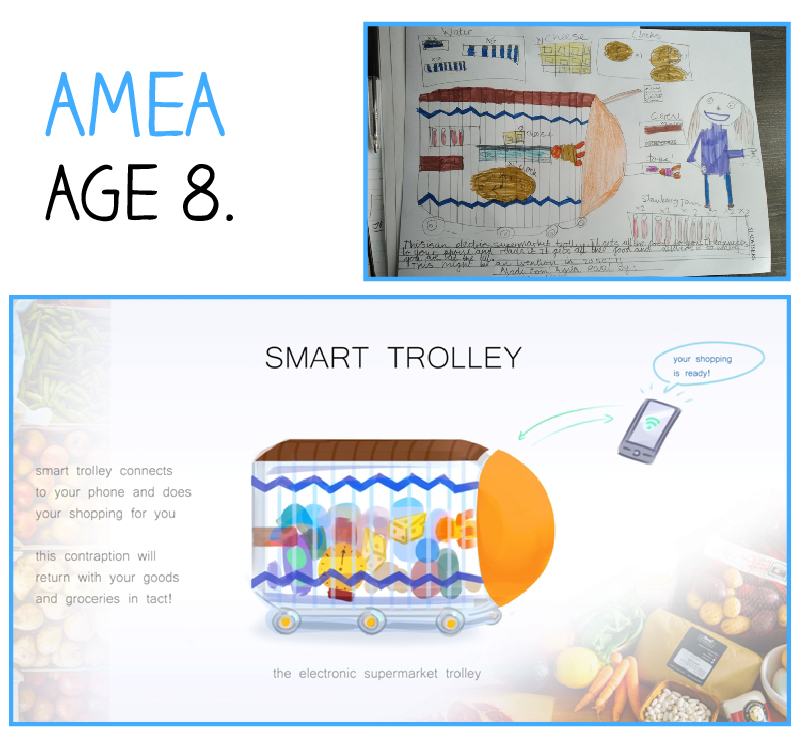 Grocery shopping sucks. Fortunately, Amea has a solution: the Smart Trolley. Simply select what you want using your cell phone and the Smart Trolley will zoom around the store picking everything up while you kick back with a latte. Then, just pay and collect your groceries. Simple!
---
SPACEi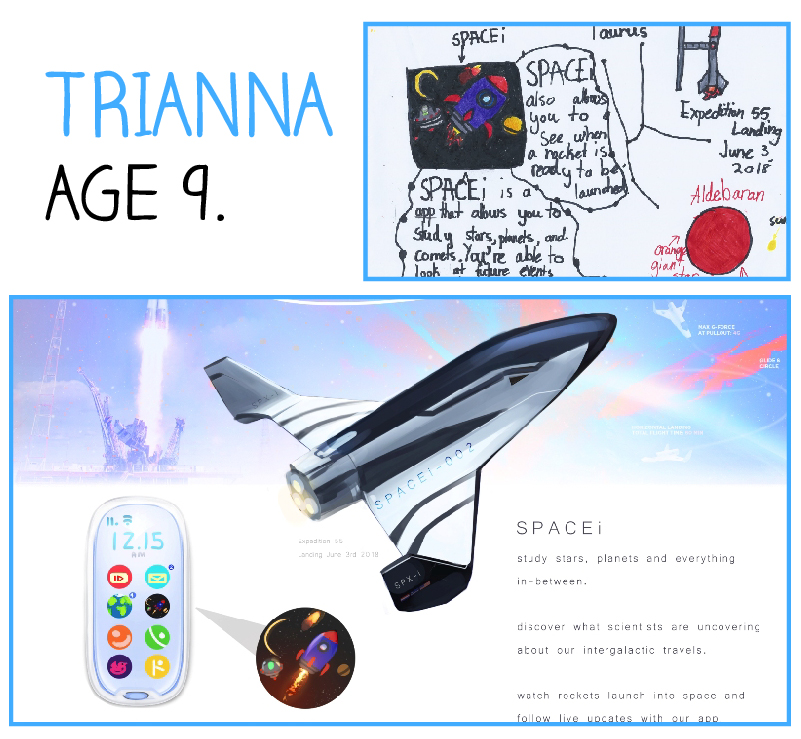 Hold the universe in the palm of your hand with the SPACEi app, which lets you study all the stars and planets we discover on our continued journey through the cosmos. You can even watch rockets as they launch and receive live updates on their progress. Trianna, we think you need to pitch this to Elon Musk ASAP.
---
Xbox Motion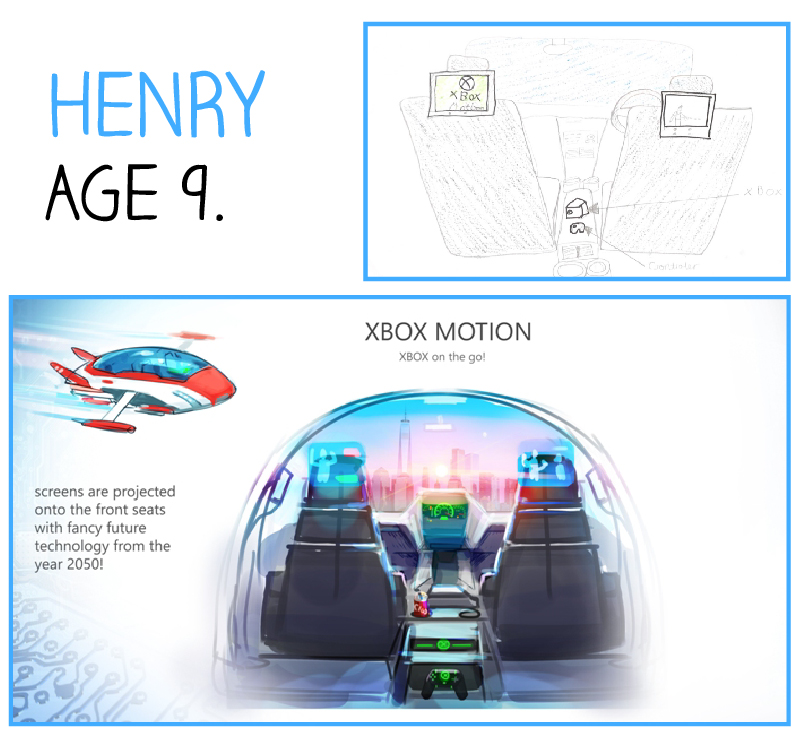 Assuming Microsoft is still active in 2050, this awesome console will project a screen onto anything and allow you to play Xbox wherever you want. It's kinda like the Nintendo Switch but way cooler.
---
The Chat Watch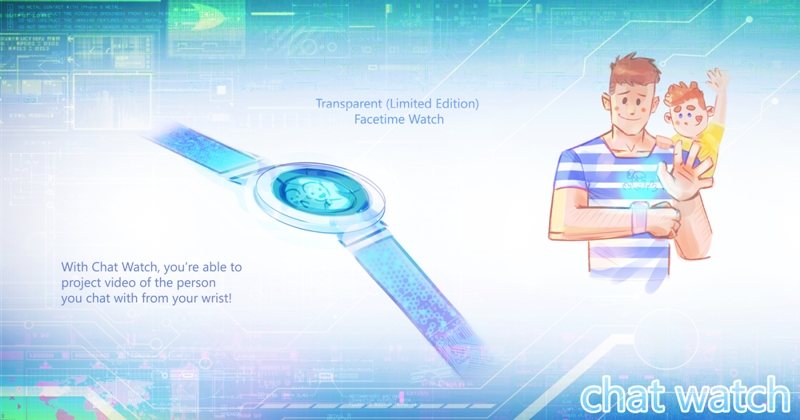 12 year old Kaela had this to say about her Chat Watch: "In the future, people will be able to use this Chat Watch to project an image of the person they're talking with from their wrist. It will make talking to them more fun and exciting instead of looking at a screen." Sounds awesome to us… plus it means you can avoid those awkward moments trying to get the perfect front camera angle for a video call!
---
If you're planning to treat yourself to some new tech, or you're just hoarding some seriously old school cell phones and games consoles, sell your tech and trade in phones with Decluttr today! Whether it's an iPhone trade in,  selling textbooks or want to trade in MacBooks – we pay awesome prices and you'll get FREE insured shipping and next day payment. Click below to get an instant valuation for your items!

Comments
comments