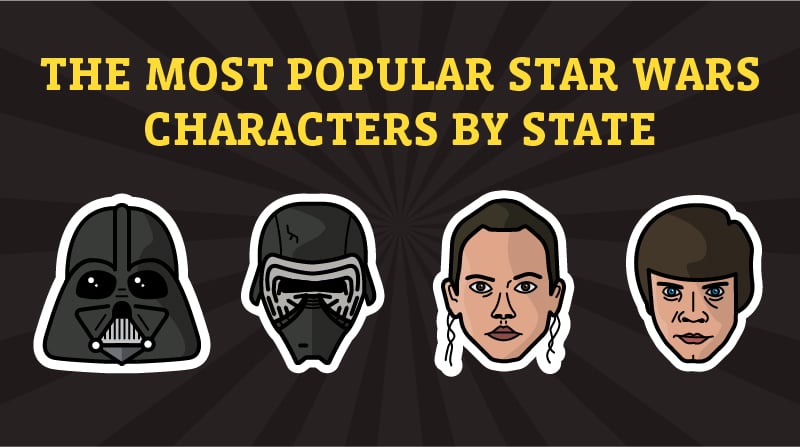 Who is the most popular Star Wars character in your state?
Star Wars is one of America's most popular movie franchises, generating millions of dollars in box office and merchandise sales every year.
Part of the reason for its huge success is the iconic characters at the centre of it all, from heroic figures like Han Solo and Yoda to unforgettable villains like Emperor Palpatine and, of course, Darth Vader.
With Star Wars Day and Solo: A Star Wars Story fast approaching, we decided to find out which Star Wars character each state loves most. To do this, we used Google Trends data from the past year to determine which character people have been searching for. Here's what we found…
It turns out America is really in touch with its dark side, with 27 states choosing Darth Vader as their favorite character (including California, Ohio, Arkansas and Texas). We can't blame them because he is pretty awesome…y'know, apart from all the planet destroying business.
A further 10 have been searching for Darth Vader wannabe Kylo Ren, including Alabama, Arizona and Hawaii, no doubt partially inspired by some of the hilarious Ren memes that have emerged over the past few months.
Luckily, the light side is still strong in 13 states. 6 have been searching for Luke Skywalker, which is a surprise considering he was pretty much The Last Jedi's main character, while a further 7 (including Illinois and Utah) have been reading up on new series hero Rey.
With new movies on the way, America's favorite character may change over the next year or so. Han Solo may overthrow Vader, while the new breed of characters – including Finn – may see an upsurge too. For now, though, America belongs to Darth Vader.
Check out the full list of states and their favorite Star Wars characters below.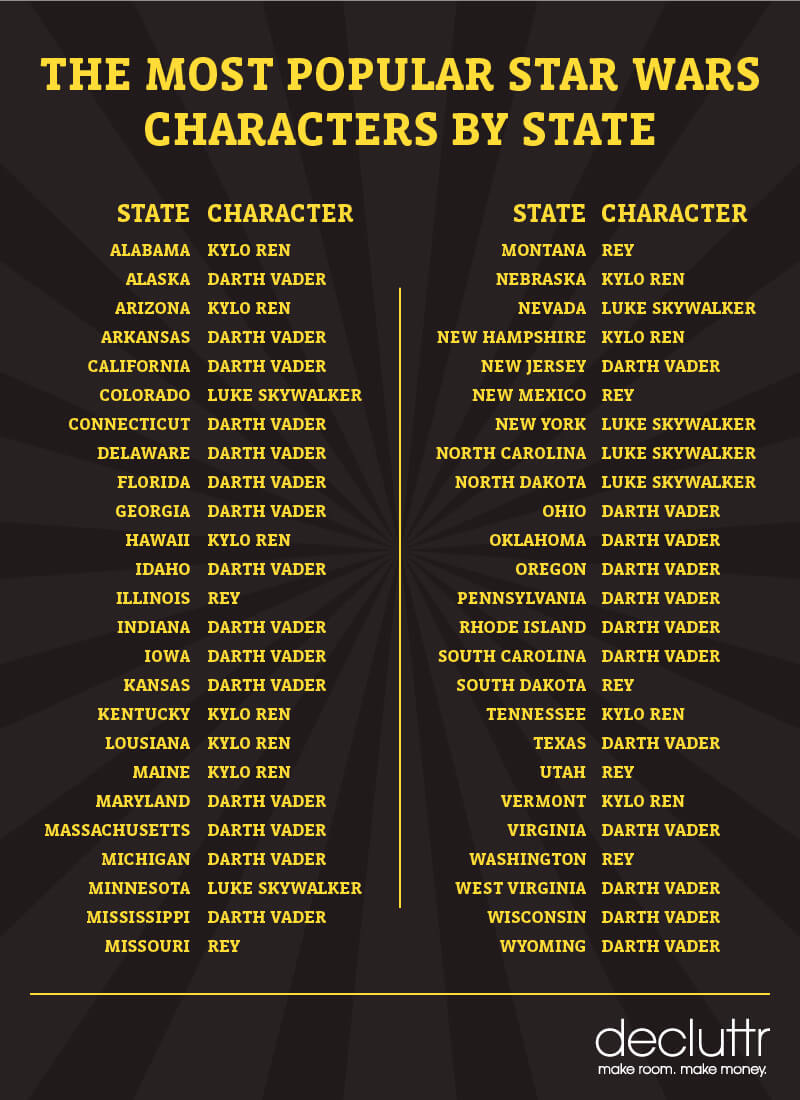 Make extra cash by trading in your old DVDs with Decluttr! You can also sell textbooks, trade in books, sell CDs online and trade in games. Sell your old tech with us too, including an Apple Watch trade in, sell iPhone, head over to our sell my phone page and more.
Comments
comments