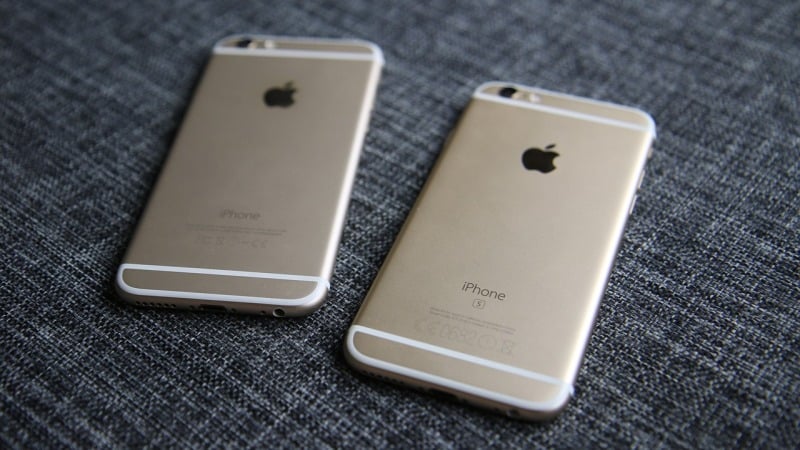 The most unwanted tech of 2017
2017 was a great year for tech. Samsung launched the groundbreaking Galaxy S8, Microsoft released the Xbox One X and Apple unveiled a revolutionary new cell phone, the iPhone X.
A lot of people traded in their old tech to upgrade as a result, while others sold theirs to raise some extra cash. But which product did each state's residents sell most last year? We delved into our data to find out.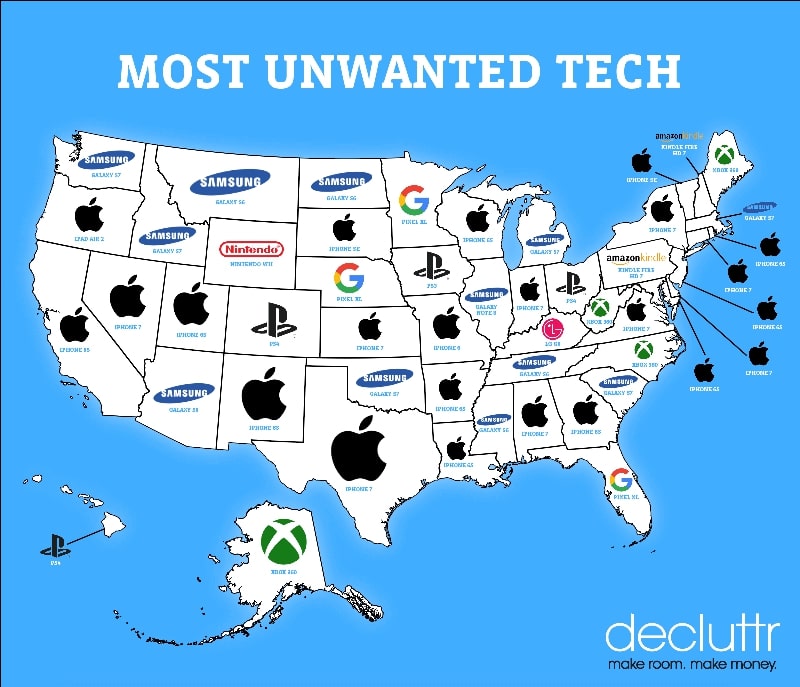 The iPhone 6s was the most unwanted tech product of 2017, with ten states selling it most. In second place was the iPhone 7, traded most in nine states, while the Samsung Galaxy S7 trailed in third with six states.
Apple was the most unwanted tech brand of the year too, with its products taking the top spot in 21 states. Of the states that didn't sell the iPhone 6s or iPhone 7, South Dakota and Vermont sold the iPhone SE while residents of Oregon sold their iPad Air 2 tablets.
Apple don't need to worry though, as the sheer amount of trades is likely due to the amount of Apple products Americans own and the launch of three new iPhones in 2017.
Samsung was the second least wanted brand, with five states selling the S6 and six states selling the S7. Again, most of these trades were likely to upgrade to the Galaxy S8, which wowed critics and consumers alike with its Infinity Display. The Galaxy Note 8 was the most sold device in Illinois.
The Xbox 360 was the least popular games console, topping trades in 4 states, with the PS4 in second with 3 states. Remarkably, the Xbox One didn't feature at all – a small victory for Microsoft! Wyoming, meanwhile, have finally got rid of their Nintendo Wii consoles. Maybe the Nintendo Switch was the push they needed!
Did you know you can sell cell phones, old games, consoles, tablets and much more with Decluttr? Simply get an instant valuation, ship your items for FREE and we'll pay you the day after they arrive.

Here is the full list of states and the tech items they traded most.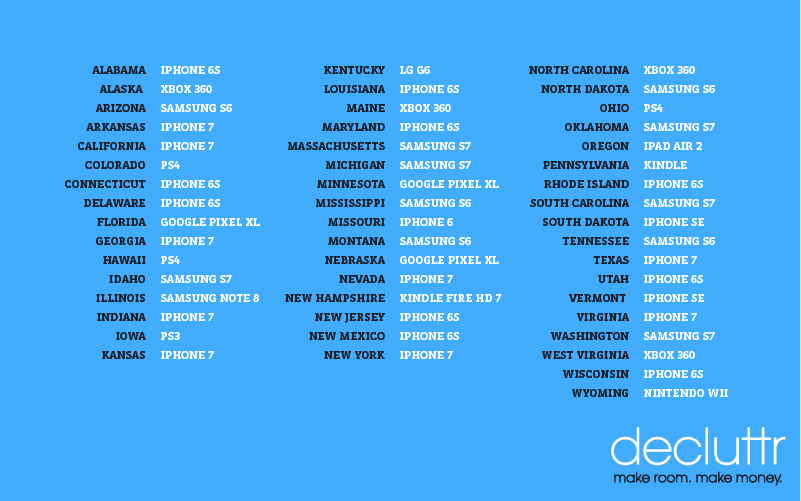 Comments
comments