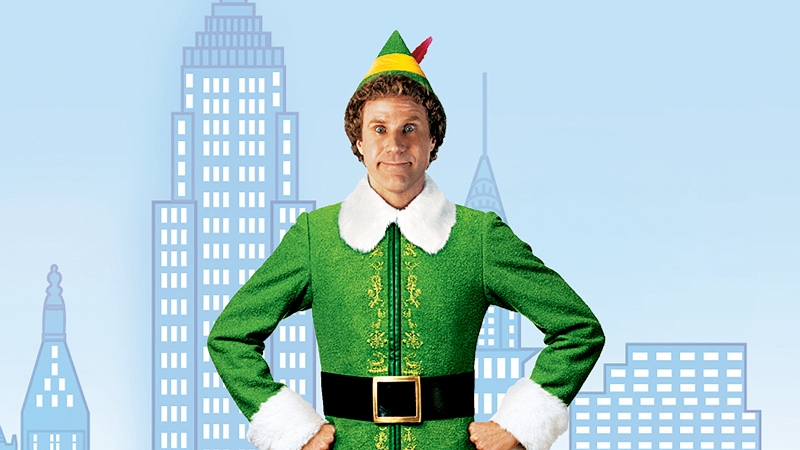 What is the best Christmas movie of all time?
It's a question people have asked for generations: which Christmas movie is the best of them all?
Obviously it's a matter of opinion, but we decided to try and find out anyway. We took 28 of the most popular Christmas movies, gathered their scores on Rotten Tomatoes and IMDB and calculated an average to determine which movie is the best of the them all.
Below is the top ten. Did your favorite make it?
---
10. Elf
Overall: 78.7%
Elf is the Christmas movie for many people, so we were a little shocked that it only crept into the top ten (just beating The Muppet Christmas Carol).
It turns out not everyone loved Buddy the Elf's adventures when the film was first released in 2003, although time has been kind to Will Ferrell and co. It's now considered a modern Christmas classic.
---
9. Gremlins
Overall: 79.2%
The scariest Christmas film of them all (yep, we're including Black Christmas in that) opens with a boy receiving a cute little critter called Gizmo for Christmas. Looking after Gizmo is easy: don't get him wet, don't expose him to bright light and don't feed him after midnight.
Sure enough, the boy breaks all three rules and chaos ensues. Get your kids to watch this next time they ask for a puppy.
---
8. White Christmas
Overall: 79.5%
White Christmas has become a festive staple in American homes thanks to endless TV repeats. It follows an ex-military song and dance duo, played by Bing Crosby and Danny Kaye, who team up with a sibling duo to save a hotel operated by their ex-general.
It's pretty cheesy but it can't be beaten if you want to snuggle next to the fire with some retro festive goodness.
---
7. Arthur Christmas
Overall: 82.75%
This British animation doesn't get the same level of attention as Elf but it's the best Christmas movie of the 21st century according to critics and audiences.
The movies sees Santa Claus' useless son (Santa is called Father Christmas in the UK, which is why his surname is Christmas!) take over present delivery duties after an accident in the North Pole.
---
6. Trading Places
Overall: 83%
This classic Christmas comedy sees a high-flying stockbroker, played by Dan Aykroyd, swap lives with a street hustler, played by Eddie Murphy. After clashing, the two soon realise that they're more powerful together – especially when they have to face off against the scheming brothers who engineered their life swap!
It's not a traditional Christmas movie but it's ideal if you're tired of festive schmaltz.
---
5. A Christmas Story
Overall: 86.5%
In A Christmas Story, a little boy asks his mom, his teacher and pretty much anyone who will listen for a Red Ryder BB Gun. They won't buy it for him as he'll "shoot his eye out".
To be honest, it's rare to find anyone who hasn't seen this movie as TNT hold 24-hour Christmas Story marathons every Christmas. Love it or hate it, it's here to stay!
---
4. Miracle on 34th Street (1947)
Overall: 89.5%
Not to be confused with the remake starring Richard Attenborough and Mara Wilson, the original ye-olde-black-and-white version of Miracle follows a Macy's Santa named Kris Kringle who claims to be the big man himself.
Not everyone believes him though, leading to a trail to determine if Kris is who he says he is.
---
3. Die Hard
Overall: 90%
Yes, it's a Christmas movie. It has Christmas trees in it. What more do you need?
Anyway, you probably know the deal with Die Hard: it's the Nakatomi company's Christmas party and everything is going swell until a group of terrorists, led by a classy chap named Hans Gruber, crash and take hostages.
Luckily, one of the employees is married to John McClane (Bruce Wills) – a super resourceful New York cop who just wants to spend the holidays with his wife. Yippee-ki-yay!
---
2. The Nightmare Before Christmas
Overall: 90.25%
Tim Burton and Henry Sellick's legendary stop motion follows the king of Halloweentown, Jack Skellington, as he tries to pull himself out of a post-Halloween slump. He finds the answer to his problems in Christmas and immediately sets about taking over the holiday from Sandy Claws.
Of course, he's nowhere near as good as the main man and eventually has to put things right.
---
1. It's a Wonderful Life
Overall: 92.25%
Well, what a surprise! Frank Capra's timeless It's a Wonderful Life is the story of a well-meaning banker who, after events conspire against him and his town, decides to commit suicide – only for a spirit to show him what the world would be like without it.
It's the ultimate feelgood Christmas movie and one that should be at the top of everyone's to-watch list over the holidays!
---
Check out all of these movies and more on the brand new Decluttr Store, where you can buy DVDs at amazing prices plus FREE insured delivery. Looking to make extra cash? sell textbooks, trade in games and sell CDs online with Decluttr! You can also make an Apple Watch trade in, sell iPhone or check out our sell my phone page.

Comments
comments