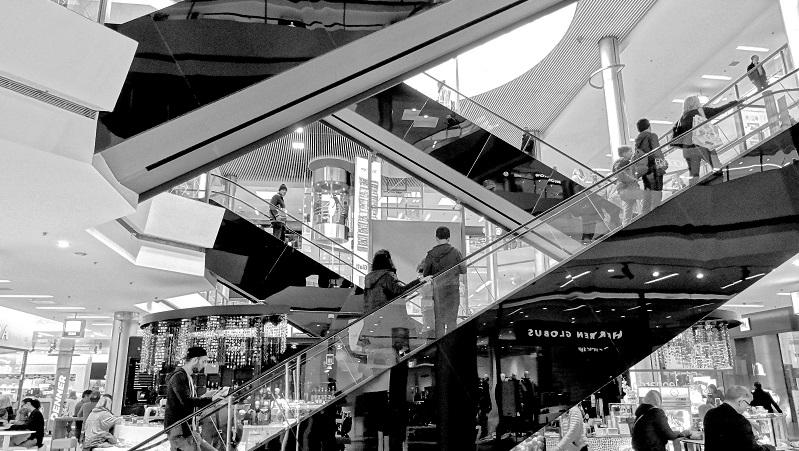 Black 'Eye' Friday: which state is most likely to see consumer chaos this Black Friday?
Black Friday is fast approaching and although a lot of people choose to shop at home these days, thousands of people will still queue up to get their hands on a one-off 'doorbuster' deal.
Unfortunately, the rush to grab those great deals has led to chaotic scenes in the past few years; people arguing over TVs, crowds of people rushing through doors and even the occasional fight.
To help you avoid chaos this Black Friday, we compared Black Friday related searches on Google with FBI arrest data for crimes such as property damage and disorderly conduct in each state.
We then adjusted this data to account for each state's population size to determine which state is most likely to see trouble this Black Friday… and which state's shoppers will be able to browse in peace!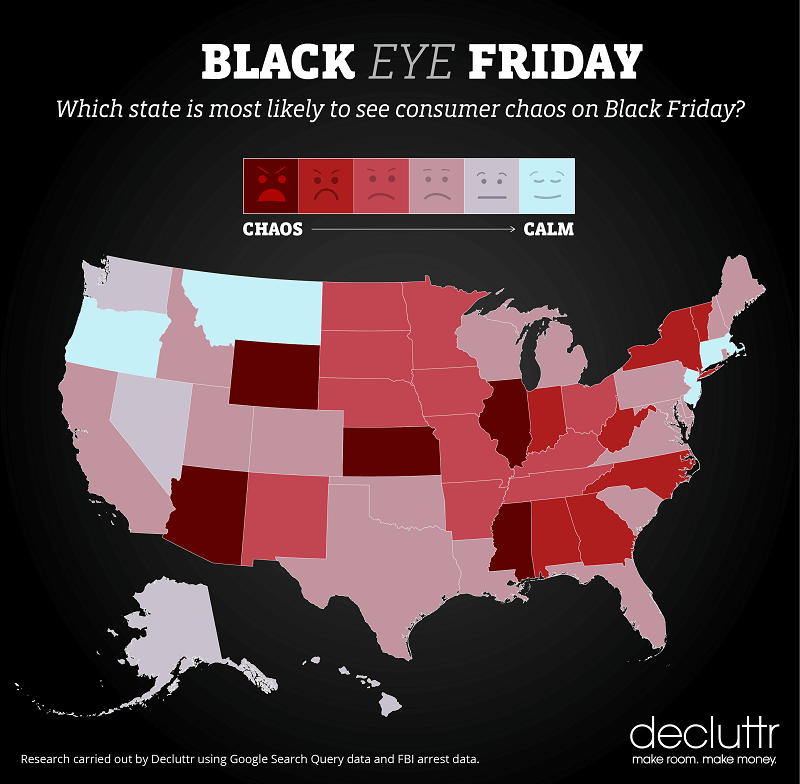 Topping our chaos index is Wyoming with a score of 29.94, with Illinois in second with a 21.64. Arizona is third with 19.50 and Mississippi and Kansas round out the top five with 9.43 and 8.16 respectively.
Montana is likely to be the most peaceful state this Black Friday with a score of just 3.38. Connecticut is the second most peaceful with 3.89 while New Jersey is third with 3.90.
How peaceful will your state be this Black Friday? Check out the full list of states and scores below. And if you're going out this Black Friday, remember to stay calm and stay safe – or just shop online!
Want to make some extra cash before Christmas? Sell iPhones with Decluttr! You can also head over to our sell my phone page or carry out an Apple Watch trade in! Plus, you can sell textbooks, sell CDs online and trade in games too.
We pay the most, the fastest. Simply get an instant value, ship your phone for FREE and we'll pay the day after it arrives.

| Ranking | State | Score |
| --- | --- | --- |
| 1 | Wyoming | 29.94 |
| 2 | Illinois | 21.64 |
| 3 | Arizona | 19.50 |
| 4 | Mississippi | 9.43 |
| 5 | Kansas | 8.16 |
| 6 | North Carolina | 7.48 |
| 7 | Indiana | 7.09 |
| 8 | West Virginia | 7.03 |
| 9 | New York | 6.62 |
| 10 | Vermont | 6.59 |
| 11 | Georgia | 6.51 |
| 12 | Alabama | 6.23 |
| 13 | Ohio | 5.93 |
| 14 | Minnesota | 5.44 |
| 15 | Nebraska | 5.39 |
| 16 | Iowa | 5.29 |
| 17 | North Dakota | 5.22 |
| 18 | Missouri | 5.22 |
| 19 | Kentucky | 5.20 |
| 20 | South Dakota | 5.19 |
| 21 | Arkansas | 5.17 |
| 22 | Tennessee | 5.10 |
| 23 | New Mexico | 5.05 |
| 24 | Texas | 4.91 |
| 25 | Louisiana | 4.89 |
| 26 | Michigan | 4.87 |
| 27 | Delaware | 4.75 |
| 28 | Utah | 4.62 |
| 29 | Idaho | 4.61 |
| 30 | Wisconsin | 4.53 |
| 31 | Rhode Island | 4.47 |
| 32 | Maryland | 4.44 |
| 33 | Virginia | 4.39 |
| 34 | Oklahoma | 4.39 |
| 35 | South Carolina | 4.38 |
| 36 | Florida | 4.30 |
| 37 | New Hampshire | 4.28 |
| 38 | California | 4.21 |
| 39 | Colorado | 4.18 |
| 40 | Pennslyvania | 4.14 |
| 41 | Maine | 4.11 |
| 42 | Washington | 4.06 |
| 43 | Alaska | 4.06 |
| 44 | Nevada | 4.04 |
| 45 | Hawaii | 4.03 |
| 46 | Oregon | 3.98 |
| 47 | Massachusetts | 3.98 |
| 48 | New Jersey | 3.90 |
| 49 | Connecticut | 3.89 |
| 50 | Montana | 3.38 |
Comments
comments