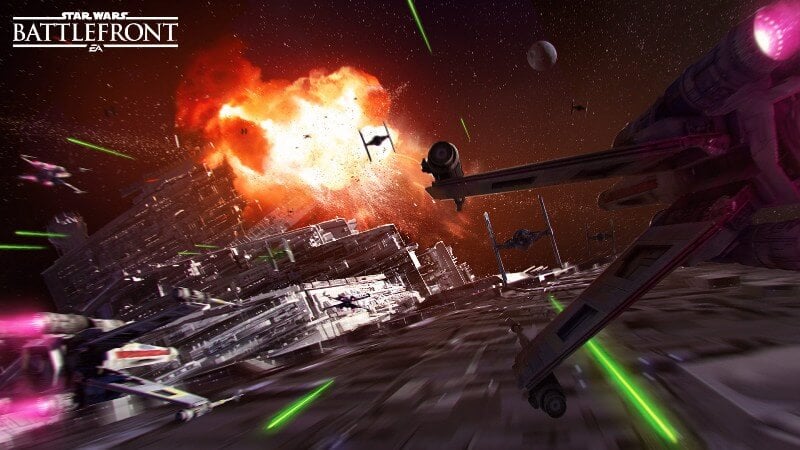 The Top 10 Best-Selling Xbox One Games of All Time
Despite some well reported issues, the Xbox One has become one of the world's most popular games consoles thanks to its price, accessibility and a great library of games. In fact, if you don't have an Xbox One Console – it's probably a good place to start. Buy a refurbished Xbox One cheap with us to get started!
But which of those games are the most popular? Here are the most popular Xbox One games based on sales.
Halo 5: Guardians
Sales: 4.92 million
We're not surprised to see this best-selling Xbox game on the list. Halo has been the defining franchise for the Xbox and its 5th instalment does not disappoint. Packed with expanded melee capabilities, iron sights with every weapon and so much more. Whilst it's not the most iconic, its multiplayer function is really fun – which is great if you enjoy playing with your pals!
Fallout 4
Sales: 5.03 million
This post-nuclear RPG is one of the most iconic in the series, complete with more locations to explore, grotesque (but super cool) enemy design with comedic relief thrown in the mix. Though it hasn't got the most credit for its main story, its side quests more than make up for it. No wonder Fallout 4 is one of the best selling Xbox One games out there!
Battlefield 1
Sales – 5.13 million
Want something a little different to CoD? Battlefield 1 is where it's at. Set in World War One – its historical setting sets it apart from most war-based games. Its single player campaign is incredibly entertaining, with six parts to complete from different character perspectives each time.
Call of Duty: Advanced Warfare
Sales – 5.22 million
Set in 2054, CoD Advanced Warfare explores warzones of the future, where technology and war tactics coexist to pioneer a new way for combat on the frontlines. Featuring Kevin Spacey as the voice actor for Jonathan Irons, he shapes this chilling adventure into a challenging one – complete with exoskeletons in combat, vertical travel, boost jumps, cloaking and so much more.
Unlike Infinite Warfare, Advanced Warfare was well received by both critics and the Call of Duty community. It boasts some of the best maps in the series and the new features breathed new life into a series in danger of going stale.
Minecraft: Xbox One Edition
Sales – 5.43 million
Everyone's favorite virtual sandbox is as popular as ever. Despite coming out before the Xbox One even existed, Minecraft has managed to shift around 4 million copies. That's on top of the 13 million copies sold on the Xbox 360.
Play in survival mode and watch as you reap the benefits of mining materials for your new empire! Though tedious at first, you'll be satisfied about all the types of things you can build – just watch for the mobs after sundown!
Red Dead Redemption 2
Sales – 5.77 million
Developed by the masterminds of Grand Theft Auto V and the first Red Dead Redemption, Red Dead Redemption 2 offers one of the most atmospheric game world environments. Based in 1899 just after the Wild West era, follow Arthur Morgan and Van der Linde's gang as you fight to survive from bounty hunters on their trail.
Call of Duty: WWII
Sales: 6.23 million
Battle across iconic and historical landmarks across Europe as part of this World War II campaign. Not only will you get incredibly invested, but you'll witness the power-hungry opposition and tension throughout your gameplay. Known for its NAZI ZOMBIES, a terrifying co-op survival mode that took the gaming world by storm.
Call of Duty: Black Ops III
Sales: 7.37 million
After the success of Advanced Warfare, Call of Duty: Black Ops 3 dived headfirst into the realms of science fiction by introducing drones, robots and cyborg supersoldiers.
Black Ops 3's campaign wasn't as well received as previous games in the subseries , but the consistently great multiplayer (which included another version of Nuketown) and Zombies were enough to make Black Ops 3 the best selling Xbox One game to date.
PlayerUnknown's Battlegrounds
Sales: 8 million
This battle royale-style game isn't exactly revolutionary, but damn it has a way of building suspense when you're dropping down into the battlefield. Item distribution is partially randomized, meaning people who learn the right spots on the map have an advantage.
Whilst it can seem pretty brutal at first – you should take the time to fully immerse yourself in the tension!
Grand Theft Auto V
Sales: 8.72 million
Grand Theft Auto V is one of the best selling games of all time, shipping over 65 million units worldwide across all consoles. In fact, to this day, it's the best selling Xbox One game ever.
GTA V's success on the Xbox One is even more remarkable considering it's a re-release of the hugely successful Xbox 360 original. Perhaps GTA Online and the introduction of first person mode encouraged people to buy another copy!
Is Decluttr the best place to sell Xbox one games?
Decluttr is a great place to sell Xbox One games for cash. Just get an instant price, pack them into a box and ship them for FREE. We'll then pay you the day after they arrive by check, direct deposit or PayPal.
Have you got any games you don't play anymore? Decluttr is the easiest way to sell video games! Need extra cash for a games console or premium games? Sell Game Consoles with us – whether it's an Xbox One Trade In or other consoles, we'll take them!
Plus, we're a fantastic place to buy second hand video games too! Our fantastic prices beat the rest. So go on, buy cheap consoles and video games today!
So…what is the best selling game on xbox one? To sum up – here are the 10 most popular Xbox One games by sales, including the number one spot:
Halo 5 – 4.92 million
Fallout 4 – 5.03 million
Battlefield 1 – 5.13 million
Call of Duty: Advanced Warfare – 5.22 million
Minecraft: Xbox One Edition – 5.43 million
Red Dead Redemption 2 – 5.77 million
Call of Duty WWII – 6.23 million
Call of Duty Black Ops III – 7.37 million
PlayerUnknown's Battlegrounds – 8 million
Grand Theft Auto V – 8.72 million
Data compiled using Statista.
Comments
comments