Who is the most popular video game character in your state?
Gamers have long debated over which video game character is the greatest of them all. Unfortunately, most of these debates are based entirely on opinion and only lead to more arguments and occasional name-calling.
To settle the debate once and for all, we decided to use cold hard Google search data to find out which character each state loves most. Here's what we found…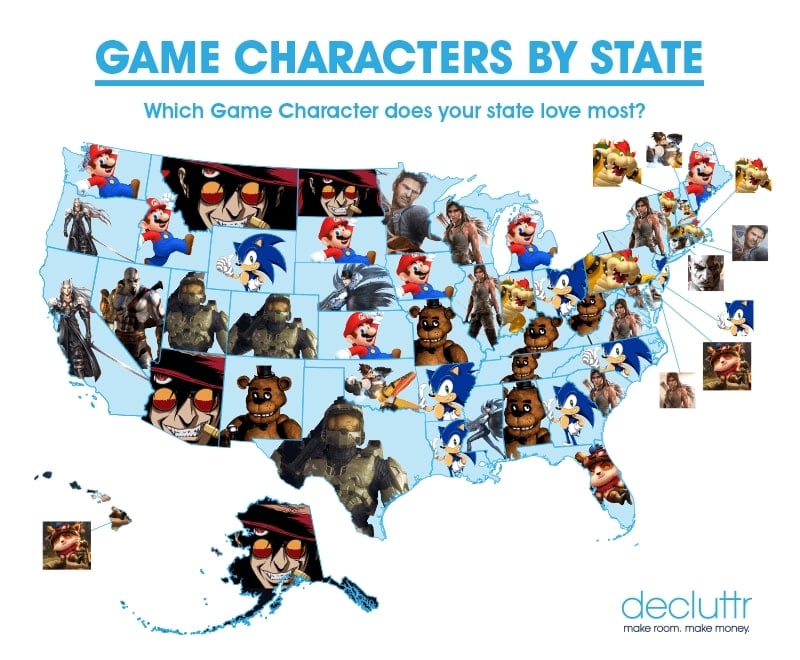 Golden oldies Mario and Sonic topped searches in 7 states each. The Italian plumber won in Idaho, Iowa, Kansas, Maine, Michigan, South Dakota and Washington, while Sonic won Arkansas, Georgia, Louisiana, New Jersey, North Carolina, Ohio and Wyoming.  You really can't beat the classics!
Tied for 2nd with 6 states each are Tomb Raider's Lara Croft (Illinois, Maryland, New York, South Carolina, Virginia and Wisconsin) and a surprise entrant, Freddy Fazbear from the cult horror series Five Nights at Freddy's. Freddy, the mascot for a fictional pizza chain, is the most searched character in Alabama, Kentucky, Missouri, New Mexico, Tennessee and West Virginia.
Other popular characters included Alucard from Castlevania (4 states), Master Chief (3) and Teemo from League of Legends (3). Villains proved to be surprisingly popular too, with Bowser taking 4 states and Final Fantasy VII's Sephiroth the most searched character in California and Oregon.
Who is your favorite video game character? Let us know in the comments.
Selling Games Consoles or want to trade in games? Give Decluttr a try! Simply get an instant price, ship your items for FREE and we'll pay you the day after they arrive when you sell stuff online with us. Plus, you can sell phones by heading over to the "Sell My Phone" page – or the "Sell My iPhone" page if you have an old iPhone to sell!

Here's the full list of states and the characters they searched for most.
| State | Character | |
| --- | --- | --- |
| Alabama | Freddy Fazbear | |
| Alaska  | Alucard | |
| Arizona | Alucard | |
| Arkansas | Sonic | |
| California | Sephiroth | |
| Colorado | Master Chief | |
| Connecticut | Kratos | |
| Delaware | Teemo | |
| Florida | Teemo | |
| Georgia | Sonic | |
| Hawaii | Teemo | |
| Idaho | Mario | |
| Illinois | Lara Croft | |
| Indiana | Bowser | |
| Iowa | Mario | |
| Kansas | Mario | |
| Kentucky | Freddy Fazbear | |
| Louisiana | Sonic | |
| Maine | Mario | |
| Maryland | Lara Croft | |
| Massachusetts | Bowser | |
| Michigan | Mario | |
| Minnesota | Nathan Drake | |
| Mississippi | Bayonetta | |
| Missouri | Freddy Fazbear | |
| Montana | Alucard | |
| Nebraska | Bayonetta | |
| Nevada | Kratos | |
| New Hampshire | Tracer (Overwatch) | |
| New Jersey | Sonic | |
| New Mexico | Freddy Fazbear | |
| New York | Lara Croft | |
| North Carolina | Sonic | |
| North Dakota | Alucard | |
| Ohio | Sonic | |
| Oklahoma | Tracer (Overwatch) | |
| Oregon | Sephiroth | |
| Pennsylvania | Bowser | |
| Rhode Island | Nathan Drake | |
| South Carolina | Lara Croft | |
| South Dakota | Mario | |
| Tennessee | Freddy Fazbear | |
| Texas | Master Chief | |
| Utah | Master Chief | |
| Vermont  | Bowser | |
| Virginia | Lara Croft | |
| Washington | Mario | |
| West Virginia | Freddy Fazbear | |
| Wisconsin | Lara Croft | |
| Wyoming | Sonic | |
Comments
comments