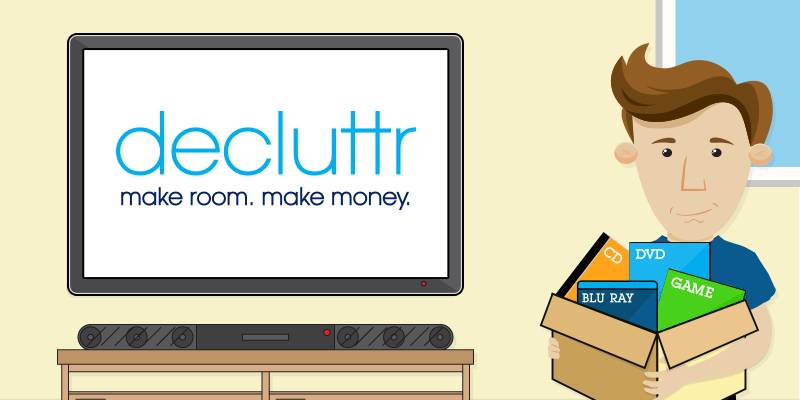 The Top 5 Decluttring Podcasts
Decluttering is simple in theory: pick up a few things, sell them or throw them away, repeat until all your unwanted stuff is gone.
It's much harder in practise though. Finding the motivation to declutter in a world full of distractions is tough, which is why it helps to have some inspiration.
Luckily, there are tons of great decluttering and minimalism focused podcasts to help get you in the mood. Here are five of our favorites!
---
Let's kick things off with the two of the biggest names in the minimalism/decluttering podcast world: Joshua Fields Millburn and Ryan Nicodemus AKA The Minimalists.
Milburn and Nicodemus started The Minimalists website in 2010 after finding the material things that were supposed to make them happy – the six figure salary, the nice cars, the big houses – really didn't. Worse still, they felt like they had no control over their time or lives.
Since then, they've published three books, embarked on countless national tours and released a documentary, Minimalism, shown in over 400 US and Canadian cinemas (it's on Netflix too).
The Minimalists Podcast isn't strictly a decluttering podcast, with the focus more on why you should declutter rather than how. For example, the first episode uses decluttering as a starting point for wider discussions on greed and materialism, while other episodes focus on technology, children and priorities.
At the very least, The Minimalists Podcast will inspire you to live with a little less. At best, it may change your life forever!
---
Like The Minimalists, Besty and Warren Talbot of An Uncluttered Life started their website after growing tired of their busy schedules and unfulfilling jobs.
The couple actually brought their podcast to an end recently, but you can still listen to all 185 episodes of decluttering goodness on their website.
Each episode covers a different topic, from practical decluttering tips like running your own garage sale and forming decluttering strategies to broader lifestyle topics like relationships, money and spirituality.
---
It's hard to relate with decluttering experts and minimalists sometimes. You can learn a lot from them, but their ideas and techniques can sometimes feel a world away from your daily life.
Thank goodness for Dana K White of A Slob Comes Clean, then. She uses her podcast to share down-to-earth decluttering wisdom in an enjoyable way that is super easy to relate to.
If you need some decluttering advice but find the whole minimalist lifestyle daunting, this is the podcast for you.
---
Life doesn't have to be difficult. At least that's what Tsh Oxenrider, the host of The Art of Simple, believes. And she makes a compelling case too!
Quite a few episodes of The Art of Simple focus solely on decluttering, such as episode 61 'On decluttering & spring cleaning' and episode 60's interview with Dana White of A Slob Comes Clean.
Its well worth checking out the other episodes too, which discuss other ways to make your life a little less overwhelming like mindfulness and the Danish phenomenon hygge.
---
The Slow Home Podcast is hosted by Brooke McAlary, a writer living in the beautiful Blue Mountains outside of Sydney, Australia. She embraced minimalism after suffering from postnatal depression and decluttered over 25,000 items in two years. She talks the talk and walks the walk!
Her podcast has become one of the top health podcasts on iTunes, with Brooke discussing various methods to slow down your life and reduce stress (including decluttering, obviously!).
The Slow Home Podcast is a fantastic, inspirational podcast that will improve your life in more ways than one!
---
Share your favorite decluttering podcast with us in the comments!
Ready to declutter? Remember, you can trade in iPhones, sell cell phones, sell used electronics and sell books, CDs, DVDs and games with Decluttr!

Plus, you can also buy these things too! Buy cheap Cell Phones, refurbished electronics and all other kinds of tech with the Decluttr Store.
Comments
comments