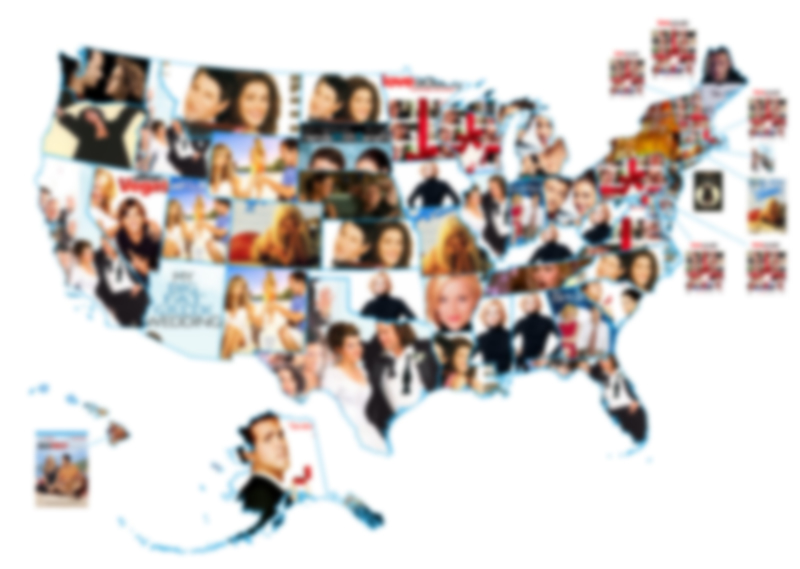 Which rom-com does your state love most?
Valentine's Day isn't all about grand romantic gestures, classy dinner dates and super expensive gifts. For some of us, nothing beats settling down with our other half in front of a good old fashioned rom-com.
But what is America's favorite rom-com? We decided to find out using Google Search data from each state…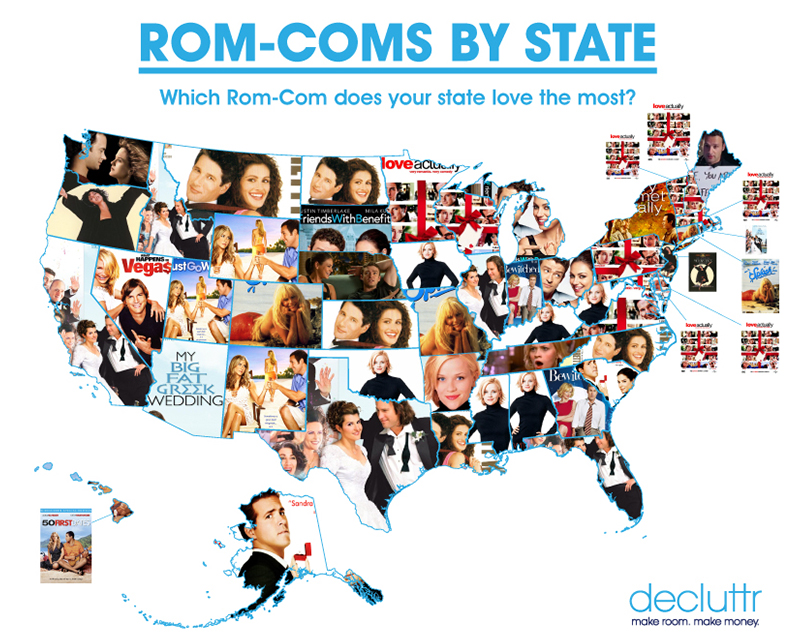 Love Actually is the most popular rom-com in America, topping searches in ten states. This beloved British movie is undoubtedly one of the best rom-coms around, although the fact it's also a Christmas movie gives it a slight advantage when it comes to popularity!
In second place is an altogether more American love story: Reese Witherspoon's Sweet Home Alabama. Unsurprisingly, Alabama was one of the states that searched for it most!
In third place is My Big Fat Greek Wedding, which was a surprise box office smash back in 2002. Seven states searched for it most, including Illinois, the state the movie is set in.
In fact, a lot of states prefer movies set near them.  What Happens in Vegas tops searches in Nevada, Sleepless in Seattle is most loved in Washington and 50 First Dates is Hawaii's favorite. New Yorkers, who are spoiled for choice when it comes to rom-coms set in their home state, opted for When Harry Met Sally.
Below is the full table of states and their favorite rom-coms. Do you agree with the most loved romcom in your state, or does your heart belong to a different movie? Let us know in the comments!
Wondering: "is there an easier way of selling my mobile phone?" You've found it! At Decluttr, we give you an easy way to sell iPhone, trade in games, sell CDs, DVDs, sell books online, trade in iPad, and other tech too! To start selling your cell phone or anything else, just get an instant price, ship your stuff for FREE and we'll pay you the day after it arrives.

| State | Movie |
| --- | --- |
| Massachusetts | Love Actually |
| Colorado | Splash |
| New York | When Harry Met Sally |
| Oregon | Moonstruck |
| California | My Big Fat Greek Wedding |
| Washington | Sleepless In Seattle |
| Vermont  | Love Actually |
| Illinois | My Big Fat Greek Wedding |
| New Hampshire | Love Actually |
| Connecticut | Splash |
| Pennsylvania | Love Actually |
| Rhode Island | My Big Fat Greek Wedding |
| Texas | My Big Fat Greek Wedding |
| New Jersey | Moonstruck |
| Nevada | What Happens in Vegas |
| Iowa | Sweet Home Alabama |
| Indiana | Bewitched |
| Minnesota | Love Actually |
| Utah | Just Go With It |
| Maryland | Love Actually |
| Virginia | Love Actually |
| Georgia | Bewitched |
| Michigan | Friends With Benefits |
| Delaware | Love Actually |
| Maine | Love Actually |
| Alaska  | The Proposal |
| Arizona | My Big Fat Greek Wedding |
| Kansas | Pretty Woman |
| Wisconsin | Love Actually |
| Nebraska | Friends With Benefits |
| Florida | My Big Fat Greek Wedding |
| Montana | Pretty Woman |
| Ohio | Friends With Benefits |
| Kentucky | Sweet Home Alabama |
| Missouri | Splash |
| Idaho | My Big Fat Greek Wedding |
| New Mexico | Just Go With It |
| North Carolina | Pretty Woman |
| Hawaii | 50 First Dates |
| Wyoming | Just Go With It |
| Tennessee | Sweet Home Alabama |
| West Virginia | Sweet Home Alabama |
| North Dakota | Pretty Woman |
| Oklahoma | Sweet Home Alabama |
| South Carolina | The Proposal |
| South Dakota | Friends With Benefits |
| Louisiana | Pretty Woman |
| Alabama | Sweet Home Alabama |
| Arkansas | Sweet Home Alabama |
| Mississippi | Sweet Home Alabama |
Comments
comments