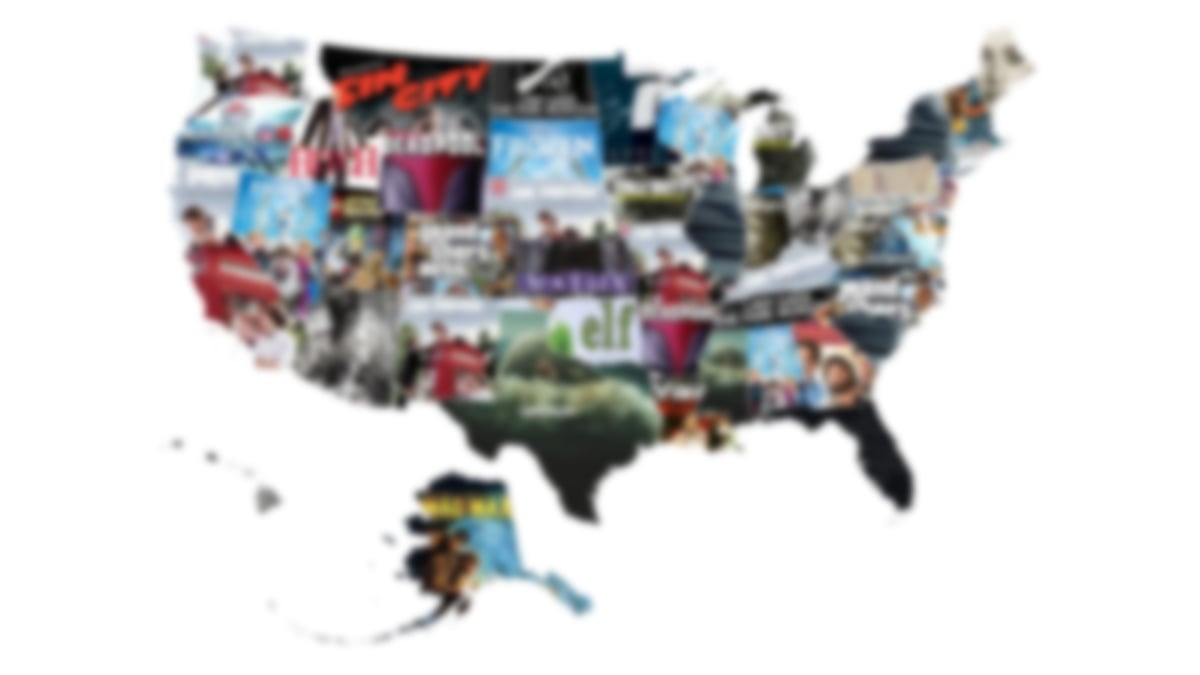 Most unwanted. The most traded CDs, DVDs and Games by state Christmas 2016
It's been crazy busy over the holidays here at Decluttr – and you guys have sold a ton making room for new presents and maybe getting rid of a few bad gifts too? (You know who you are!)
See what your state sold most over this Christmas…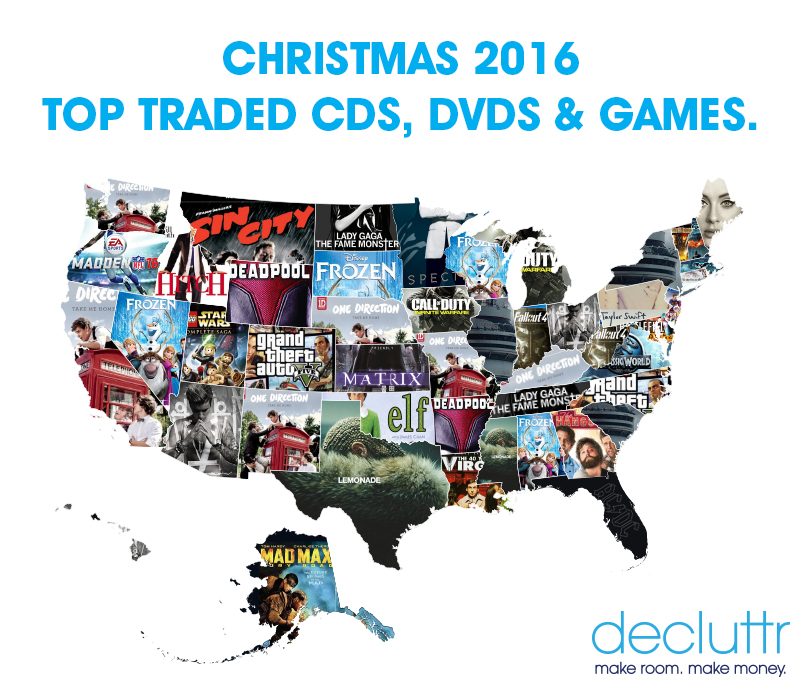 Oklahoma. Selling Elf? Not only is it one of the best Christmas movies out there, but it's one of the greatest movies, ever! We can only hope you were clearing space/making money for a worthy replacement.
California. One Direction's "Take Me Home" seems to be going in the wrong direction. Looks like Californians' love for the boys has departed along with Zayn.
Iowa, Michigan. Infinite Warfare – Now this isn't a big surprise, as one of the franchise's biggest flops this is the most frequently traded game not just in these states but also nationally.
Alabama, Nevada, South Dakota, Wisconsin. Love for Frozen has begun to thaw? It was time to let it go. (Sorry…)
Ohio.  It seems Bieber has lost his Purpose with Ohioans
If you need to clear out some space post-Christmas or need some extra cash to see you through January, sell your CDs, DVDs and trade in Games with Decluttr! It's fast, easy and FREE. Check out this short video to see how it works!
And if you're thinking "well that's great Decluttr, but I'm selling my phone online", we can help you with that too! You can sell all kinds of tech with us, from cell phones trade ins to a games consoles trade in, and it's super easy too whether you want to sell tablet computers, iPods or anything else! Got an iPhone? You can head on over to the Sell My iPhone page too!

Here's the full list of most unwanted items this Christmas by state.
| State | Item | Title |
| --- | --- | --- |
| Alaska | Blu- Ray | Mad Max: Fury Road |
| Alabama | DVD | Frozen |
| Arkansas | Blu- Ray | Deadpool |
| Arizona | CD | Justin Bieber: Purpose |
| California | CD | One Direction: Take Me Home |
| Colorado | Game | Grand Theft Auto V |
| Connecticut | DVD | The Notebook |
| Delaware | DVD | Batman Vs Superman |
| Florida | CD | AC/DC: Back In Black |
| Georgia | DVD | The Hangover |
| Hawaii | CD | Justin Bieber: Purpose |
| Iowa | Game | Call Of Duty: Infinite Warfare |
| Idaho | DVD | Hitch |
| Illinois | CD | Drake: Views |
| Indiana | Game | Fallout 4 |
| Kansas | DVD | Matrix |
| Kentucky | CD | One Direction: Take Me Home |
| Louisiana | DVD | The 40 Year Old Virgin |
| Massachusetts | Blu-Ray | The Dark Knight |
| Maryland | Game | Battlefield Hardline |
| Maine | CD | Adele: 25 |
| Michigan | Game | Call Of Duty: Infinite Warfare |
| Minnesota | Blu-Ray | Spectre |
| Missouri | CD | One Direction: Take Me Home |
| Mississippi | CD | Beyonce: Lemonade |
| Montana | DVD | Sin City |
| North Carolina | Game | Grand Theft Auto V |
| North Dakota | CD | Lady Gaga: The Fame Monster |
| Nebraska | CD | One Direction: Take Me Home |
| New Hampshire | DVD | The Dark Knight |
| New Jersey | Game | FIFA 16 |
| New Mexico | CD | One Direction: Take Me Home |
| Nevada | DVD | Frozen |
| New York | CD | Drake: Views |
| Ohio | CD | Justin Bieber: Purpose |
| Oklahoma | DVD | Elf |
| Oregon | Game | Madden NFL 16 |
| Pennsylvania | CD | Taylor Swift: 1989 |
| Rhode Island | DVD | The Hangover |
| South Carolina | CD | Drake: Views |
| South Dakota | Blu-Ray | Frozen |
| Tennessee | CD | Lady Gaga: The Fame Monster |
| Texas | CD | Beyonce: Lemonade |
| Utah | Game | Lego Star Wars: The Complete Saga |
| Virginia | DVD | Jurassic World |
| Vermont | DVD | Pirates of the Caribbean: The Curse of the Black Pearl |
| Washington | CD | One Direction: Take Me Home |
| Wisconsin | DVD | Frozen |
| West Virginia | Game | Fallout 4 |
| Wyoming | DVD | Deadpool |
Interested in the most traded CDs, DVDs, Games and Tech nationally overall? Here's what we found…
| Ranking | CDs | DVDs | Games | Tech |
| --- | --- | --- | --- | --- |
| 1 | One Direction - Take Me Home | Frozen | Call Of Duty: Infinite Warfare | iPhone 6 |
| 2 | AC/DC - Back In Black | Deadpool | Fallout 4 | iPhone 6S |
| 3 | Justin Bieber - Purpose | Batman vs Superman | Battlefield Hardline | XBOX 360 |
| 4 | Drake - Views | Spectre | Grand Theft Auto V | Galaxy S5 |
| 5 | Lady Gaga - The Fame Monster | Jurassic World | Madden NFL 16 | iPhone 5S |
Comments
comments