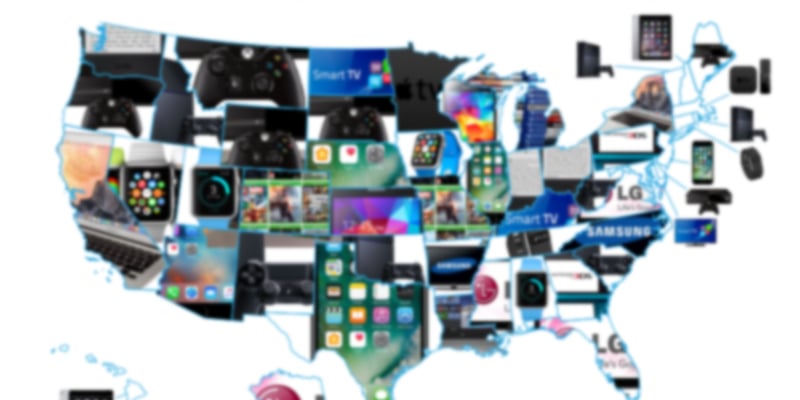 What tech does your state want most this Black Friday?
Scoring a sweet deal on Black Friday used to mean camping outside a store overnight then wrestling someone to get your hands on a TV.
Thankfully, finding a deal these days is as easy as searching for what you want on Google from the comfort of your own home.
Most of us have been searching for bargains already, with tech products high on the nation's wishlist. But which tech products does each state want most? We used Google Trends data to find out…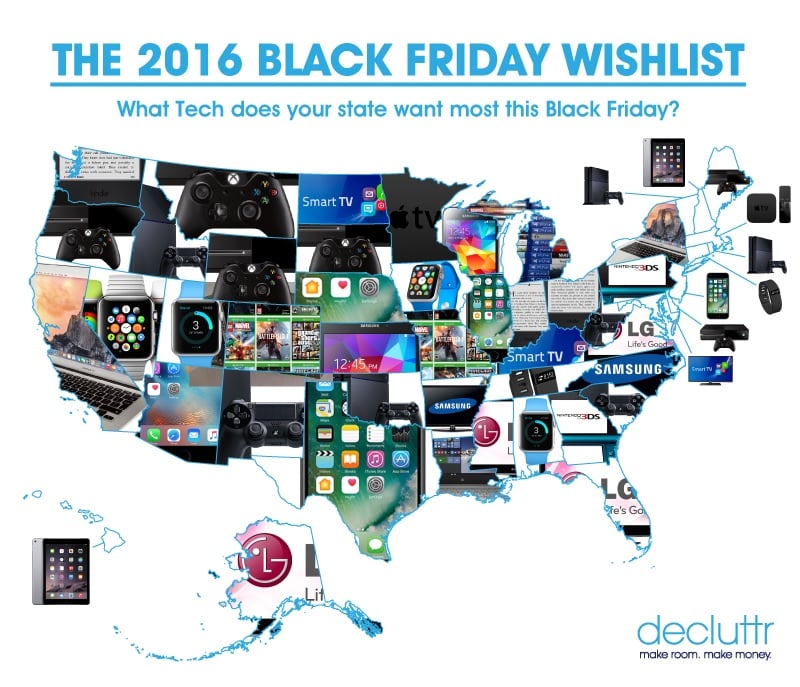 Games consoles are top of a lot of Black Friday wishlists, with folks in Delaware, Maine, Montana, Oregon, South Dakota and Wyoming all searching for the Xbox One, while the PS4 tops Black Friday searches in Idaho, New Mexico, Oklahoma, Rhode Island, Vermont and West Virginia.
A lot of people want to get a deal on Apple products too. The Cupertino giants' products are searched for most in 11 states, with Alabama, California, Iowa, Massachusetts, Nevada, Minnesota, New Hampshire, New Jersey, New York, Texas and Utah all hunting for Apple bargains.
Eight states (Alaska, Florida, Kentucky, Maryland, Mississippi, North Carolina, North Dakota and Virginia) are keeping up the time-honored Black Friday tradition of hunting down a cheap TV.
Not all states are planning to buy big money items though, with Colorado, Michigan and Missouri happy to settle for some cheap video games.
Find out which deals your state has been searching for most below!
---
Decluttr is the fast, easy and FREE way to get cash for your old CDs and DVDs. Also you can sell Books online, trade in Games and used iPhone – and you can get 10% extra cash when you sell stuff online this Black Friday weekend!

If you're wondering "how much will I get if I sell my phone?", just enter the items you want to sell for an instant price then enter the code DECLUTTR10 at the basket to claim your extra 10% cash!

Want to learn how Decluttr works? Check out this video…
---
| State | Most Searched Tech Deal |
| --- | --- |
| Alabama | Apple Watch |
| Alaska | LG TV |
| Arizona | iPhone |
| Arkansas | Samsung |
| California | MacBook Air |
| Colorado | Xbox Games |
| Connecticut | Fitbit |
| Delaware | Xbox |
| Florida | LG TV |
| Georgia | Nintendo 3DS |
| Hawaii | iPad |
| Idaho | PS4 |
| Illinois | iPhone 7 |
| Indiana | Kindle |
| Iowa | Apple Watch |
| Kansas | Tablet |
| Kentucky | Smart TV |
| Louisiana | Computer Deals |
| Maine | Xbox One |
| Maryland | Smart TV |
| Massachusetts | Apple TV |
| Michigan | PS4 Games |
| Minnesota | Apple TV |
| Mississippi | TV |
| Missouri | Xbox Games |
| Montana | Xbox One |
| Nebraska | iPhone |
| Nevada | Apple Watch |
| New Hampshire | iPad |
| New Jersey | iPhone 7 |
| New Mexico | PS4 |
| New York | MacBook Air |
| North Carolina | Samsung TV |
| North Dakota | TV |
| Ohio | Kindle |
| Oklahoma | PlayStation |
| Oregon | Xbox |
| Pennsylvania | Nintendo 3DS |
| Rhode Island | PS4 |
| South Carolina | PlayStation |
| South Dakota | Xbox One |
| Tennessee | Fitbit |
| Texas | iPhone 7 |
| Utah | Apple Watch |
| Vermont | PS4 |
| Virginia | LG TV |
| Washington | Kindle |
| West Virginia | PS4 |
| Wisconsin | Cell Phones |
| Wyoming | Xbox |
Comments
comments