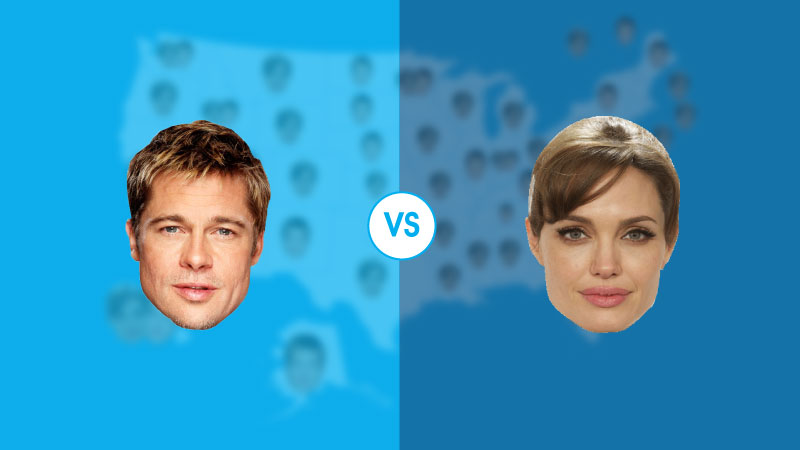 Is your state #TeamAngelina, #Team Brad… or #TeamBrangelina? We used our data to find out!
The world has been rocked by the news that celebrity super couple Brad Pitt and Angelina Jolie are getting divorced. "How could this be?" we asked. "What hope is there for the rest of us?!" we cried. Twitter was practically hysterical.
Some, however, are starting to take sides. On social media, hashtags like #TeamBrad and #TeamAngelina have cropped up already.
While we'd never encourage taking sides in what is undoubtedly a sad situation, we were intrigued: who will win custody of America's hearts in the inevitable aftermath? Or does everyone just want two of the most beautiful people in the world to get back together and for things to go back to the way they were?
Using our data, we counted the number of Brad Pitt and Angelina Jolie movies people have banished from their DVD collections and sold to us most in each of the 50 states.
For example: if a state's residents has sold Brad's World War Z more than any other Pitt/Jolie movie, that state is #TeamAngelina.
Of course, Brad and Angelina have made a couple of films together, most notably Mr and Mrs Smith. Where a Brangelina movie comes out on top, we've declared the state #TeamBrangelina.
So, here's where America stands on the great Brangelina debate…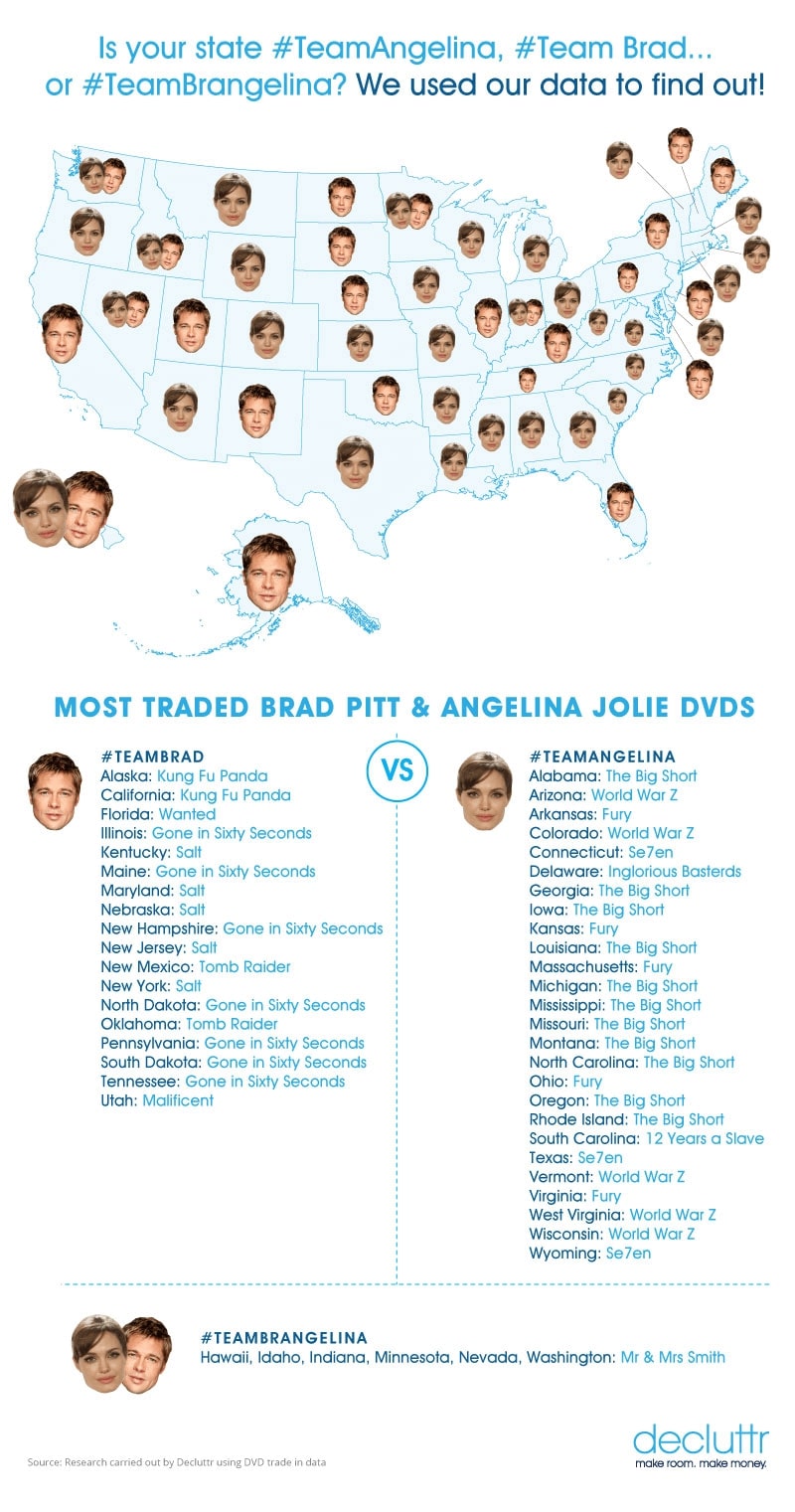 Based on the number of trade-ins, America is overwhelming #TeamAngelina. People sold more Brad movies to us in 26 states, including Alabama, Colorado and Texas. The Pitt DVDs people sold to us most include Se7en, World War Z, The Big Short and Fury.
It's not all bad news for #TeamBrad, though. 18 states sold more Angelina Jolie DVDs, including key states like New York, California and Pitt's home state of Alabama. The Jolie DVDs people traded most include Salt, Gone in Sixty Seconds and Kung Fu Panda.
Interestingly, #TeamBrangelina fared pretty strongly too. 6 states sold Mr and Mrs Smith more than any other Pitt or Jolie film: Hawaii, Idaho, Indiana, Minnesota, Nevada and Washington.
Whether you're #TeamBrad or #TeamAngelina, you can still get cash for your unwanted DVDs, sell CDs online, trade in games and sell books online with Decluttr. You can also sell Tech, including trade in iPhone, trade in iPad or head over to our sell my phone page. Check out this video to find out more!

Comments
comments