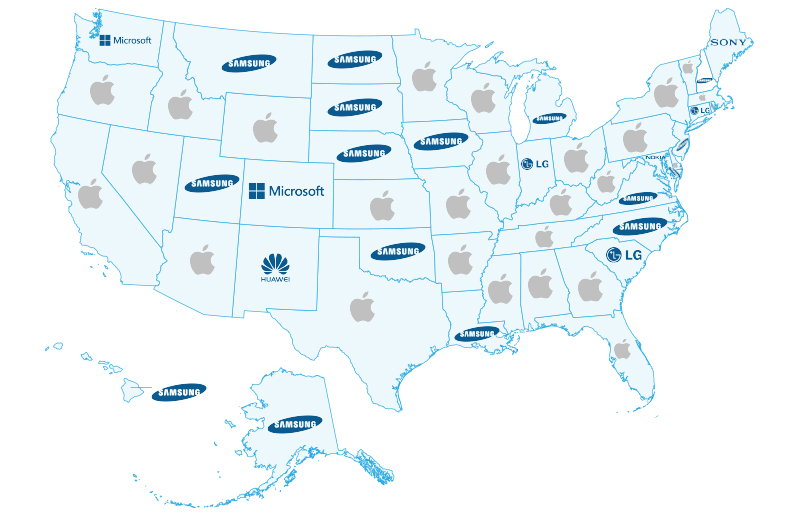 Which cell phone do people in your state sell most?
According to the Pew Research Center, 68% of Americans own a smartphone. That's up from 35% in 2011, and the figure is likely to keep growing!
More and more of us are selling our phones after we upgrade too. But which phones do we sell most? And which phone is each state selling most?
We delved into our data and found out!

The phone most states sell is the Samsung Galaxy S6 and S6 Edge. It tops the list in Alaska, Maryland, New Hampshire, Michigan, Nebraska, Utah, New Hampshire, New Jersey, Iowa, North Carolina and Louisiana.
In second place is the iPhone 6s and 6s Plus, sold most by folks in Alabama, Mississippi, Florida, Idaho, West Virginia, Kansas, Wyoming, Kentucky and Oregon.
It's no surprise that two flagships top our chart, as most people sell their phone when they plan to upgrade. We're guessing a lot of people were impressed by the Galaxy S7 and iPhone 7!
In terms of manufacturers, Apple takes the 'most sold' crown with 20 states (including their native California) with Samsung a close second with 18 states. Third place is a tie between Sony, LG and Microsoft, each with a miniscule 2 states each.
The most surprising result undoubtedly comes from New Mexico, where people have mostly been selling the Huawei Vitria – an obscure budget smartphone from 2013.
Are you planning to upgrade to a new phone, coming to the end of your contract or just have a few old phones lying around? Check out our sell my iPhone page or sell your cell phone with Decluttr today!
We'll give you an instant price, which is guaranteed for 28 days. Then, all you need to do is pack your phone into a box and ship it for FREE and we'll pay you the day after it arrives by check or direct deposit! To top it all off, we promise to pay the first price we offer… or we'll send your phone back for FREE!

Comments
comments