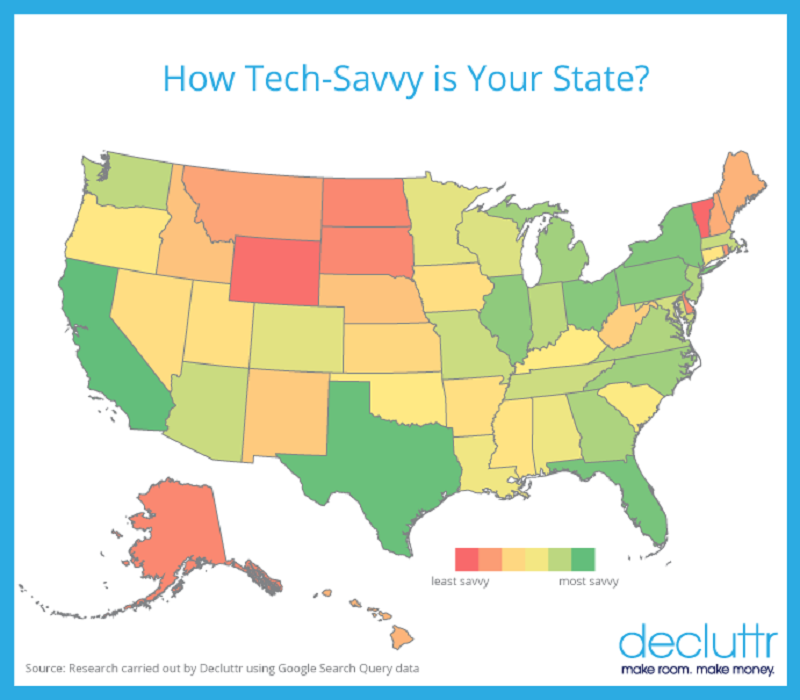 Which states are the most tech-savvy?
Even the most tech savvy of us occasionally have to head online for a little help. While some of us know our USB from our HDMI cables, some are still trying to get to grips with just quite what a tablet actually is.
From California to Connecticut, the nation needs the net to help us understand just how all this new technology works. But are some Americans more clued up than others? Which state is still trying to work out how to turn their phones on? Which state prefers to work it out for themselves? We wondered. So we went away, did our research, and found out.
How did we find out? We compiled a list of over 700 technology related questions looking at multiple types of device as well as general questions about technology. We then took that list of questions and used Google data to see how many searches were made per month in each US State.
That number was then divided by the population of each state, to get the average number of questions asked per person in each state.
Finally we plotted these numbers on an index. Vermont got the highest score of 100, meaning as a state it asked the most questions per person. California scored just 9.62, meaning it asked the least.
Most questions asked to least questions asked:
Vermont- 100.00
Wyoming- 96.43
North Dakota- 82.71
Alaska- 82.42
South Dakota- 82.04
Delaware- 77.21
Rhode Island- 73.26
Montana- 66.50
New Hampshire- 61.43
Maine- 57.56
Hawaii- 57.09
Idaho- 48.86
Nebraska- 48.61
New Mexico- 44.62
West Virginia- 41.49
Kansas- 37.33
Nevada- 33.69
Iowa- 33.12
Arkansas- 32.41
Utah- 32.22
Mississippi- 30.22
Connecticut- 29.54
Oregon- 28.06
Oklahoma- 26.90
Kentucky- 25.54
South Carolina- 25.04
Louisiana- 23.83
Alabama- 23.62
Minnesota- 22.65
Colorado- 22.47
Wisconsin- 21.85
Maryland- 20.85
Tennessee- 20.29
Missouri- 20.15
Arizona- 19.99
Massachusetts- 19.84
Washington- 18.92
Indiana- 18.78
New Jersey- 17.67
Virginia- 17.43
Georgia- 17.11
Michigan- 15.95
North Carolina- 15.76
Illinois- 14.13
Pennsylvania- 13.58
Ohio- 13.25
New York- 12.74
Florida- 11.80
Texas- 10.35
California- 9.62
We selected over 700 queries to focus on and analysed who and where was Googling them. We found that 10 of the most popular queries across the country were:
What is the best smartphone?
What is smartphone?
What is a tablet computer?
How to use tablet
Connect laptop to TV
Tablet computer with a keyboard
How to tell if my DVD player isn't working
How to tell if my computer screen isn't working
What is a HDMI Cable
How to use a laptop
We noticed some interesting trends. The 4 states that asked the least questions are also the 4 most populous states; perhaps they've got more friends to ask?
States such as Vermont, South Dakota and North Dakota have among the smallest percentages of their population living in urban areas, and come at the top end of the list. Perhaps those of us living in towns and cities are more in touch with our tech?
And maybe hosting Silicon Valley and being the international home of Apple is what makes California the most tech clued up state?
Average income seemed to have little impact; states among the 10 highest average income, such as Connecticut, New York and North Dakota, fell at totally different points in the ranking. Clearly tending to have more money to buy tech doesn't actually mean you're any good at using it.
You might assume residents of the sunniest states bother less with gadgets and that they spend more time enjoying the great outdoors, but this might not be true. Of the top 5 sunniest states (of which Florida is not one, by the way) California and Texas asked very few questions, whilst Arizona, New Mexico and Nevada asked rather a lot.
Interestingly, of the 10 states with the most bars per person, 6 of them came within the top 10 of our ranking by most questions asked. We're saying nothing.
Whatever the reason for the big variation across our 50 states, maybe it's time Californians and Texans gave their Vermonter and Wyomingite brothers and sisters a hand.
Wondering "where can I sell my old phone?", "where can I sell my Kindle?" or "where can I sell my old book?", or do you have Xbox 360 games for sale? Decluttr is the fast, easy and FREE way to trade in phones, trade in iPhone, Tablets, Games Consoles, iPads, iPods and make a MacBook trade in! You can also trade in games and sell CDs online too.
Simply get an instant price, pack your items up and send them for FREE. We'll then pay the day after they arrive by check or direct deposit! Click below to sell stuff online now!

Comments
comments