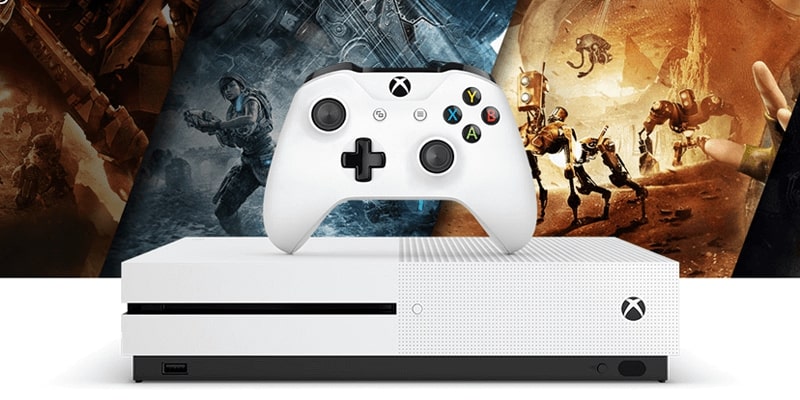 The Best of E3 2016: Xbox One S, Project Scorpio and more!
E3 took place earlier this week and it was unsurprisingly awesome. Here are some of the best games and consoles from the event!
---
Xbox One S
The Xbox One has a little brother! The Xbox One S is 40% smaller than the original model and looks ultra cool in white.
It's also capable of playing 4K video and Blu-Rays and comes bundled with a new Bluetooth controller that has double the wireless range.
For those of you with a constantly full hard drive, there's a huge 2TB storage option too – although it'll set you back $399! If that sounds too steep, there are 1TB and 500GB options too.
---
Project Scorpio
Microsoft also unveiled a souped-up version of the Xbox One set for release next year, codenamed Project Scorpio.
Scorpio will be able to run 4K games, supports virtual reality and a mightily impressive 6 teraflops, which basically means it's super powerful – the most powerful console ever, according to Xbox's Phil Spencer.
All current Xbox One games will be compatible with Project Scorpio and Xbox's Head of Marketing Aaron Greenberg has said there will be no Scorpio exclusives either. No-one will get left behind, in short!
---
PlayStation VR
Although Sony didn't show off the PS4 Neo, they did take the opportunity to showcase the PlayStation VR, which is coming out on the 13th October.
The most exciting news was that over 50 games will be playable this year, including a VR mission in Star Wars: Battlefront and Batman: Arkham VR, where you solve crimes through the cowl of the World's Greatest Detective.
---
Resident Evil 7
An unexpected announcement, the 7th game in the Resident Evil series (not counting spin-offs) looks like a massive shift in direction. Instead of the non-stop action of recent games or the survival horror of the original games, Resident Evil 7 is a first-person horror game in the vein of Outlast and P.T.
The biggest twist, though? It'll be VR compatible!
From the trailer, it looks as though players will be exploring a spooky looking house which is presumably full of nasty stuff that wants to eat your brains. Yikes!
PlayStation Plus subscribers can play a demo of Resident Evil 7 right now, and the game will be released next January on PS4 and Xbox One.
---
Death Stranding
Hideo Kojima is the genius behind Metal Gear Solid, a series renowned for its weird moments. So it's no surprise that the trailer for Kojima's latest game is super, super weird.
The trailer opens with The Walking Dead's Norman Reedus waking up naked on a beach – hey, we've all been there. Except Reedus is connected to a baby by a cord, and the beach is full of dead crabs.
Then the baby disappears, Reedus' hands are covered with oil and there's people floating in the sky. Erm…okay?
We've got literally no idea what Death Stranding will be about but we're pretty certain it'll be awesome with Kojima at the helm. No news on a release date yet but we'll keep you posted.
---
God of War
Kratos is back! God of War (technically God of War 4) stars everyone's favourite god-killer (looking super beardy) and his son as they fight huge mythological beasts and generally act badass…although Kratos' son has a lot of work to do before he hits the same levels of cool as his dad.
You can expect the same awesome action and epic boss battles, with some RPG elements and father-son bonding thrown in too.
---
The Last Guardian
After years of waiting, Sony finally treated us to a first glimpse of The Last Guardian last year. This year, we got even more details, including a release date: October 2016!
The E3 trailers shows a young boy (the player character) and his companion Trico, some kind of mythical beast, exploring a dungeon and encountering other mythical creates. Sony are playing their cards close to their chest with this one, but judging by the end of the trailer – which shows an injured Trico being tended to – we're guessing there will be more than a few tears before the credits roll.
---
Crash Bandicoot Remastered
Yes! One of the most requested remakes of them all is finally happening!
The original Crash Bandicoot trilogy is nothing short of classic and all three (that's Crash Bandicoot, Crash 2 and Crash Bandicoot: Warped) are getting the remake treatment for PS4. No word on a release date yet but we can't wait!
---
The Elder Scrolls V: Skyrim Remastered
For those of you who prefer dragons to marsupials, the legendary Skyrim is being remastered for PS4, Xbox One and PC.
As you might expect, the graphics look phenomenal. The really exciting news is the addition of mods on console, though – you don't have to watch all the fun PC gamers have with the game with envy anymore!
---
New Star Wars
Ever wonder what a mash-up of Star Wars and Uncharted would be like? Well, you might have your answer. The creative director of Uncharted is working on a brand new Star Wars game and it looks amazing!
We don't have too many details on it yet but there's pretty much no way a game that combines Star Wars and Uncharted can be anything less than incredible…right?
---
Battlefield 1
Is this year when Battlefield finally beats Call of Duty? It's sure looking that way: Battlefield 1 has the most liked trailer in history, while Call of Duty: Infinite Warfare has the most disliked.
It's not all about YouTube likes, of course, but Battlefield 1 is going to be a seriously good game based on the footage shown at E3. As well as ground combat, you'll also be able to ride horses and motorbike, fly biplanes and (possibly) commandeer a zeppelin!
We also got some celebrity gaming action, with Snoop Dogg, Zac Efron and Jamie Foxx all present to show off their Battlefield skills.
---
What was your favorite part of E3? Let us know in the comments.
If you need to save a bit of extra cash for new games and consoles – and let's face it, with so many of them coming out, most of us probably do – sell your games and consoles with Decluttr! If you want to make even more cash, you can also sell books online, sell CDs online, trade in iPhone, trade in iPad or check out our sell my phone page too. We'll give you an instant price, fast next day payment and FREE shipping!

Comments
comments