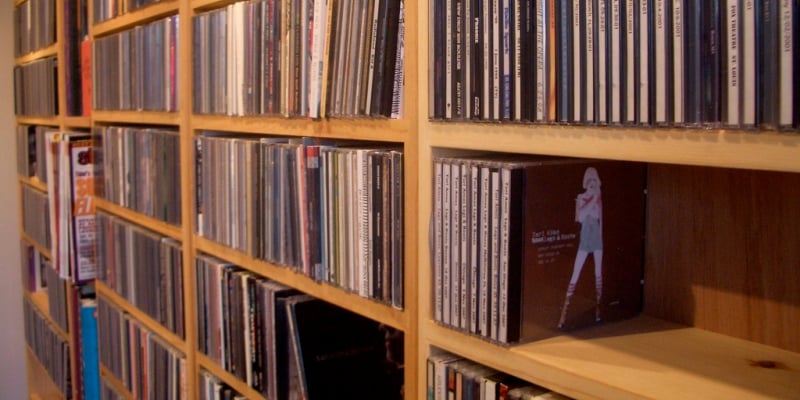 What is the best way to organize your CD collection?
It's a question that has haunted music lovers since the dawn of time (or thereabouts): what is the best way to organize your record collection?
There are many possible solutions, but which is the best? We analysed a few methods…
---
Alphabetical order
The go-to method for any first time organizer, alphabetical organization is quick and easy. All it requires is knowledge of the alphabet, which is easy to remember thanks to a catchy little tune you learned in elementary school.
Once you've decided whether to organize by artist or album title (artist is the obvious choice), finding CDs in this system is super easy. Just sing that song if you forget…
There are a couple of problems with this method though. The first is that it doesn't take into genre or mood. You could feasibly end up with Deftones next to Dolly Parton, which would be weird.
Secondly, you'll need to reorganize your collection every time you add a new CD. If you're adding something beginning with A, you could end up moving 100s of CDs. The best solution to this is leaving a bit of space on each of your shelves, but that's only a temporary fix.
---
By Genre
This avoids the whole Deftones/Dolly Parton thing, making it super easy to find something to fit your mood. Rock goes with rock, pop with pop, EDM with EDM and so on. Sorted, right?
Erm…not quite. There's a problem with the genre organisation method and it's a big one: sub-genres. Classifying your music into sub-genres could well drive you insane because a lot of bands don't fit into a single genre. Be firm with your genre classifications, though, and you should be fine.
Like the alphabetical organizational method, there's also the issue of finding space in the middle of your collection. Leave a bit of space free after each genre.
---
Newest First, Oldest Last
This is probably the easiest way to organize your collection because…well, it doesn't really take much organization. Just shift everything right when you buy something new and add it in.
There are a couple of problems with this system, though. There's no real way of knowing where to find certain CDs at first, unless you know roughly when you bought it in relation to other albums. You'll get used to it over time, but for a while you might struggle to find anything that isn't really old or really new.
---
The Personal Rating System
The system of choice for extremely passionate music fans. Like a music journalist, you'll need to rate every album you own out of 10 and then organize them by score. 10s go at the front, 9s after and so on.
This is undoubtedly the best system if you want to listen to music based on its quality, and it helps weed out the rubbish you accidentally buy.
However, it can lead to hours of agonizing over scores for your albums. You might end up disappearing down the 'decimal point' wormhole, where to try to organize the albums in each section by adding a decimal point to their score (9.6 vs 9.3) for example. The easiest method is to stick to whole numbers and be firm with your ranking.
---
Reorder As You Listen
This system is simple but effective: every time you listen to an album, it goes back to the front of your collection. That means the stuff you listen regularly is easy to find, while the stuff you haven't listened to for years ends up at the back (possibly ready to sell!).
One of the only downsides to this system is that finding stuff you haven't listened to a while can be tricky, although maybe that means you don't need it any more!
---
By Artist
Collect all of the albums by certain artists together and bundle them together, then organize artist discographies alphabetically. This makes finding music by your favorite bands super easy, and it helps you pick out those embarrassing CDs you've bought over the years too!
However, there's still the old problem of having to reorganize every time you add a new album, plus you'll need to decide how to organize albums in an artist's discography: by rating, date or alphabetically.
How do you organize your CD collection? Let us know in the comments!
---
And if you're planning a big CD clear out, sell CDs with Decluttr! We'll give you an instant price plus fast next day payment!

Got phones you want to sell? Head on over to "Sell My Phone" and choose the phone you wish to sell. Plus, you can trade in iPhones with us too!
Main image credit: Fred von Lohman on Flickr
Comments
comments