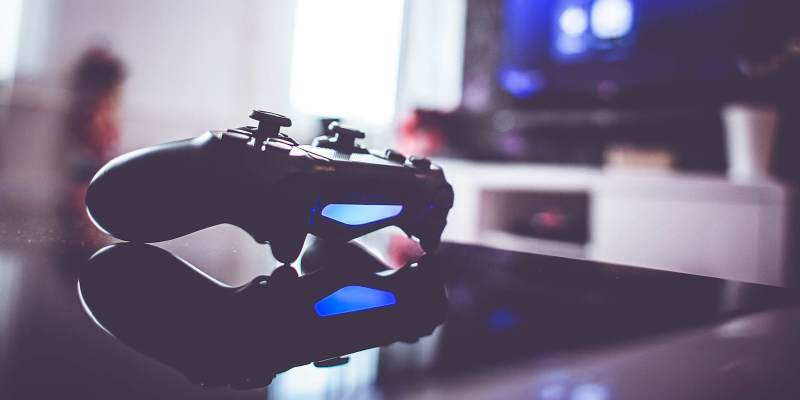 Will 2016 be the best gaming year ever?!
2015 was a great year for gaming: Metal Gear Solid V, Black Ops III, Bloodborne, the list goes on.
But we think 2016 will be even better. Here's why!
---
Far Cry Primal
Release date: February 23, 2016
It's Far Cry, but not as we know it! Rather than abandoning you on a tropical paradise and forcing you to survive with whatever you have to hand, Far Cry Primal drops you into the Stone Age and forces you to fight mammoths, tigers and other cavemen with twigs and rocks. We guess that means no machine guns, right?
---
Tom Clancy's The Division
Release date: March 8, 2016
Tom Clancy's The Division has been in development for ages but will finally arrive next year.
The game sees you play as a Strategic Homeland Division agent trying to save society after a pandemic spreads on Black Friday and causes the government to collapse in less than a week.
It's open world with Gears of War type gameplay and, based on this footage that some bad person has leaked from the closed alpha, looks awesome.
---
Uncharted 4: A Thief's End
Release date: March 18, 2016
The final part of Nathan Drake's story sees him enjoying his retirement in Florida with absolutely nothing of note happening to him.
Just kidding. It actually sees poor Nathan jolted out of retirement to hunt for treasure and fight pirates along his brother, who was presumed dead. Beats sitting around the nursing home playing bingo, we guess.
Uncharted 4 already looks amazing and, let's be honest, there's no way on earth that this is going to be anything less than a 10/10, would play again – is there?
---
Quantum Break
Release date: April 5, 2016
Quantum Break is the world's first game mixed with a TV show, and promises to be one of 2016's most interesting new titles.
The game section of Quantum Break is a third-person shooter where you play as a dude called Jack Joyce who can freeze time after a time travel experiment goes horribly wrong. A few others were granted abilities too and, of course, not of all them are using their powers for good.
The second half of Quantum Break is a series of 4 TV episodes that change depending on your actions in-game. And we're not talking some dud low-budget show either: it looks like something you'd see on HBO!
---
Dark Souls III
Release date: March 24, 2016
The hardest game ever returns for one last round of stupidly tough enemies killing you over and over until you curl up in the foetal position and start crying.
Expect the same tough combat, huge world exploration and spooky atmosphere with a few new tricks learnt from Bloodborne thrown in for good measure. Series creator Hidetaka Miyazaki is back in the director's chair too, which can only be a good thing.
---
Star Fox Zero
Release date: April 22, 2016
Nintendo are the masters of doing the same idea over and over again but still making it incredible (see: Mario and Zelda), which is why we're so excited about Star Fox Zero. It's pretty much Star Fox 64, with Fox McCloud piloting his Arwing across space and blowing up baddies, with a few new Wii U Gamepad gimmicks thrown in but that's pretty much all we want.
Apparently, the game takes inspiration from Thunderbirds and will be presented like a TV show, with each level representing an episode. The main levels will be 'prime time' shows, with weirder levels acting as 'late night programming'.
Star Fox Zero was supposed to be released in 2015 but was pushed back after Shigeru Miyamoto decided it needed a bit more development time. Hopefully it pays off.
---
Battleborn
Release date: May 3, 2016
Battleborn is a first person shooter in which a group of heroes fight to protect the last star in the universe and a super evil force (what else?).
It looks similar to quite a few multiplayer online battle arena games, with 25 characters battling it out across a series of arenas and a levelling up system. There promises to be an in-depth campaign mode which can be played with up to 4 other players too.
Gearbox, who are developing the game,  have called it 'the most ambitious video game' they've ever created, which is some claim from the people who made Borderlands 2 .
---
No Man's Sky
Release date: June 2016
Is this the most ambitious video game of all time? No Man's Sky sees you exploring a procedurally generated galaxy in a spaceship, gathering resources on your way to the centre.
To those of us not familiar with tech speak, that basically means there's going to be a ton of planets – over 18 quintillion to be exact. You can technically visit them all, although humanity will have moved to another planet by the time you finish.
---
Final Fantasy XV
Release date: 2016
In the event of global nuclear war, only two things will survive: cockroaches and Final Fantasy.
Final Fantasy XV has been slightly overshadowed by the Final Fantasy VII remake (release date: some point before the heat death of the universe, hopefully), but there's still plenty to get excited about.
For one, it's going to be much darker than previous instalments. The main character, for example, gains special powers after a near-death experience and has to stop something called the 'Plague of the Stars', which threatens to plunge the world into darkness. Sounds grim…
The battle system has also been overhauled and is now more like Kingdom Hearts than the 'stand around and select a magic spell from a menu' combat of previous games.
---
The Last Guardian
Release date: 2016
The resurrection of The Last Guardian was the biggest surprise of E3 2015. For a long time, it looked dead in the water: it was originally planned for release in 2011 after being announced in 2009, although it had actually been in development since 2007.
But like mama always told you, dreams can come true. From the makers of cult classics Ico and Shadow of the Colossus, The Last Guardian sees a young boy team up with a BirdDogCat called Trico to escape from a castle by solving puzzles. It looks better than it sounds, we promise…
---
Horizon Zero Dawn
Release date: 2016
Two words: robot dinosaurs.
Not sold yet? Alright, try this: you're a human hunter on a planet ruled by robot dinosaurs, and everyone else has disappeared to live somewhere else. You have to scavenge to survive, making it a bit like a mix of Skyrim, Assassin's Creed and Far Cry.
To sum up: robot dinosaurs, Skyrim, Assassin's Creed. What more could you ask for?
---
Zelda Wii U
Release date: 2016
…it has to happen this year, right?
---
What game are you looking forward to in 2016? Sell games today and use the cash to buy them! We now pay on the business day after we receive your stuff too! Want to make more cash? You can also sell books online, sell CDs online and trade in old Tech, including a MacBook trade in, trade in iPhone and more! 
Comments
comments