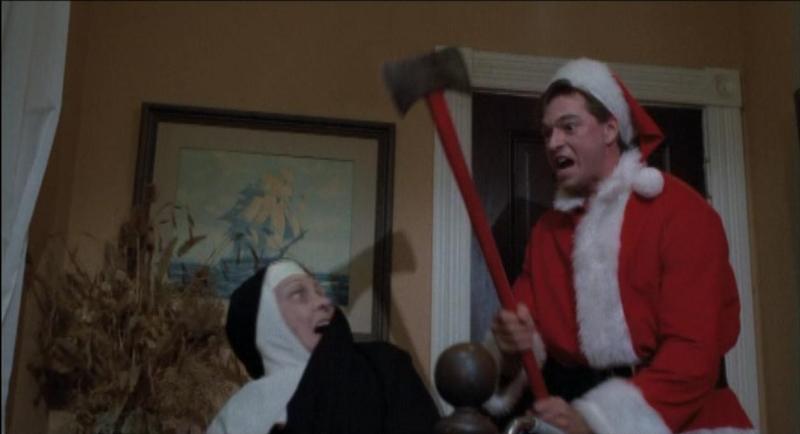 Sick of Miracle on 34th Street? Here are 10 Alternative Christmas Movies
Christmas is coming and, if you're anything like us, you're probably dreading watching Miracle on 34th Street for the 9,000,305th time.
Well, guess what? You don't have to! Here are 10 alternative Christmas movies to check out over the holidays.
---
Christmas Evil
How would you react if you saw mommy kissing Santa Claus and then getting frisky with him?
If you answered 'have a nervous breakdown, become convinced you're St. Nick, steal toys to give to sick kids and eventually kill people with an axe (why does Santa always use an axe?)' then congratulations! You're going to love Christmas Evil!
---
Santa Claus Conquers the Martians
AKA Santa…IN SPACE!
In this stone cold classic of cinema, St. Nick is kidnapped by aliens, who want him to bring joy and wonder to the children of Mars.
Unfortunately, not all of the Martians are cool with this plan and concoct a new plan to kidnap the kidnapped Santa again so the children of Mars can go back to being mindless TV addicted drones.
If you hadn't guessed already, Santa Claus Conquers The Martians is widely considered to be one of the worst movies ever and currently sits at #75 in the IMDB Bottom 100. File this one under 'So Bad, It's Good'.
---
Rare Exports: A Christmas Tale
You might think a Christmas film from the seemingly festive Finland would be full of holiday spirit, but no. Instead, Rare Exports takes everything you grew up thinking about Santa, tears it up in your face then laughs.
The film follows a group of reindeer herders whose work is disturbed by scientists searching for a massive sacred grave in the Finnish mountains.
It turns out the grave belongs to none other than St. Nick, and there's a good reason he's in it: he's actually a psychopathic troll who sends his elves out to capture naughty children. It's up to our reindeer herding friends to stop him, and drive the final stake into the heart of our Christmas dreams.
---
American Psycho
At least 5 minutes of American Psycho takes place over Christmas, so we're counting it. Alright, so the rest of it is basically Christian Bale murdering people while obsessing over his appearance but it beats watching Fred Claus for the 80th time, right?
Also, we highly recommend not following Patrick Bateman's lead when buying presents for your other half; you might end up becoming a murder victim yourself…
---
The Long Kiss Goodnight
Here's a Christmas treat for you: Samuel L. Jackson being a badass MF while snow falls around him.
The Long Kiss Goodnight stars Geena Davis as a schoolteacher and mother dealing with the stresses of Christmas: planning dinner, preparing for a play and so on.
Oh, and she also has a group of gun-wielding assassins hunting her down, but a bad bout of amnesia means she can't remember why. SLJ plays a PI trying to jog her memory. And you thought your holidays were stressful!
---
Bad Santa
Bad Santa is the perfect movie for people who hate all the festive build up, but still get a little excited when Christmas Day arrives.
Billy Bob Thornton is a mall Santa by day and a master thief by night. He's also drunk pretty much all the time, which leads to him swearing at children and committing unspeakable acts in store fitting rooms.
If you thought Elf would have been better with more cuss words and Buddy as an alcoholic miscreant, this is pretty much the movie for you.
---
Silent Night, Deadly Night 2
Silent Night, Deadly Night 2 follows a dude called Ricky, the brother of the killer from the original film, as he goes on a literally eyebrow-raising killing spree. Seriously, he raises his eyebrows all the time.
You might know SNDN 2 from the legendary Garbage Day meme, in which Ricky shoots a chap while he's putting out his garbage, raises his eyebrows (obviously) and laughs maniacally. Rest assured that the rest of the film is just as brilliant/terrible.
Don't worry if you haven't seen the first Silent Night either: after shooting wrapped, SNDN 2 was so short that the makers had to stuff in scenes from the first film to pad it out. There still wasn't enough material, so we're treated to 10 minutes of credits too. Merry Christmas!
---
Brazil
Terry Gilliam's bizarre satire is more 'George Orwell Christmas Special' than 'Miracle on 34th Street', with Santa acting as a stooge for an oppressive consumerist state. You sold out, Santa!
Brazil is famous for having its ending changed after Hollywood bosses decided the original ending was too bleak. If you want to go full humbug, dig out the original cut and revel in the anti-Christmas spirit!
---
Batman Returns
The poor residents of Gotham City, where every 3rd resident seems to be a crazed criminal, are never going to have a merry Christmas, but the Christmas in Batman Returns is especially grim as The Penguin kidnaps kids and mobilises an army of rocket-wielding avians.
Needless to say, poor old Bruce Wayne has to pass on turkey and a game of Monopoly with Alfred to stop him. At least he gets to meet Catwoman, eh?
---
Feeders 2: Slay Bells
Oh boy, this is bad. So, so bad.
Feeders 2: Slay Bells sounds good at first. Human-eating aliens have invaded Earth but make a fatal mistake when they shoot down Santa Claus. Like Liam Neeson in Taken, he vows to find them and kill them using his set of particular skills.
Unfortunately, the team behind Feeders 2 apparently had no budget whatsoever. It looks like a home movie, the guns are obviously toys and the aliens! THE ALIENS! THEY'RE TENNIS BALLS ON STICKS PAINTED PURPLE!
In short, you should definitely watch this.
---
What alternative Christmas movies would you recommend? Let us know in the comments or on Facebook and Twitter.
And if you need to make some room and money for your new collection of alternative Christmas classics, why not sell DVDs with Decluttr? You can also sell books online, trade in games, sell CDs online or sell Tech, including trade in iPhone, trade in iPad or check out our sell my phone page. 
Comments
comments