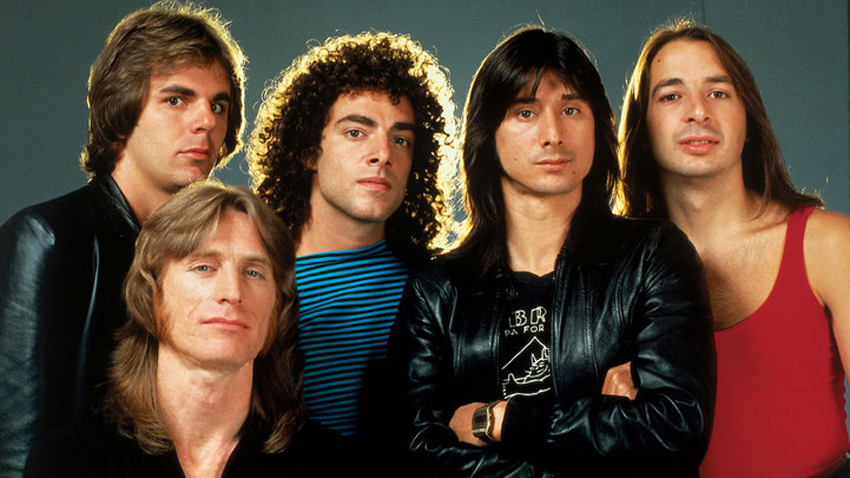 8 of the Greatest Power Ballads from the '80s
As jelly shoes and radioactive neon hues started to fade from our local malls, so too did the awesomeness that was '80s power ballads. Sure, you might hear a quick riff from one of these extinct songs at a karaoke bar or at your pal's '80s-themed birthday party. But hearing one of these bygone ballads is like seeing a permed mullet or a unicorn — a rare glimpse into the magic of the '80s. So let's return to a simpler time where hair bands ruled the airwaves (also, when "airwaves" was actually a thing), and rank our top '80s power ballads.
---
Don't Stop Believin' – Journey
Forget the homogenized form Don't Stop Believin' took on in the hands of Glee– this was, and still is, the ultimate power ballad dripping with pure emotion and storytelling. Who wouldn't want to take a trip to South Detroit after listening to Journey's classic song?! Cards on the table, it was hard to choose between this and Open Arms — the test really became which song gets turned up all the way during a drive. DSB won that test easy.
---
Love Bites – Def Leppard
This song became so accepted in our rock rolodex that there are instrumental-only versions you can hear playing in an office elevator. And though that fact might seem sad, take comfort know that there isn't one person in said elevator who isn't mouthing the lyrics to this '80s staple.
---
Every Rose Has Its Thorn – Poison
This is the version of Bret Michaels that brought the girls of the '80s to tears. His vocals, brimming with heartache and scorched emotion, remind us all that love is bittersweet and tears apart even the toughest of cowboys.
---
Alone – Heart
You might instinctively think of the manly hair bands of the '80s when you hear "power ballads," but Alone proved that girls could also express their feelings in the most gut-wrenching way possible. The piano riffs, the somber guitar licks and those haunting lyrics cemented Alone as the ultimate example that girls can rock as hard as the boys.
---
Is This Love? – Whitesnake
It's definitely love when Whitesnake, specifically vocalist David Coverdale, performs this classic '80s power ballad. Bonus? When MTV actually showed music videos, fans were treated to a glimpse into the real-life romance of Coverdale and his smokin' hot, model girlfriend Tawny Kitaen, who starred in the video.
---
Heaven – Warrant
"Heaven isn't too far away" when you're listening to the greatest power ballads of the '80s, or at least when you're listening to the melodious sounds of ultimate hair band, Warrant. This song reminds us that heaven on earth may just be a rock god clad in pure white leather.
---
I'll Be There for You – Bon Jovi
C'mon, it's Bon Jovi.
---
I Want to Know What Love Is – Foreigner
What's better than an emotional, stirring ballad of the '80s? The meeting of two amazing sounds — the quintessential '80s rock band Foreigner and the unexpected, harmonious voices of New Jersey Mass Choir. We dare you not to belt out the chorus when this song comes up in your playlist.
---
Honorable Mentions
Sister Christian – Night Ranger
Home Sweet Home – Motley Crue
Missing You – John Waite
---
Did we miss any of your favorite ballads from the '80s? Let us know in the comments.
Looking to sell CDs online? Trade in with Decluttr today to get an instant price! Plus, trade in games and sell Books online. You can also trade in iPhone, make a MacBook trade in or sell other Tech!
Comments
comments