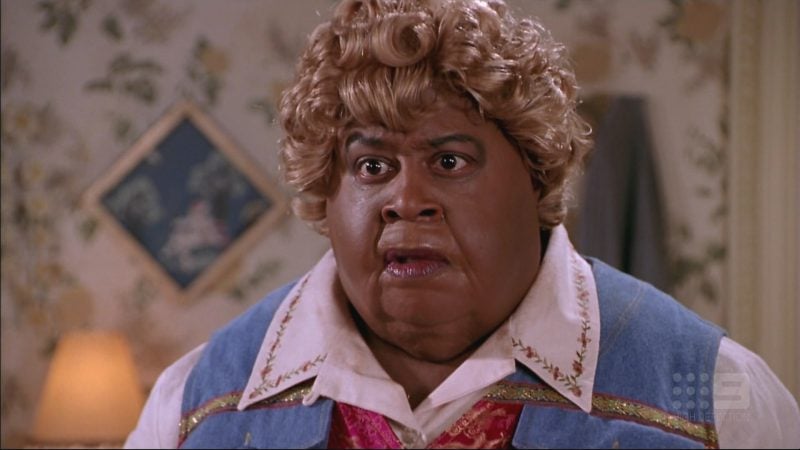 The 13 Worst Movie Trilogies Ever Made
If trilogies have taught us anything, it's that it's nearly impossible to make a good movie twice (much less three times). We put our heads together and came up with a list of some of the worst trilogies. Keep in mind we're strictly talking trilogies here, so all you Rocky, Terminator and Transformers fans will have to wait for our "They Should've Stopped After 5" post.
Starting from the "Meh" variety and going into "It Never Should've Been Made" territory, here are our picks for the 13 worst movie trilogies.
13. The Matrix Trilogy
Matrix: 1999
Matrix Reloaded: 2003
Matrix Revolutions: 2003

The first Matrix was easily one of the greatest movies of the 90s. Hell, it was one of the greatest movies ever. Too bad the other two stunk so bad they almost ruined the entire franchise.
---
12. The Hobbit Trilogy
An Unexpected Journey: 2012
The Desolation of Smaug: 2013
The Battle of the Five Armies: 2014
This was the smallest book in Tolkien's library, yet for some reason (*cough* money) they decided to split it into three nearly 3-hour-long movies.
---
11. Star Wars Episodes I-III
The Phantom Menace: 1999
Attack of the Clones: 2002
Revenge of the Sith: 2005

At least these were better than Star Trek The Next Generation. Right?
---
10. The Mighty Ducks
The Mighty Ducks: 1992
D2: The Mighty Ducks: 1994
D3: The Mighty Ducks: 1996
The Ducks go from being the best team the world in the second film to forgetting how to play hockey in just two years. We call a penalty on that.
---
9. Teenage Mutant Ninja Turtles
Teenage Mutant Ninja Turtles: 1990
Teenage Mutant Ninja Turtles II: Secret of the Ooze: 1991
Teenage Mutant Ninja Turtles III: 1993

In the third movie they travel through time. They should've traveled back to before the film was made and stopped production.
---
8. The Addams Family
The Addams Family: 1991
Addams Family Values: 1993
Addams Family Reunion: 1998

Bet you've never heard of the third movie. That's because it went straight to video.
---
7. I Know What You Did Trilogy
I Know What You Did Last Summer: 1997
I Still Know What You Did Last Summer: 1998
I'll Always Know What You Did Last Summer: 2006

Freddie Prinze Jr. Leads a cast of 30-year-old teens. Need we say more?
---
6. Big Momma's Trilogy
Big Momma's House: 2000
Big Momma's House Two: 2006
Big Momma's: Like Father Like Son: 2011

By the second movie the jokes were stretched as thin as Martin Lawrence's fat suit.
Want any of these films on your movie shelf? Buy cheap DVDs and Blu-rays from the Decluttr Store!
---
5. The Delta Force Trilogy
The Delta Force: 1986
Delta Force 2: The Colombian Connection: 1990
Delta Force 3: The Killing Game: 1991
This Chuck Norris trilogy started off with a powerful uppercut, but it ended with a limp sidekick.
---
4. Problem Child Trilogy
Problem Child: 1990
Problem Child 2: 1991
Problem Child 3: Junior in Love: 1995

You know there's a problem when your third movie has no one from the original cast. And Gilbert Gottfried doesn't really count. Or shouldn't.
---
3. Look Who's Talking Trilogy
Look Who's Talking: 1989
Look Who's Talking Too: 1990
Look Who's Talking Now: 1993

We weren't even looking after the first one.
---
2. Sometimes They Come Back Trilogy
Sometimes They Come Back: 1991
Sometimes They Come Back…Again: 1996
Sometimes They Come Back…For More: 1998

Stephen King made-for-TV movies are a dime a dozen. Sometimes it's better to just stay dead…
---
1. The Troll Trilogy
Troll: 1986
Troll 2: 1990
Troll 3: 1990

The Troll movies are widely regarded as three of the worst films ever made. These movies are so bad they're funny, and they're so funny they're almost worth seeing. Almost.
Chances are you have at least one or two of these movies lying around your home. Instead of letting them collect dust, why not cash them in? While you're at it, take this chance to give your whole collection a once-over. Really, when was the last time you watched all three movies in a good trilogy? Make some space on your shelves and put some cash in your wallet. The FREE Decluttr app makes it surprisingly easy.
Agree/disagree with this list? Open the floodgates and let us know your top (or bottom) picks below.
---
Make extra cash with Decluttr today and get an instant price when you trade in games, sell textbooks or sell CDs online! You can also sell tech including, sell iPhone, make an Apple Watch trade in, head over to our sell my phone page and more!
Comments
comments