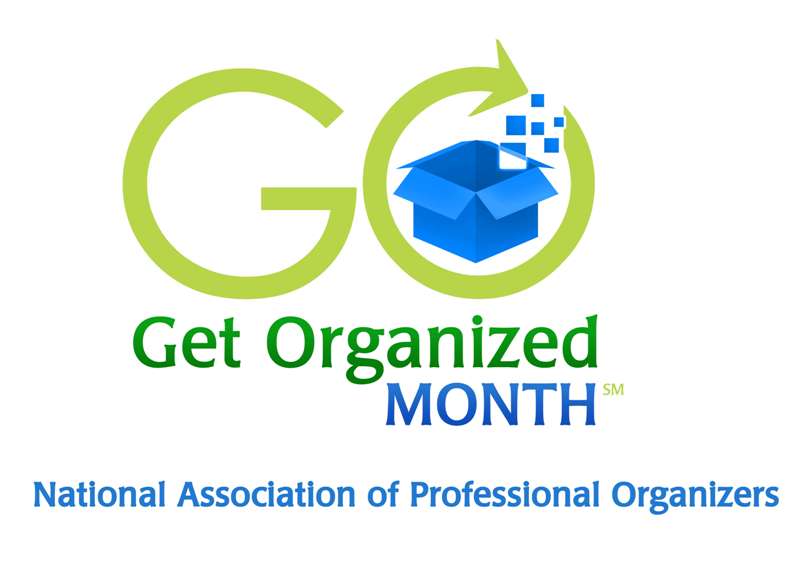 Happy National "Get Organized" Month!
It's the most wonderful time of the year… GO Month! We've teamed up with the National Association of Professional Organizers [NAPO] to kick off the New Year the right way with National Get Organized Month.
Why get organized now? The New Year has arrived and it's the one time during the year where we get to wipe the slate clean and begin with a fresh start. And what better way than to get rid of all the clutter you've accumulated from the year before? Here are a few benefits of participating in GO Month:
Helps with time management. Did you know that people waste as much as an hour a day on average looking for things they've misplaced? That's 15 days a year! Take back that precious time by getting rid of the things you don't need and organizing the things you do.
Increases productivity. Disorganization creates obstacles for you in accomplishing tasks. The less clutter, the less steps it will take to completing your to do list – whether it be small daily tasks or larger life goals.
Relieves stress and anxiety. An organized environment is a happier environment. Clutter creates unnecessary stress and contributes to a cluttered mind. Get rid of it now so you can start 2015 more relaxed and less chaotic.
Helps you save – and even make – some money. When you are organized, you always know what you have and what you don't. Think of all the times you've come home from the store only to realize you wasted money on items you already had.  Definitely not the way to start 2015. So clean it out and get organized now. Better yet, make some of that money back by reselling your old clutter for cash (like unwanted DVDs, CDs, and video games – hint, hint.) We love paying people for the media clutter stashed in their closets, so send it our way and start of the New Year with some extra room and some extra cash. Interested in checking out how Decluttr works? We'll walk you through it.
Make extra cash with Decluttr! Sell books online, sell CDs online, or trade in games! Plus, trade in iPhone, trade in iPad, head over to our sell my phone page and more! 
Comments
comments