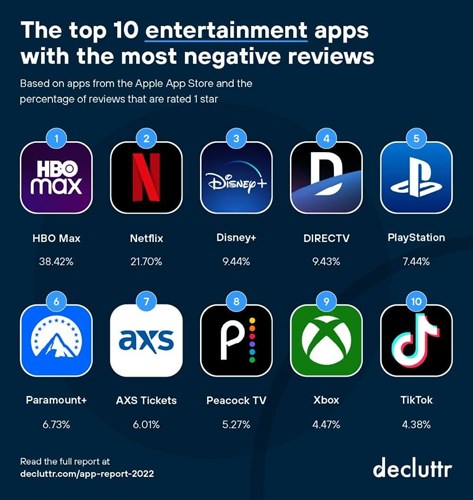 HBO Max ranked the least entertaining app
It seems users' favorite entertainment and streaming apps aren't quite as entertaining as they would have hoped, raking in the 1 star reviews… Even app of the moment TikTok ranks tenth in the ratings, with users complaining they are often experiencing bugs and a lot of app crashes.
Of course, HBO Max takes the crown for worst reviewed entertainment app. Not really surprising after the streaming app crashed for thousands of users, when 'Game of Thrones' prequel 'House of Dragon' made its debut in mid-August! After a long three year wait, it seems that viewers had to wait even longer because of the HBO Max app blip… Suggesting it could definitely be time for a redesign. It looks like users are in luck, as a shiny new app should be coming their way in 2023…
---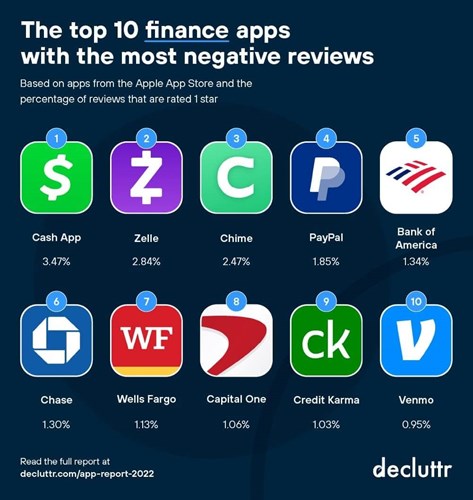 Cash App is cashing in the one star reviews
Mobile peer-to-peer payment service, Cash App seems it is being paid back in one star reviews - ranking worst in our finance listings! Users definitely didn't hold back on the criticism; from reported hackings of the app, supposed scams, and fraudulent behaviour! Some reviews even stated they would have given the app zero stars if the option was there.
Many users have said they have resorted to using PayPal instead - still PayPal's reviews aren't much better.
---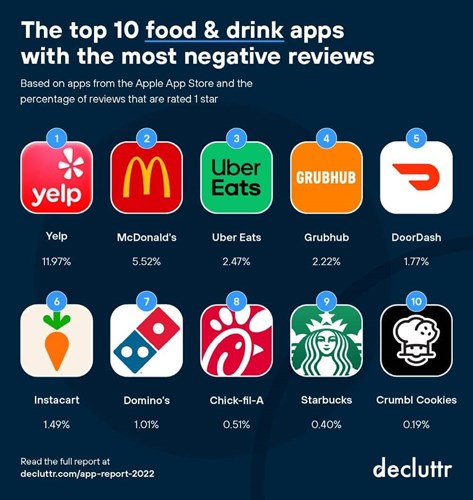 No Mclovin' for the McDonald's app
Yelp takes the win for the food and drink app with the most negative reviews, After being rated eighth in the overall ranking… Yet we are stunned to see the beloved and world renowned fast food giant McDonald's sitting second place in this category! It seems users are not Mclovin' the app experience, with many complaining about the app's painful registration process and difficult user interface, making ordering your favorite cheeseburger a tad tedious.
---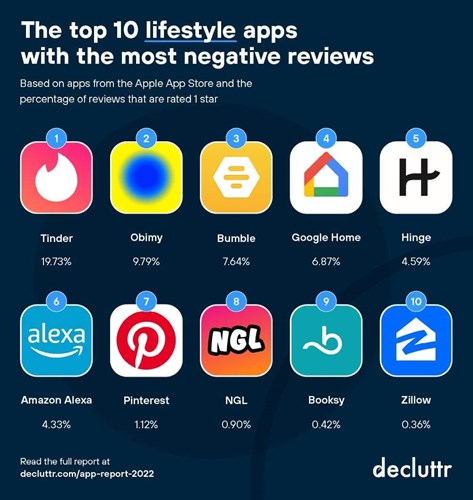 Users aren't quite sharing the love for Obimy
We already know from the top 40 listings that many users worldwide are swiping left on the Tinder app, but it seems users aren't feeling the love for lifestyle app Obimy either. Designed as a new simple way to connect with your partner, friends and relatives, Obimy has received its fair share of 1 star reviews. Users have complained that the app has a very buggy execution which takes away from the user experience and journey. 
Interestingly, all three world-renowned dating apps are in the top worst reviewed - Bumble sits third place and Hinge fifth. But what exactly is it users are complaining about when it comes to dating apps?
Hinge users have complained the app's settings aren't always correct and up-to-date, for example, showing them individuals outside of their preferred radius. Others commented that the app had poor functionality and often froze. 
Bumble had similar feedback from users stating that the app needed better features and functionality. Users also flagged that Bumble didn't always notify them of messages despite having their notification settings turned on. Out of all three dating apps, Bumble had the highest amount of 5 star reviews. 
Still, it seems users haven't quite found their perfect match when it comes to lifestyle apps…
---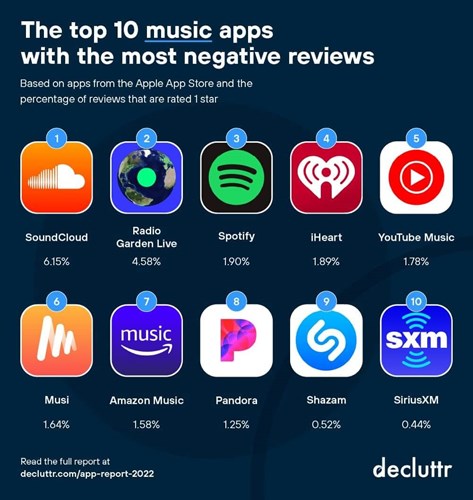 Users are pressing pause on the positive reviews for SoundCloud
SoundCloud ranks top for the music app with the most negative reviews, with users complaining that the app has a terrible interface and doesn't live up to the desktop version. 
Radio Garden Live is a broadcasting app that allows users to listen to thousands of live radio shows worldwide. Despite having a good amount of 5 star reviews Radio Garden Live is ranked second for most negative reviews within the music app sector. Why? Users on the Apple App Store have complained that even though the app is a great concept, there are lots of ads throughout the app and it has a clumsy interface. 
We're surprised to see beloved music app Spotify ranks third with 1.9% 1 star reviews - it looks like some of the most popular music apps could be due a remix…
---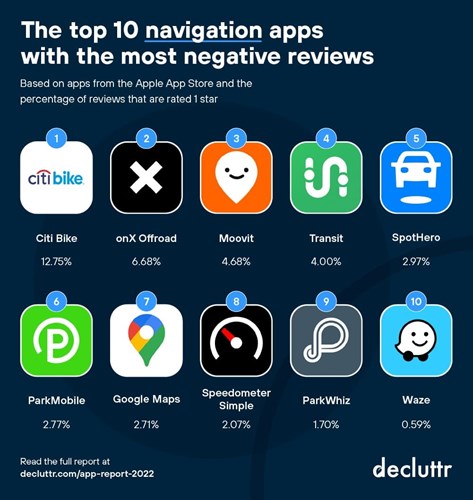 Users are putting the brakes on five star reviews
Citibike again comes up top in our navigation listings, followed closely behind onX Offroad - the off-roading and snowmobiling app, designed to plan and track adventurers' trips. Users have rated onX Offroad poorly for a number of reasons including many functionality issues, for example the app not working when users phones are turned horizontally. 
Parking apps, ParkMobile and ParkWhiz are both in our top ten worst navigation apps, with some users stating they aren't user-friendly with a frustrating login process. Some users even stated they were some of the worst parking apps they have used! It could be time to park up and think of a redesign?
---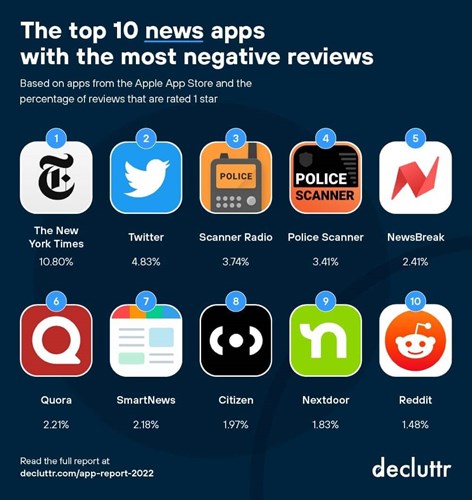 This just in - users love to complain about news apps
The New York Times sits a firm first place for news apps with the most complaints. Surprisingly, up next is Twitter - users have taken to the App Store to complain about the app's latest update and increasing number of ads. It seems it is time to spread your wings for a 'new' new update, Twitter…
---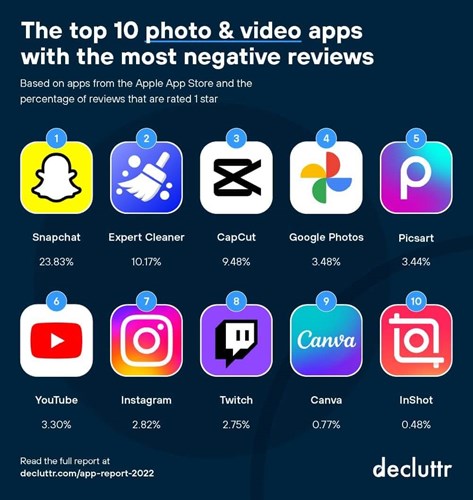 Users are chatting negatively about the social media app, Snapchat
Ranked third in the overall ranking, Snapchat also has the highest percentage of negative reviews when compared to other photo-sharing apps of its time, followed by Expert Cleaner, and video editor app, CapCut. User complaints for CapCut included the app not allowing them creative freedom and frequent app crashes.
---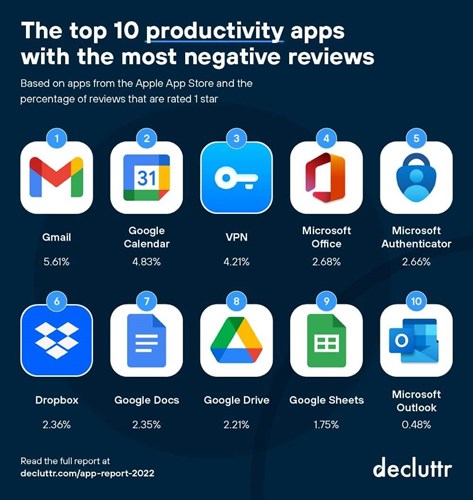 When it comes to apps, Google has more 1 star ratings than rival Microsoft
Gmail has (29,095) new one star ratings -  not quite the notification that world renowned productivity app, Gmail would want to receive. Ranked with most 1 star reviews when compared to other apps within the productivity sector, like Microsoft Outlook and Google Sheets. Still, its one star ratings only make up a small 5.61% of its overall reviews, with 405,419 people rating the app as five star!
---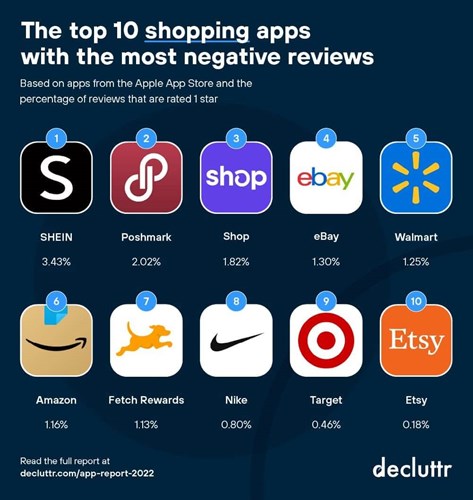 Users not too keen on SHEIN
In recent years, it goes without saying SHEIN has taken the fast fashion world by storm, that being said users aren't quite satisfied with the shopping experience on the app. Users have complained that the app has a poor user experience, for example: difficulty finding the customer service section. 
Surprisingly, world renowned sportswear brand Nike is ranked 8th worst in the shopping app sector! Customers have complained that the app is missing a UPC scanning function and many others have complained the app has frequently cancelled orders… Not what you want when you are waiting on a pair of the latest Jordans!
---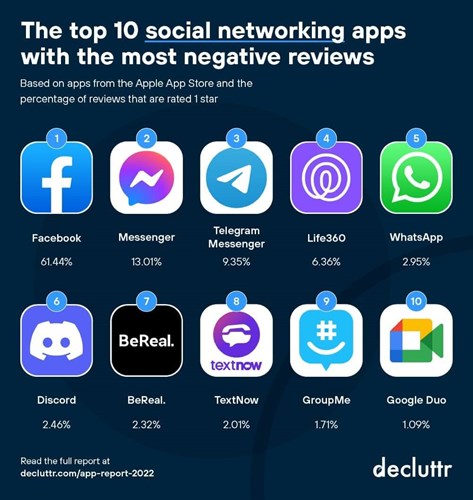 Facebook receives a thumbs down from users
It looks like Facebook is once again in the bad books with its users. The app ranks top for the social networking app with the most negative reviews…. Oh dear Facebook, is it time for a redesign?
The latest photo sharing social media app, BeReal is quite the favorite when it comes to 1 star reviews. Users are stating the app has a great deal of potential but needs a little work on its bugs and inaccurate notification settings. Seeing as it is new to the social media world we think we can let the bad reviews slide… Just this once.
---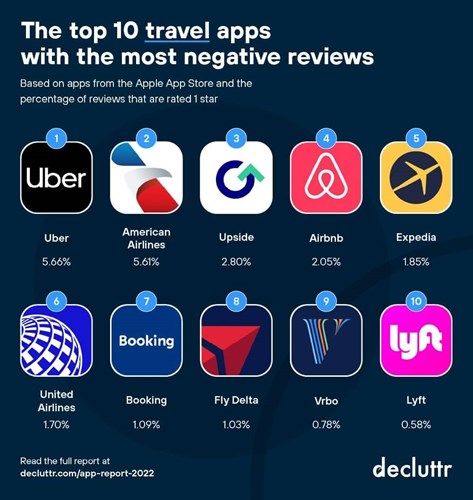 Destination: One star reviews
Uber, known for its reasonable, speedy and convenient service to get users all around the world from A to B, seems to have hit the brakes on its five star reviews. Uber ranks top for the most negative 1 star ratings with users hitting back at the travel service for supposedly having terrible GPS navigation and the pick up times on the app getting worse and worse… perhaps abetter GPS system could put the app back in the fast lane to five star reviews.
American Airlines ranks second with 5.61% of negative reviews - users of the app complain it has bad functionality, a slow loading time, and inconvenient freezing. It seems the American Airlines app isn't quite high flying in the app world!
---